Reba McEntire Dons Colonel Sanders Costume In New KFC Commercial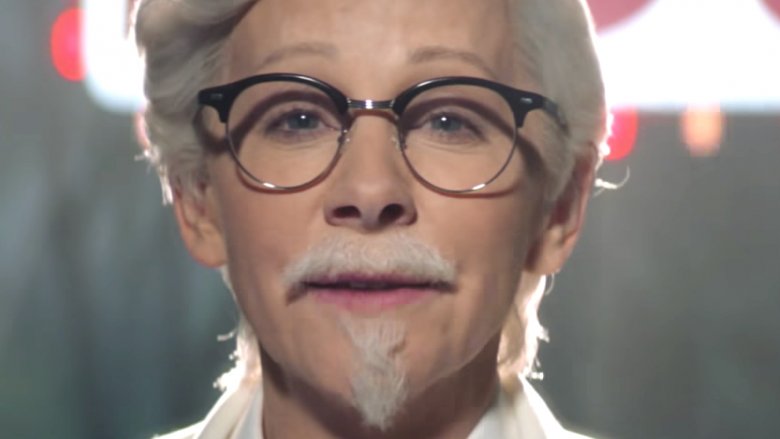 YouTube
The country music superstar just underwent a major transformation.
On Thursday, Jan. 25, 2018, Reba McEntire made her debut as the first female Colonel Sanders in a brand new series of commercials for fast-food chain KFC. Like those who've come before her, such as Norm MacDonald, Jim Gaffigan, and Ray Liotta, McEntire dressed up as the KFC founder by wearing a wig, pasting on some facial hair, and rocking a pair of eyeglasses. While she still donned an all-white suit like the KFC Colonels of the past, her outfit featured some sparkly fringe and bedazzlement to go along with the new country music aesthetic of the ads.
In the first commercial, McEntire sings at a Roadhouse-type bar, with Patrick Swayze's brother Don on bass behind her (via Rolling Stone). The crowd, understandably, goes wild for the Colonel, who croons that she's the "same as always" and "definitely not a dude." McEntire also makes an appearance as herself in the ad, sitting at a table in the crowd.
In another ad, McEntire — with her signature red hair, once again — sings about KFC's latest chicken product. But she quickly stops the song to pull off her wig and reveal that she's really the Colonel in disguise.
"I thought the transformation was really funny," McEntire told the Associated Press, regarding her take on the famous KFC character. "I got a big kick out of it."
Expect to see the commercials on TV starting on Jan. 28.