How Tom Brady Got Dragged Into Ben Affleck's Cheating Scandal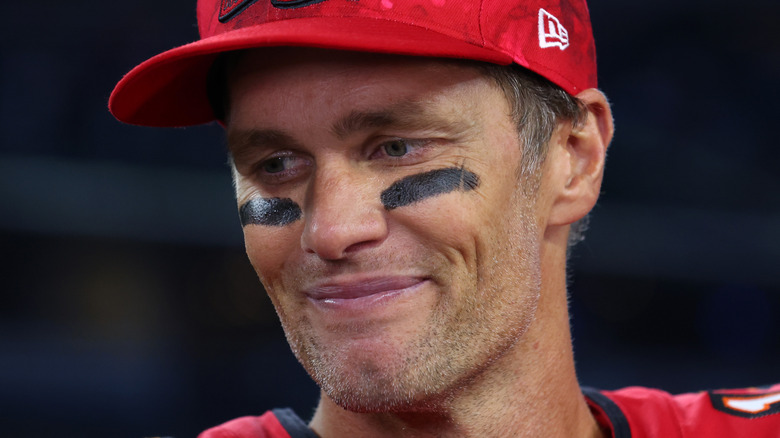 Richard Rodriguez/Getty Images
When thinking of celebrity besties, Ben Affleck and Tom Brady don't necessarily top the list. Per Boston.com, Affleck said their only similarities are "people both know who we are sometimes and we were in New England." But despite their lack of things in common besides geography, the two hit it off right from the start.
Affleck revealed on "Jimmy Kimmel Live" that he first met Brady at the White House Correspondents' Dinner. At the time, Affleck was 27 and Brady was only 22. Affleck was suitably starstruck, telling Brady, "Oh my god, man, so great, dude. You're like the king of Boston." In response, Brady made Affleck's heart do flips by declaring that he was actually the king of Boston. Affleck told Kimmel, "I realized then that I loved a man."
Since then, the two have remained close friends, frequently showing off their bromance. However, if the suspicious timing of Affleck's divorce is to be believed, Brady might just be an accessory to the drama.
Ben Affleck brought his nanny on a jet with Tom Brady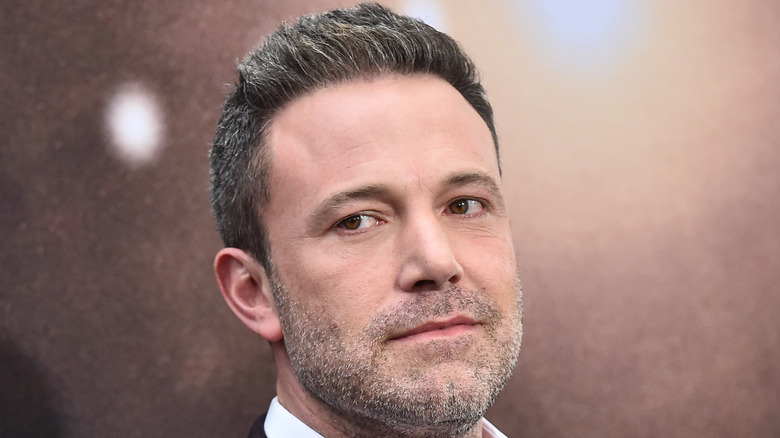 DFree/Shutterstock
In 2015, rumors surfaced that Ben Affleck was cheating on his longtime wife Jennifer Garner with their former nanny, Christine Ouzounian. Per Page Six, reports first indicated the affair as a result of photos showing Ouzounian on a flight with Affleck and none other than Tom Brady.
In the photo, the former nanny posed on a private jet while sporting four of Brady's Super Bowl rings. Affleck was headed from a family trip in the Bahamas to a charity poker tournament in Las Vegas. Though a source claimed the divorce was already in the works prior to that trip, Garner fired Ouzuonian, per E! News. Around the same time, Ouzounian was spotted sharing a bottle of champagne with Affleck (via Page Six). Garner then filed for divorce in 2015, though it was not finalized until 2018.
As for Brady's involvement, the NFL star did not open up to the press about the incident. However, a source close to the friends told the Daily Mail that "there were other people on the plane who tried on the rings." While it may not seem innocent in the court of public opinion, Brady himself only bore witness to Ouzounian with Affleck. After all, you can't exactly be held responsible for what your friends do, even on your private jet.
Tom Brady found himself under similar scrutiny to Ben Affleck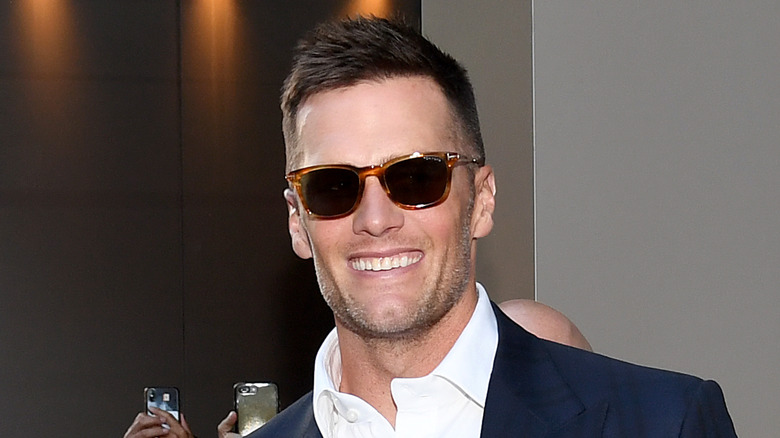 Kevin Mazur/Getty Images
Like his pal Ben Affleck, Tom Brady found his own love life the subject of much scrutiny. This was especially true back in 2007, when he began dating Gisele Bündchen while expecting a child with Bridget Moynahan. However, he and the supermodel tied the knot in 2009. 
Brady and Bündchen's marriage hasn't been without its struggles. Around the time that Affleck went through his divorce, Bündchen reportedly considered leaving Brady. Per Us Weekly, she met with a divorce attorney in the wake of the Deflategate scandal. The couple weathered the storm, but in 2022, they faced another round of speculation regarding their relationship. An insider told Us Weekly that "Gisele was not happy when Tom un-retired from the NFL after such a short time," but Brady "is doing everything he can to make it up to" her.
Brady indirectly addressed the rumors on his "Let's Go!" podcast, stating that "football and family has always been the most important thing to me." (via StyleCaster). As for how he's been dealing with his return to the NFL, the athlete stated: "I'm finding peace in other ways of life and just loving, you know, the time when my kids are getting a little bit older." While Affleck's marriage ended in tears, it remains to be seen whether Brady's suffers the same fate.