Kesha Makes Powerful Statement At 2018 Grammy Awards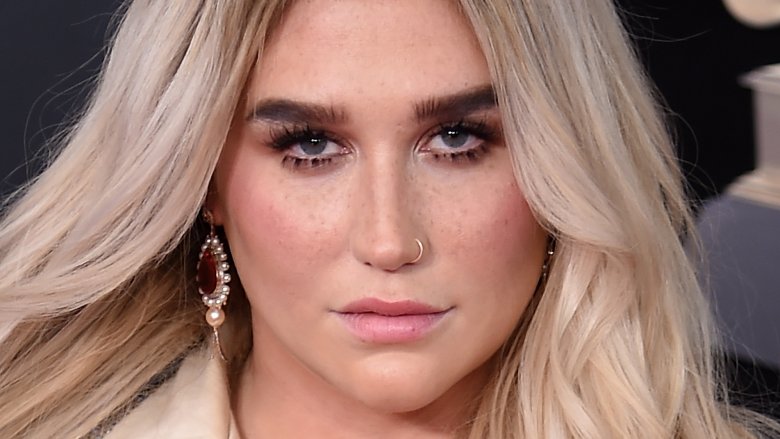 Getty Images
The "Learn to Let Go" singer delivered an emotionally charged performance.
On Sunday, Jan. 28, 2018, Kesha was joined by the likes of Cyndi Lauper, Camila Cabello, Julia Michaels, and Andra Day for an empowering rendition of her song "Praying" at the 2018 Grammy Awards, as noted by The Hollywood Reporter.
Janelle Monae first took to the stage to introduce Kesha, delivering a powerful speech about the Time's Up initiative and the fight against sexual harassment and inequality in the music industry.
"We come in peace but we mean business, and to those who would dare try and silence us, we offer you two words: Time's Up," she said. "We say time's up for pay inequality. Time's up for discrimination. Time's up for harassment of any kind. And time's up for the abuse of power."
Monae continued, "Because, you see, it's not just going on in Hollywood, it's not just going on in Washington, it's right here, in our industry, as well."
Kesha then hit the stage, surrounded by Lauper, Cabello, Michaels, Day, and a number of other female musicians, all of whom were dressed in white as a show of support for the #MeToo and Time's Up movements. The group sang the song's chorus in unison while standing on either side of the singer and embraced her following the performance.
As Nicki Swift previously reported, "Praying" was the first single Kesha released following a four-year hiatus due to her harrowing and heartbreaking legal battle with producer/songwriter Dr. Luke, whom she's accused of sexual assault and physical and emotional abuse. The singer eventually dropped the lawsuit in August 2016, in order to focus on her music. 
Elton John, Bruno Mars, Lady Gaga, Pink, and more are slated to perform at the 60th Annual Grammy Awards, which is hosted by The Late Late Show's James Corden.