Oscars 2016: Best Dressed On The Red Carpet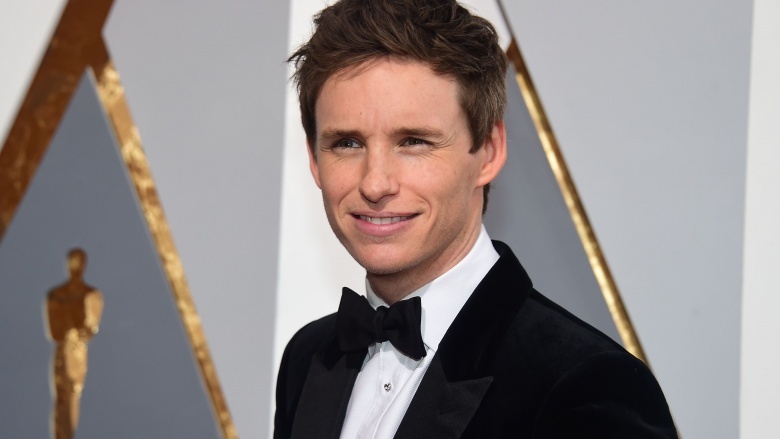 Getty Images
The Academy Awards boast the best pregame show on television, and the 88th edition did not disappoint. This year's 500-foot stretch of red carpet showcased bold trends for the ladies and the gents. Striking cuts, deep color palettes, and dark twists on the classic tux added glamour and panache to Oscar night at Hollywood's Darby Theatre. The collective look was rich in textures, hues, and price tag. According to E!, an A-list actress will spend as much as $10 million from head to toe, and actors can tally as much as $270,000 on the total package. Whose investment paid off at the 2016 celebration?
Sylvester Stallone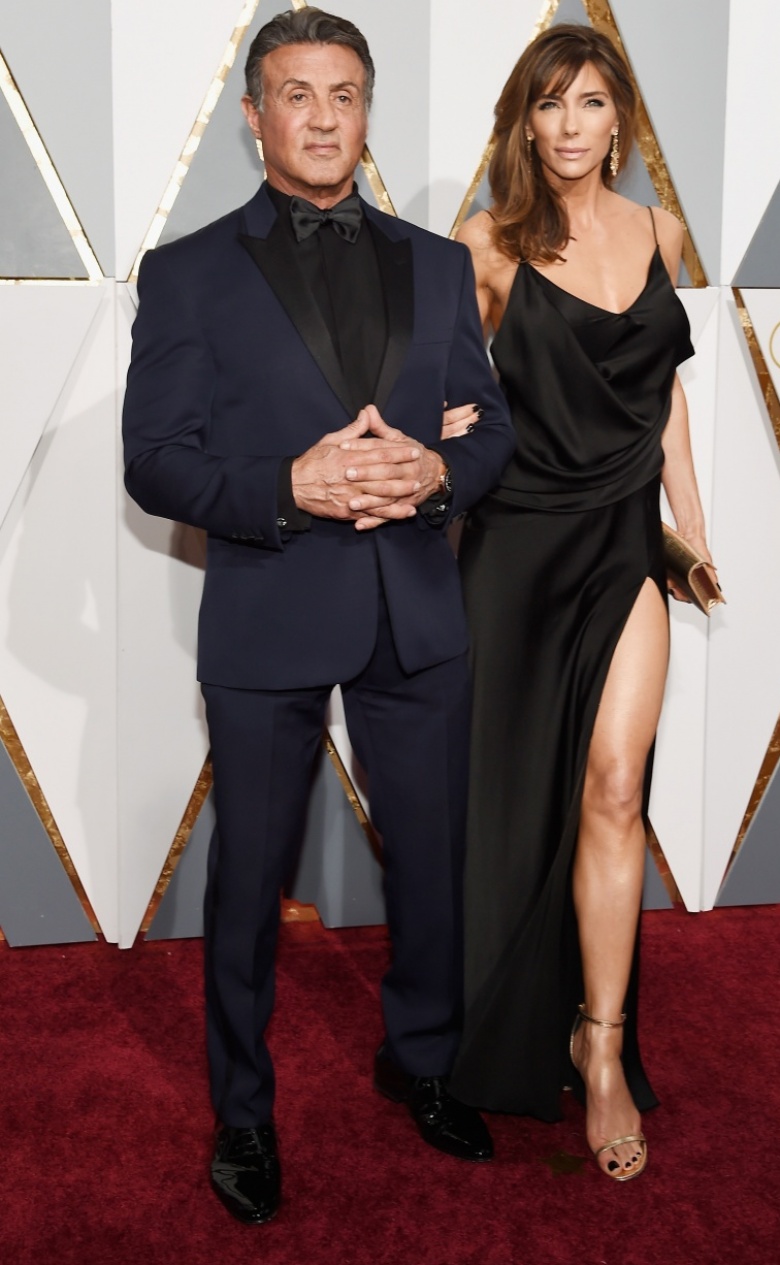 Getty Images
At age 69, the Italian Stallion can still pack a punch on the red carpet. Nominated for best supporting actor in Creed, Stallone exuded confidence and charm in an impeccably tailored navy tux with black collar, black shirt, and black bow tie. From his clothes to his hair, and his walk to his talk, we were in Sly's corner on the red carpet.
Saoirse Ronan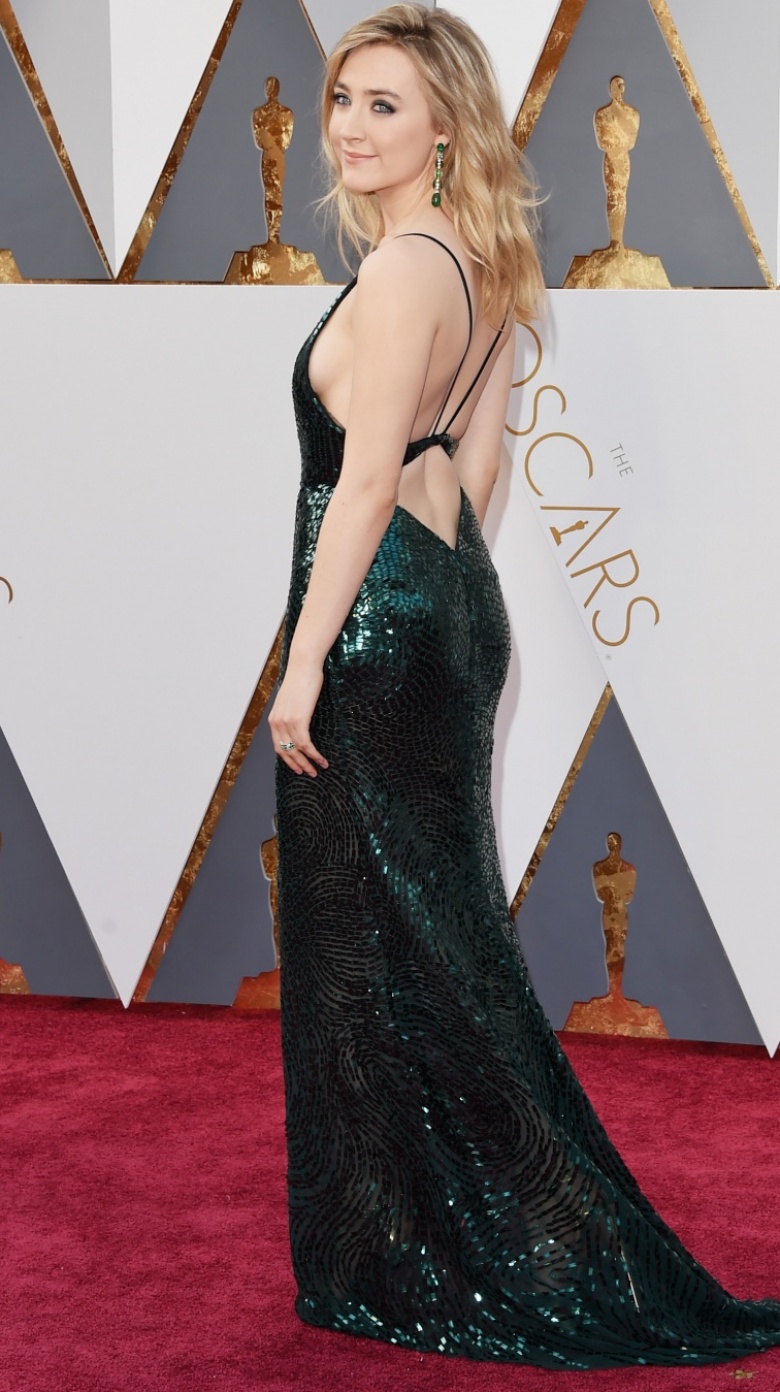 Getty Images
Though nominated for best actress in Brooklyn, Ronan paid homage to her native Ireland in a dazzling emerald gown by Calvin Klein. The dress featured a plunging neckline, delicate velvet straps, and a nearly sheer skirt of spiral sparkles. The 21-year-old looked effortlessly chic in loosely tousled locks and two different colored earrings—one green, the other white.
Kevin Hart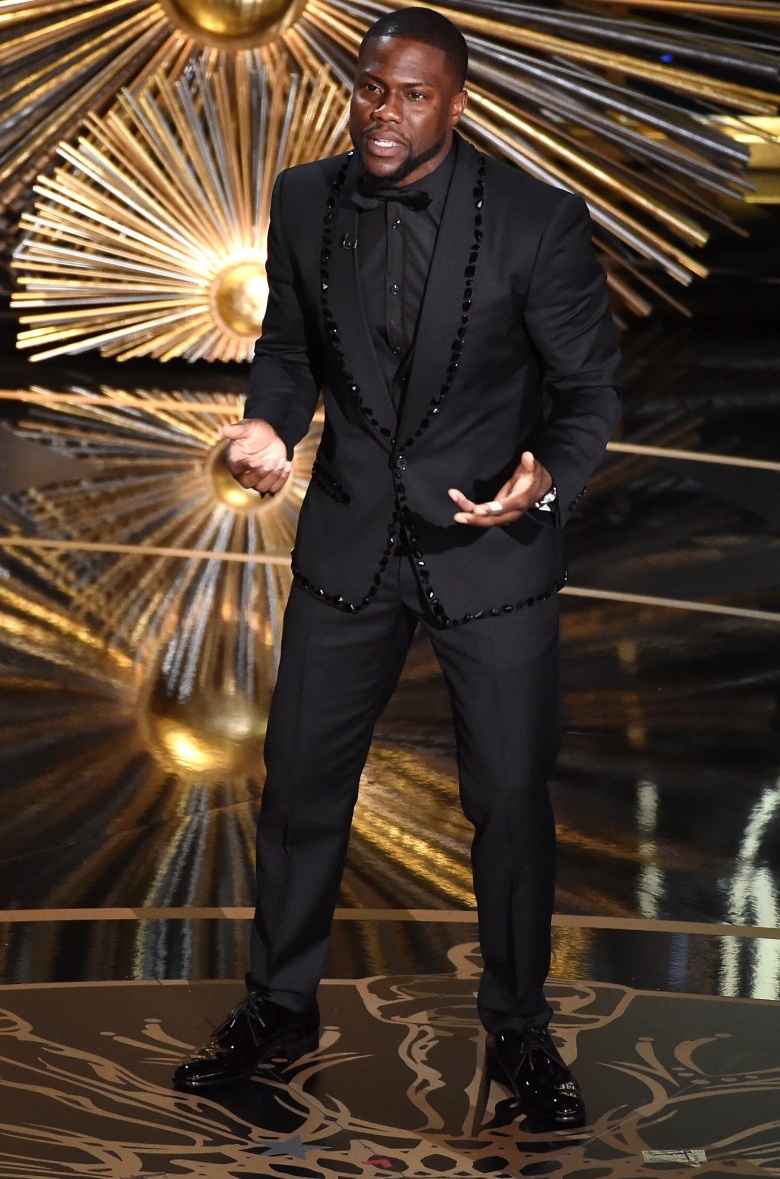 Getty Images
At first glance, the comedian's bedazzled black tux looked laughable, but he sold us on it during red carpet interviews. "Look at this!" exclaimed the 36-year-old star of Ride Along. "This is Dolce Gabbana from head to toe, and I'm shiny!" The cut was spot on, and so was Hart's grin. Inside the theatre, under dimmer lighting, the suit took on a less gaudy, more sophisticated feel.
Charlize Theron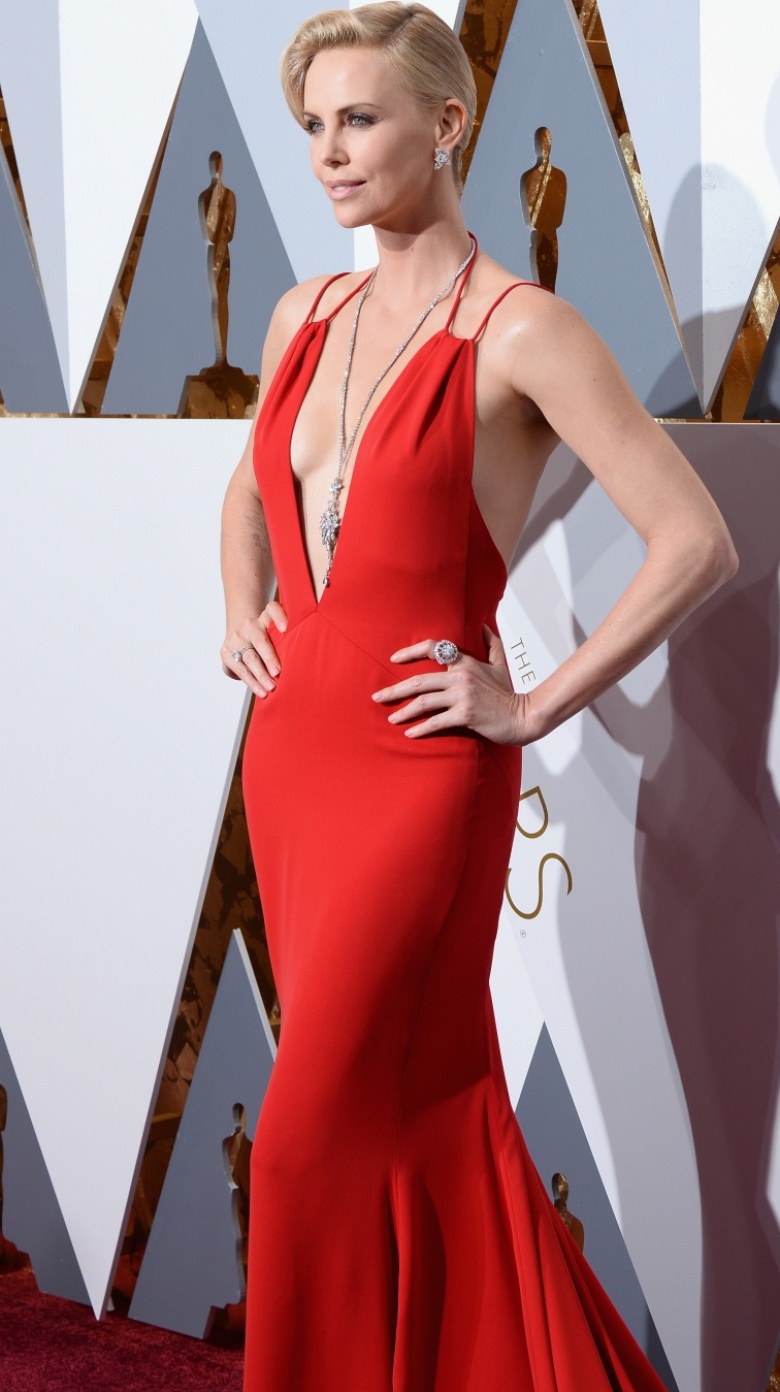 Getty Images
The Academy Award winner upstaged the red carpet in her custom red Christian Dior and Harry Winston jewels. At age 40, the heroine of Mad Max: Fury Road left no head unturned. From her artfully cropped hair to her tastefully smoky eyes, Theron positively sizzled.
Eddie Redmayne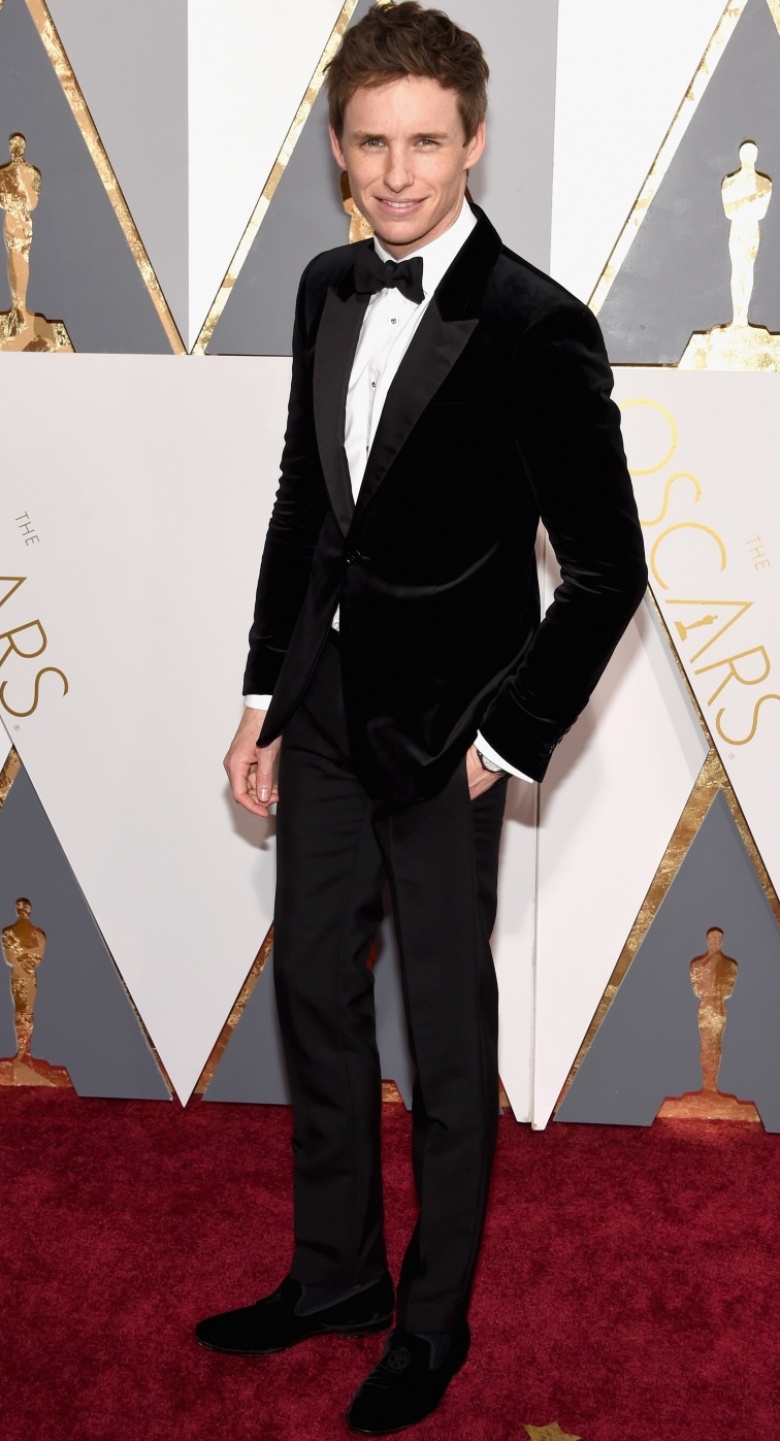 Getty Images
The British boy from The Danish Girl thought he looked awful on the red carpet. "I wore velvet, and now I'm sweating like a pig," the 34-year-old told an interviewer. We strongly disagree. His tux was impeccably tailored and paired nicely with his messy brown hair and loafers.
Chrissy Teigen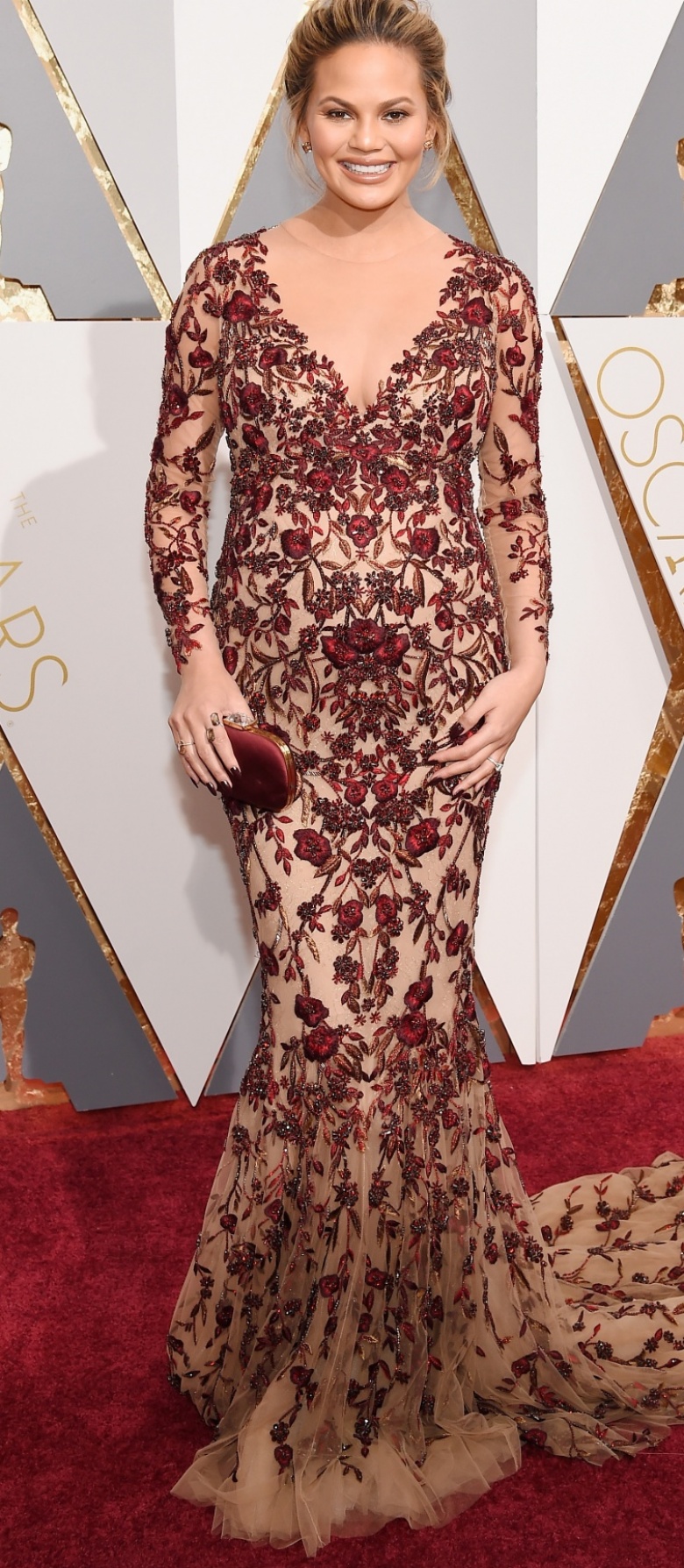 Getty Images
John Legend's wife was absolutely stunning in a nude and maroon floral Marchesa that elegantly hugged her baby bump. People reported she was sewn into the beaded gown just hours before walking the red carpet.
Ryan Gosling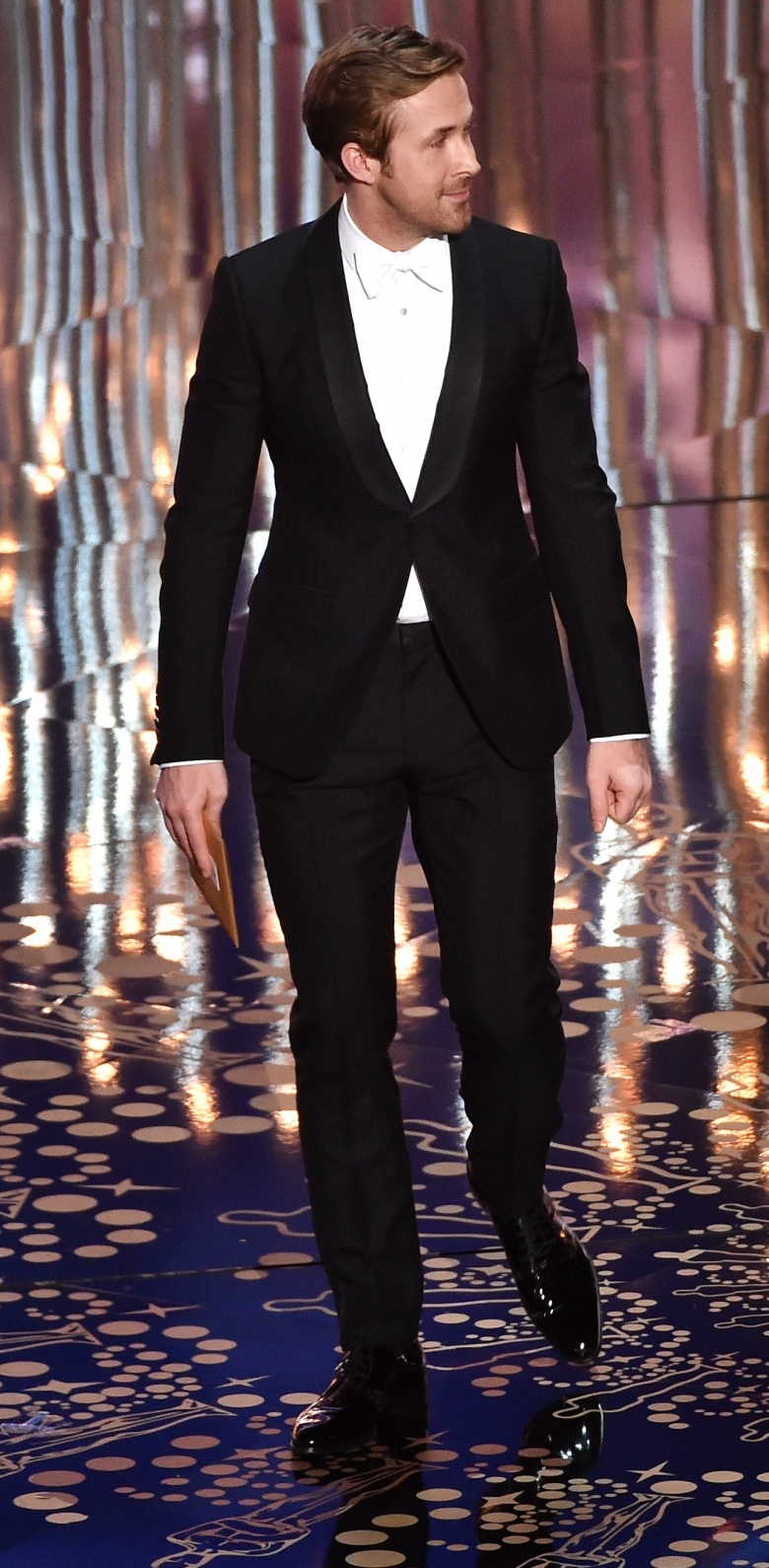 Getty Images
Hey, boy. The 36-year-old star of The Big Short scored a big win in our notebook by simply swapping the traditional black bow tie for a white one. Like many men on this year's red carpet, he forgot to shave, but he's Ryan Gosling, so who cares.
Lady Gaga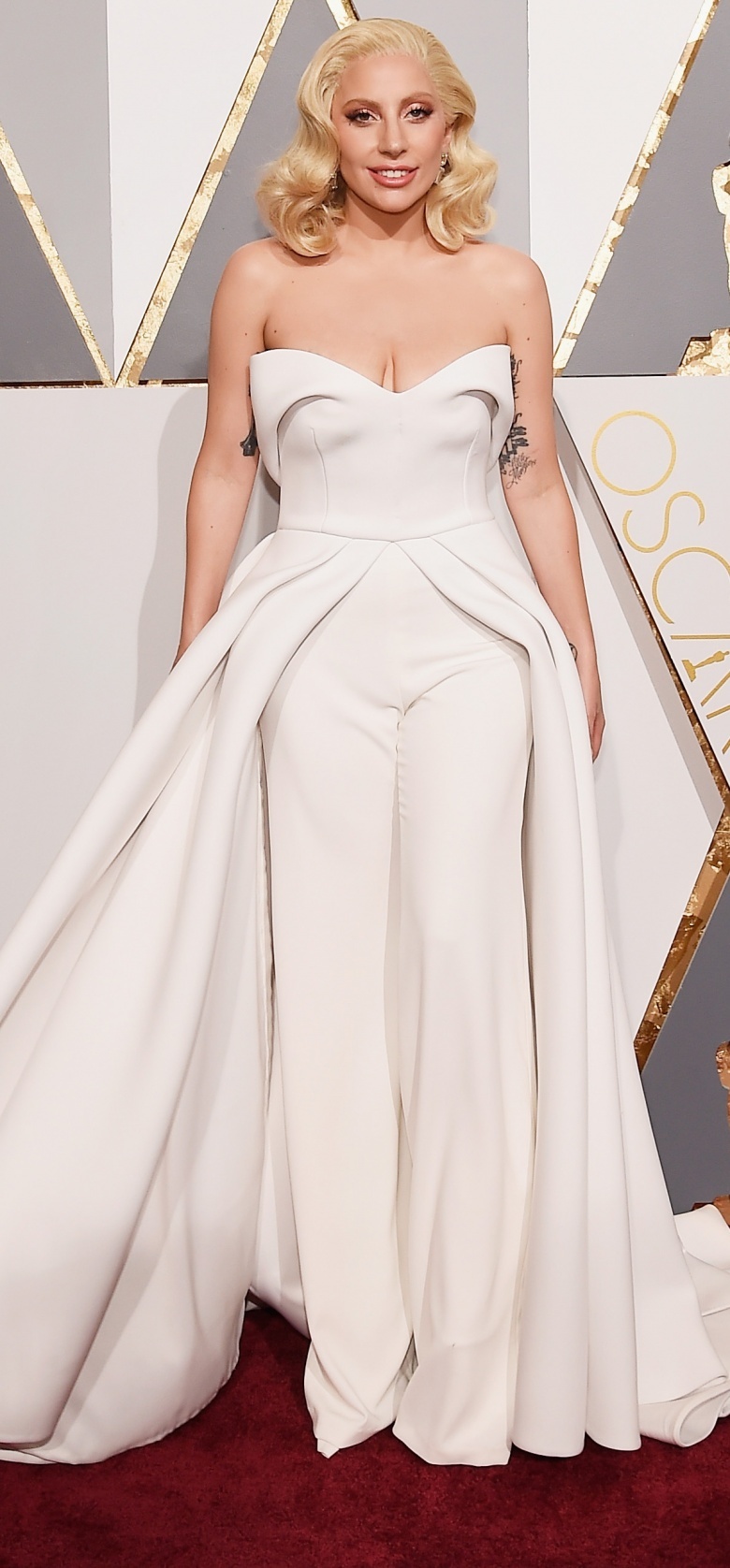 Getty Images
Gaga is on top of the world right now, including the fashion world. The Oscar-nominated artist pulled off old-Hollywood glam in a modern white pantsuit. Her hybrid look was expertly accentuated by platinum curls and pale, refined makeup. Designer Brandon Maxwell "spent an entire week making five custom dresses for me, and we chose this one yesterday," the 29-year-old said during red carpet interviews.