Martha Stewart Gives Her Unfiltered Opinion On Dating Pete Davidson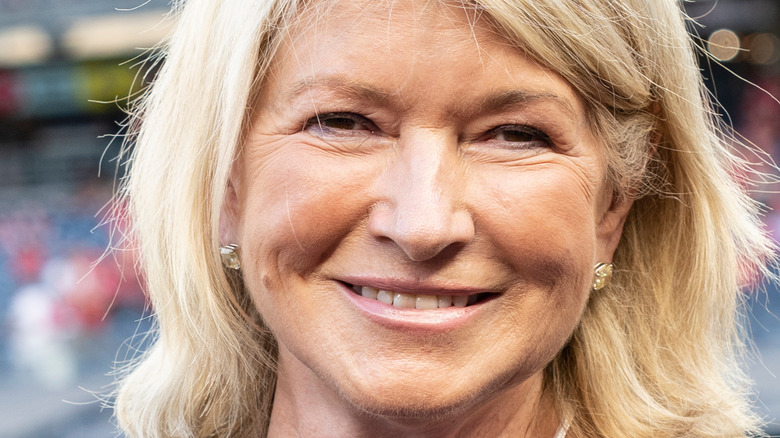 lev radin/Shutterstock
It is almost as impossible to predict what Martha Stewart is going to say next as it is to predict who is going to be Pete Davidson's next girlfriend. So the idea that Stewart — the home lifestyle guru who is famously best friends with Snoop Dogg — could be the next woman to catch Davidson's fancy is not even the wildest Davidson fan ship out there. Sure, the age difference is significant, but both are hot adults. (And anyway, if the genders were reversed, nobody would say a thing.)
Stewart has been unattached for many years, so somebody had to ask her if she'd be open to dating the original target of the phrase BDE. Luckily for that, and all potentially awkward questions, we have Drew Barrymore. On her talk show, the former child star quizzed Stewart on some of her relationship red, yellow, and green flags, and when it came to the former "SNL" comedian, Stewart did not hold back.
Martha Stewart says she'd totally date Pete Davidson
Drew Barrymore and Martha Stewart are both single ladies, so Barrymore decided to have a little fun during Stewart's Oct. 25 appearance on "The Drew Barrymore Show." Both women got a red flag, a yellow flag, and a green flag, and Barrymore asked Stewart to raise the appropriate banner in response to each question. Ready? First question: Would Stewart be open to dating a person with as many tattoos as Pete Davidson? Without hesitation, Stewart waved her green flag. What about dating Pete Davidson himself? Stewart didn't miss a beat in raising that green flag again. "He has dated so many women," said Stewart, which, for the record, she does not consider a bad thing. "And he's sort of cute. Everybody loves him. I know him." Stewart recalled Davidson acting like a "little twerp" at the Justin Bieber roast with her. (Bieber, by the way, is another young man Stewart finds quite adorable.) 
It's not actually the first time Stewart was asked about a potential Davidson romance. In August 2022, she laughed off the suggestion to the Daily Mail, saying he is, "like the son I never had!" We'll just see about that, won't we?