Kate Middleton's Wedding Flowers Cost A Staggering Amount Of Money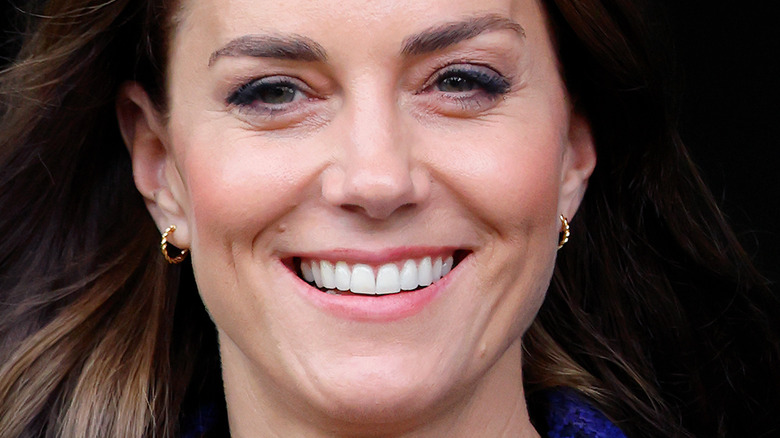 Max Mumby/indigo/Getty Images
Everybody loves a good wedding, and the more lavish, the better! So long as you're not the one who's picking up the tab. It's traditional etiquette for the bride's family to pay for the big day. But when you're a commoner marrying into royalty, that's close to impossible. According to The Knot, in 2021, the average wedding, including the honeymoon and engagement ring, costs $34,000. When it's a royal wedding, though, you can look at adding a good few zeros to the end.
"The Royal Family [pays] for the core aspects of the wedding, such as the church service, the associated music, flowers, decorations, and the reception," Kensington Palace said in anticipation of Prince Harry and Meghan Markle's royal wedding (via The Independent). However, they conveniently omitted the most expensive element: security. The Daily Mail estimated that the policing of William and Kate's 2011 wedding cost taxpayers about £20 million (which equates to an estimated $30 million in today's money). CBS reports that William and Kate's big day cost about $2 million without the security costs.
One of the things many people don't know about Prince William and Kate Middleton's marriage is that the bride's parents reportedly chipped in a six-figure sum toward the expenses. "It is something they absolutely wanted to do, and William graciously accepted," a senior aide told Vanity Fair. It's safe to assume they still had to have a bit of help to reach the final target, as Kate Middleton's wedding flowers alone cost a staggering amount of money. How much? Read on to find out.
Kate Middleton's wedding flowers were subtle but expensive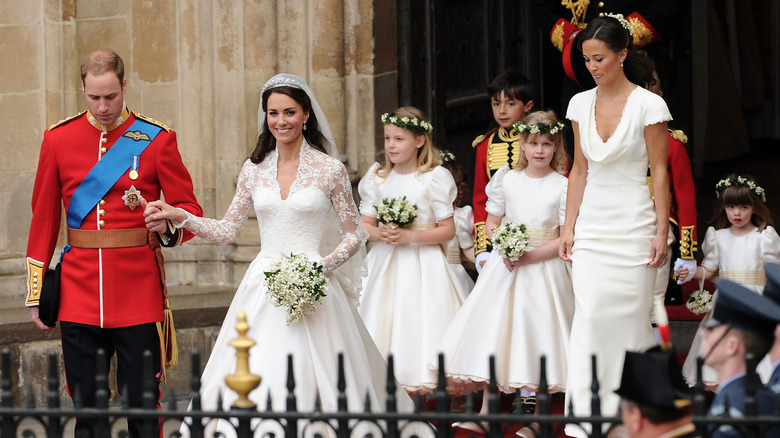 Ian Gavan/gp/Getty Images
For years, paying for royal weddings has been a bone of contention. According to a YouGov survey, when Prince Harry and Meghan Markle were prepping their walk down the aisle, 57% of Brits thought the royals should pay for the "entire wedding," including security costs. Only 1% believe taxpayers ought to foot the entire bill. If the one percenters had their way, Brits would've forked out a very princely sum just to help kick off Kate Middleton's lavish life. Amy Eisinger, who used to edit the Wedding Channel, estimated that the newly-appointed Princess of Wales splashed out an estimated £653,000 (the equivalent of about $748,000 in 2022 money) just on wedding flowers alone (via The Express).
For her bridal bouquet, The Guardian reports that Kate chose a seasonal assortment of local flowers that could be found in an English garden. They heralded the blushing bride for selecting only home-grown flowers and praised her modest lily of the valley bouquet.
Meanwhile, florist Shane Connolly praised Kate for her environmentalism and for not going down the "green bling" route. "The choice of British flowers — and of living trees that can be replanted — is very green, very zeitgeisty," Connolly told The Guardian. "And in that old-fashioned royal way, Kate and William have used this opportunity to encourage people to buy British. I'm very pleased." It's not surprising Connolly was delighted as he was the chosen royal florist. But the question is, how did Kate's wedding flowers cost so much?
Kate Middleton's wedding flowers had sentimental meaning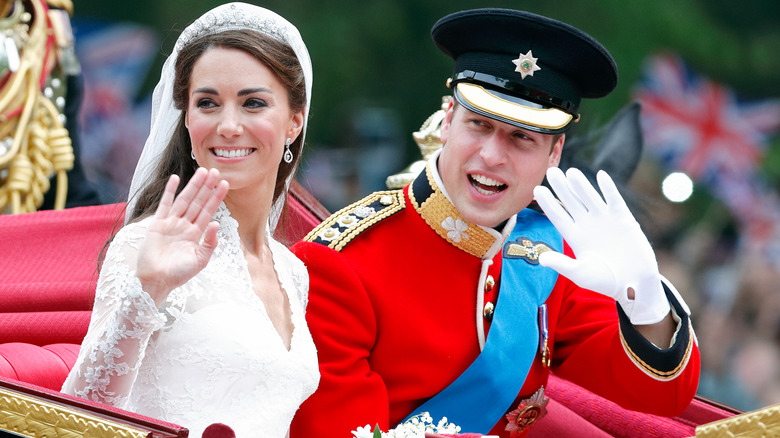 Max Mumby/indigo/Getty Images
Who cares about money when you're a member of the royal family? Kate Middleton's wedding flowers may have cost a staggering amount of money, but what price can be placed on their sentimental meaning? (About $748,000 in the Princess of Wales' case). 
Glamour broke down the significance of Kate's floral choices and what the blossoms symbolized. The posey was primarily composed of lily of the valley flowers. But, it also included sweet williams, myrtle, ivy, and hyacinths. Each of the blooms has a special significance. The lily of the valley symbolizes "trustworthy." Sweet williams are for "gallantry." Myrtle is a royal tradition that spans back to Queen Victoria's reign and has been included in all wedding bouquets ever since. Ivy stands for "fidelity, friendship, and affection." And hyacinths "symbolize the constancy of love."
Shane Connelly opened up about his "lucky" experience as the wedding florist for William and Kate's special day. "It was an enormous honor and a very exciting project in every way," he told Town and Country. Connelly insisted that the publicity he received meant nothing to him as "all I ever want is to please my client... whoever they are." He said that as long as "the bride and groom were happy, that's all that mattered. They were very happy, so it was all fine."