Who Is Your Favorite Actor That Got Their Start On Reality TV? - Exclusive Survey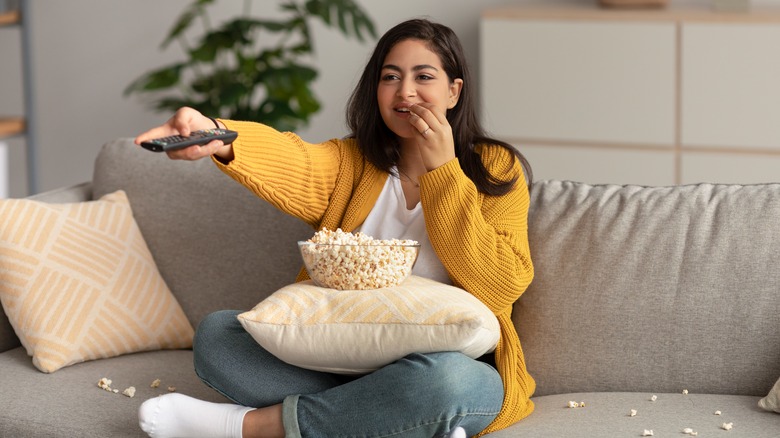 Prostock-studio/Shutterstock
Transitioning from reality TV to acting is no easy feat. Sometimes fans get so used to seeing the so-called reality of certain celebs that it's difficult for viewers to suspend their disbelief and view the stars as the characters they're playing. Then there's always a chance that a reality star's acting won't seem up to par alongside that of polished professionals. Kourtney Kardashian's movie debut in "He's All That" was somewhat unique in that she was sharing the screen with another first-timer, TikTok star Addison Rae. But this didn't help soften the social media reviews of the "Keeping Up With the Kardashians" star's performance. One Twitter critic opined, "Kourtney Kardashian had the emotion of a long-dead corpse." Ouch.
There are also reality stars who give acting a shot and realize that it's simply not for them. But to be fair, Kelly Clarkson had a strong inkling that she wouldn't love filming "From Justin to Kelly" after winning "American Idol." The talk show host recalled to the Los Angeles Times, "I cried. I talked to many lawyers and could not get out of the movie." But then there are stars like Clarkson's fellow "American Idol" alum Jennifer Hudson, who seamlessly transitioned to acting. After finishing 7th on the show, she went on to star in movies including "Dreamgirls" and "The Secret Life of Bees," and she even became an EGOT winner, per GoldDerby. It's these success stories that Nicki Swift was interested in for a new readers' poll.
Emma Stone's short-lived reality show stint paid off
Nicki Swift asked 589 readers who their favorite actor is that got their start on reality TV, and "The Amazing Spider-Man" actor Emma Stone swung away with the victory, securing 32.94% of the vote. "Respect" star Jennifer Hudson was a close second with her 28.18%, and finishing in third at 12.22% was Katharine McPhee, who also competed on "American Idol" and appeared alongside Hudson on the musical TV series "Smash." Up next was Lucy Hale, who scored 11.04%. Before starring on "Pretty Little Liars," Hale competed on the "American Idol" spinoff "American Juniors" at age 13, per MTV News. Finishing in the bottom two were "Dancing with the Stars" pro Julianne Hough (10.70%), whose acting credits include the "Footloose" remake and "Rock of Ages," and "Glee" actor Heather Morris (4.92%), who told the Boston Herald that she was grateful for her "So You Think You Can Dance" rejection.
You might not be aware that Stone competed on a reality show in 2004 because it was a one-off series that ultimately failed in its goal: VH1's "In Search of the Partridge Family." The aim was to find a cast for a reboot of the classic television series "The Partridge Family," and Stone won the role of Laurie Partridge after belting out songs including the Meredith Brooks hit "B***h." The show got scrapped, per The Hollywood Reporter, but in 2012, Stone told Newsweek, "I don't regret it for a minute."