Pink Releases 'Wild Hearts Can't Be Broken' Music Video Following Grammys Performance
The "What About Us" singer just dropped an emotional new video.
On Monday, Jan. 29, 2018, Pink (real name Alecia Beth Moore) released the music video for "Wild Hearts Can't Be Broken," a song off of her 2017 album Beautiful Trauma. 
Directed by Sasha Samsonova, this sparse, black-and-white video shows the 38-year-old pop star belting out the track's powerful lyrics. "There's not enough rope to tie me down / There's not enough tape to shut this mouth," she sings, while rocking her signature short hairdo and a simple white tank top with jeans. "The stones you throw can make me bleed / But I won't stop until we're free. / Wild hearts can't be broken." 
As Entertainment Tonight reported, Pink's six-year-old daughter, Willow, makes adorable cameo appearances at the 1:26 and 2:54 marks of the video.
On Sunday, Jan. 28, Pink performed the ballad at the 2018 Grammy Awards, where she was nominated for Best Pop Solo Performance. While she didn't take home the trophy, the "Try" hitmaker made her mark on the stage when she ditched her penchant for aerial acrobatics for an understated yet moving rendition of the song.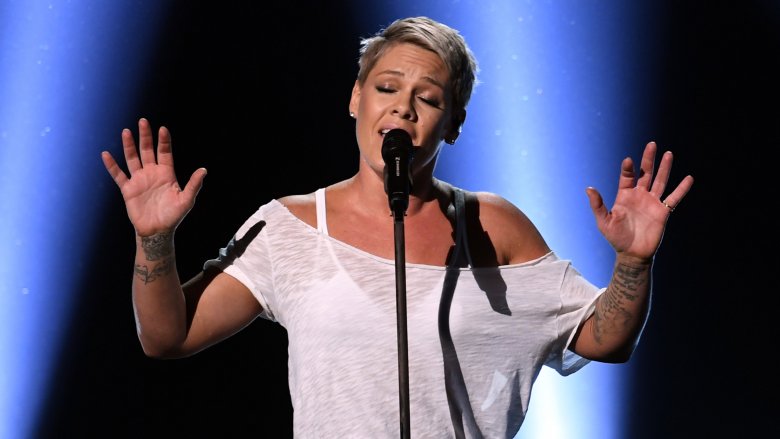 Pink, who received the Video Vanguard Award at the 2017 VMAs, made a donation to UNICEF at the time of the video's release, with the hope of helping children around the world.
"As a UNICEF Ambassador, I am proud to work with an organization that supports and empowers women and children around the world," she said in a statement (via People). "In honor of this incredible organization, in honor of this video for 'Wild Hearts' and in honor of girls and woman all over the world standing up for themselves, I am going to be making a donation in all of your names to this wonderful organization and I encourage you to do the same if the spirit moves you."
To support Pink and UNICEF's joint global mission, fans can make a donation here. Following her big night at the Grammys, Pink is set to perform the national anthem at the Super Bowl on Sunday, Feb. 4, before kicking off her world tour in Phoenix, Ariz. on March 1.