Ariana Grande's Wicked Makeover Is A Hit With Fans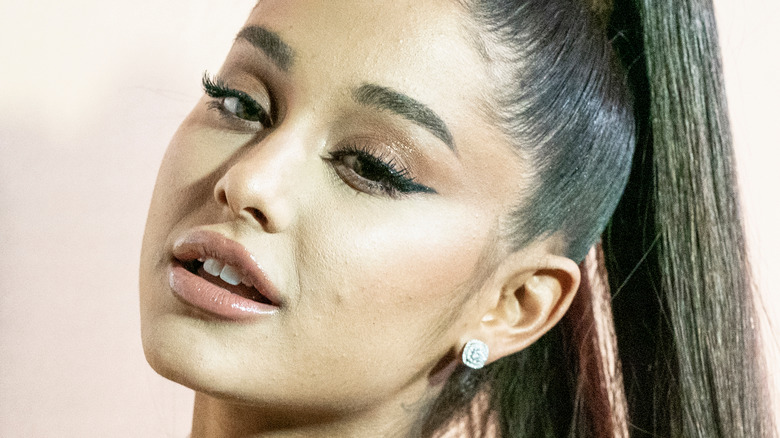 lev radin/Shutterstock
When people hear the name Ariana Grande, they usually think of her incredible voice and her signature high ponytail. In November 2020, the singer's hairstylist Josh Liu told Vogue UK that his client's famous hairstyle is "flirty, girly, and sexy." He also mentioned that it's an easy and "low maintenance" style that shows off the face since the hair is up and out of the way, which probably makes it easier for the singer to perform and dance on stage.
Hair stylist Chris Appleton elaborated how the way the ponytail is styled can change the aimed personality. "With ponytails, it's all about the placement," he told PopSugar. "The higher you go, the fiercer it looks. The lower you go, the more professional or serious it looks." 
The "Dangerous Woman" singer has also experimented with different hair colors in the past. In November 2015, she shocked her fans with a platinum blonde look for her song "Focus." "I actually was sitting opposite my Nonna and I was like, 'Nonna, I love your white hair, it's so beautiful,'" she told Entertainment Tonight. She mentioned that she thought she would "rock" blonde hair, and it seems that people are now agreeing with that after Ari's latest transformation.
Ariana Grande is rocking the blonde hair
When "7 Rings" released, Ariana Grande received some backlash on Instagram, as some fans believed the lyrics, "You like my hair? Gee thanks, just bought it," was a comment about weave and was furthering a common stereotype. "Thanks for opening the conversation and like... to everyone for talking to me about it," the singer responded. "It's never my intention to offend anybody."
It seems that everyone can agree that the "Problem" singer looks good with blonde hair, though, especially as she's preparing for her role as Glinda in the new "Wicked" movie. On October 26, Grande shared a photo of her new look on Instagram. "New earrings," she captioned the post, subtly diverting the attention away from her blonde hair — which didn't work very well. "Blondiana just shattered the internet," another person commented. "Glinda energy," another supporter mused over her Good Witch makeover.
The "Victorious" actor has had a history with coloring her hair. "I had to bleach my hair and dye it red every other week for the first 4 years of playing Cat," she shared in a Facebook post in 2014, after getting comments about having the same hairstyle all the time. She mentioned that the process "destroyed" her hair, so she kept it in a ponytail because it was the most comfortable for her as her hair grew back and became healthy again.