Did Little People, Big World Star Jacob Roloff's Engagement Spark Feud With Sister-In-Law Audrey?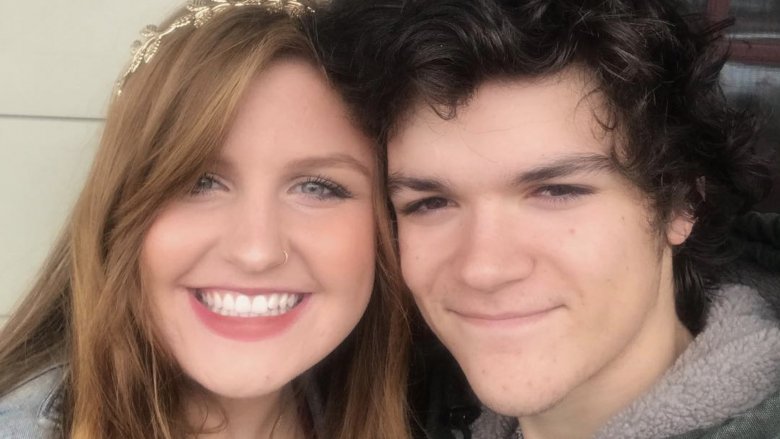 Instagram
Looks like the good news caused some bad blood.
On Saturday, Jan. 27, 2018, Little People, Big World's Jacob Roloff took to Instagram to announce that he and his girlfriend, Isabel Sofia, are engaged. Sharing a cute photo of himself giving Sofia a piggyback ride, he wrote, "...we got ENGAGED! It happened in Iceland on the frozen pond, Tjörnin, late on Christmas."
He continued, "So much love for this beautiful soul [Isabel Sofia]. Here's to many more Christmas', you n me."
Jacob's mom, Amy Roloff, later shared the news on her own Instagram account. "I couldn't be a happier mom!" she wrote. "My youngest- Jacob and the beautiful Isabel are engaged. Love them both and excited to see where life will take them in their marriage!"
But it'd appear that not everyone was pleased with Jacob's engagement. While she didn't call out her brother specifically, Jacob's sister-in-law Audrey Roloff appeared to throw some shade at the newly engaged couple in a post condemning premarital intercourse.
"Some words on dating from a Christian perspective... Let's just say you recently hurried into a relationship, dabbled with sexual intimacy, and then became emotionally attached. The main problem with this scenario is that it blinds you to red flags," she wrote, alongside a photo of herself with her husband, Jeremy Roloff. "It's the classic 'love at first sight' trap."
She went on to describe how loved ones may approach a person with "concerns about the person you're dating," but "you won't be able to rationalize with them because all you will see is perfection."
Yikes.
According to Radar Online, Jacob's unfollowed Audrey on Instagram, though he still follows the rest of his family. The celeb news source also notes that the two have had some beef, possibly due to the fact that Jacob identifies as agnostic while Audrey is Christian.
However, it doesn't seem like there's any love lost between Jacob and Jeremy, as the older brother congratulated Jacob and Isabel on their engagement on Monday, Jan. 29.