Who Is Phillies Pitcher Zack Wheeler's Wife, Dominique Wheeler?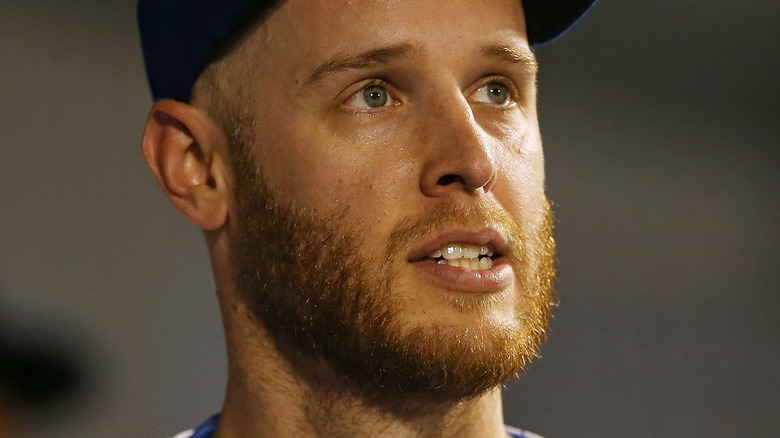 Rich Schultz/Getty Images
Philadelphia Phillies ace Zack Wheeler ended up pitching for the team at the 2022 World Series because of his wife. The Georgia native embarked on his MLB career with the New York Mets in 2013, but in 2019, he began packing up his belongings and preparing to build a life somewhere new, per SI. ESPN reported that the pitcher was offered over $120 million to join the Chicago White Sox in the Windy City, but Wheeler accepted a slightly lower offer from the Phillies: a five-year contract worth around $118 million.
According to a post on Dominique Wheeler's Instagram page, Zack had popped the question in November 2018, and a year later he gifted her with something more valuable than a diamond ring — just in time for the holidays. In December 2019, Marc Carig, the deputy managing editor for The Athletic MLB, tweeted that Zack had decided to join the Phillies for a smaller paycheck so that Dominique could be closer to her family in New Jersey.
Zack and Dominique ended 2019 on a high note when they became man and wife on New Year's Eve, celebrating their new beginning with a fairy-tale wedding at The Legacy Castle in New Jersey, according to The Knot. So who is the woman who captured Zack's heart, tightly gripping it like a palmball and inspiring the pro athlete to make a major league sacrifice for her?
Dominique Wheeler has a popular Instagram account
Dominque Wheeler (née Rizzo) was romantically involved with Zack Wheeler as early as April 2015, which is when she started catching the eye of drooling sportswriters. At the time, Zack was recuperating from Tommy John surgery, prompting Busted Coverage to write, "He'll be back better than ever next season — probably. I mean, how could he not as he spends time rehabbing and hanging out with his mega hot girlfriend, Dominique Rizzo." Meanwhile, SI compared her looks to Kate Upton. Speaking of Upton, Dominique may have had aspirations of following in the model's footsteps by appearing in the Sports Illustrated Swimsuit Issue. In late 2017 and early 2018, she added the tag "#SIswimSearch" to two different posts after getting her hair styled.
While it doesn't seem like Dominique made it to the famous annual issue, a number of her posts are photos of her posing in bikinis. Her Instagram page gives off that distinctive social media influencer vibe: as of this writing, she has a respectable following of over 75,000 fans. According to Dominique's LinkedIn profile, she is a 2017 graduate of LIM College in New York, where she earned a BBA in marketing. She was a style intern at Cosmopolitan while she was still in school, and started working as a part-time makeup artist in 2018.
Dominique Wheeler is mom of both human and fur babies
In 2020, Dominique and Zack Wheeler were expecting their first child at a tumultuous time. The deadly global pandemic threw that year's MLB schedule into turmoil, and a plan to have players quarantine away from their families had Zack up in arms. "I am not going to miss the birth of my first child. I don't care," Wheeler told NBC10. "It's something special. You'll never get to experience that again." While he was willing to miss games to be there for his wife and baby, Zack lucked out — according to the MLB, his son, Wesley, arrived a few days before his due date, which just happened to coincide with the day Zack was set to pitch his very first game with the Phillies.
Wesley was joined by a little sister named Bambi in 2022, and the young Wheelers are growing up in one wild environment. Their mom runs a second Instagram account under the username "pawsbynika," and it's dedicated to the family's menagerie of pets. There's Cabela the black lab, French bulldogs Hank and Bubba, poodle Lux, pug Ravioli, and Cannoli the goldendoodle. The canines also have a trio of feline friends: Nala, Jinx, and Luna. The two human babies joined their parents on the field after the Phillies won the NLCS, with Dominque captioning a video of the family celebrating, "WORLD SERIES BOUND So proud of this man!"