Why Tamar Braxton Really Ended Her Marriage With Vincent Herbert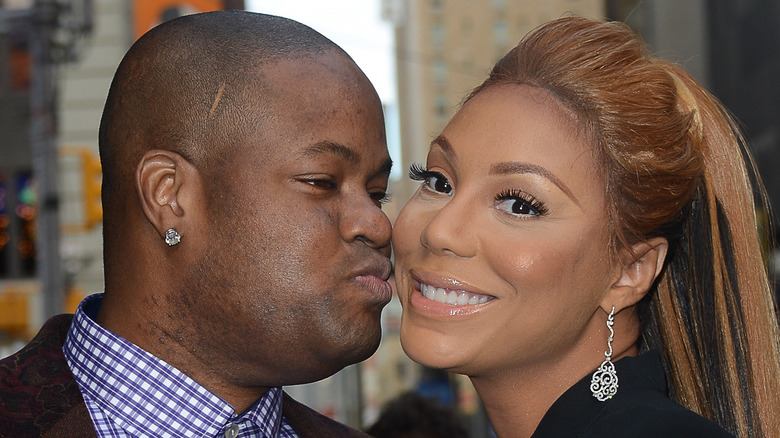 Ray Tamarra/Getty Images
Tamar Braxton's notorious marriage to Vincent "Vince" Herbert was full of ups and downs. The two first met in 2003 when they were introduced by Tamar's famous sister, Toni Braxton, and went on to tie the knot in 2008. They welcomed a son, Logan in 2013, and everything seemed to be going pretty smoothly between this showbiz couple, with Herbert even serving as the "My Man" hitmaker's manager. But all that soon changed.
In October 2017, TMZ reported that Tamar filed for divorce from Herbert around four weeks before they would have celebrated their ninth wedding anniversary. In a statement to Us Weekly, the former "The Real" co-host's rep shared, "We can confirm Ms. Braxton has made an extremely difficult decision and has filed for divorce from Vincent Herbert. Collectively, their son, Logan, and his well-being during this extremely unfortunate process is most important. We ask that everyone respects her privacy during this incredibly difficult time. She appreciates everyone's love and prayers."
But, as the marriage came to an end, more came out about what really went on behind the scenes with the firey couple, and we learned why the "Braxton Family Values" star really called time on her second marriage.
Tamar Braxton couldn't pretend anymore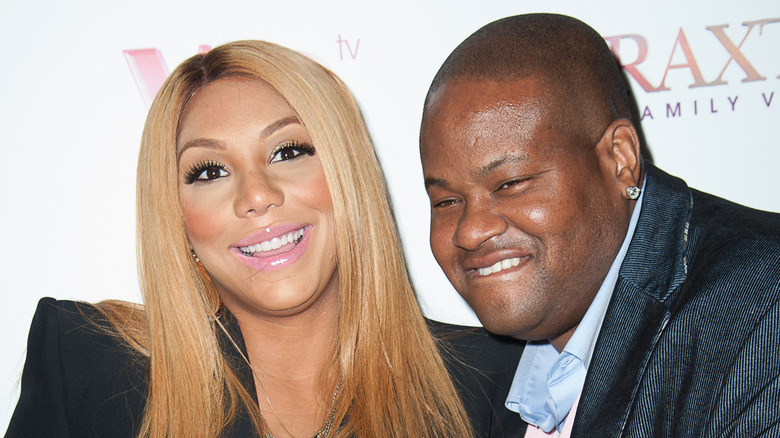 Dave Kotinsky/Getty Images
Tamar Braxton got pretty candid about the reason her marriage to Vincent Herbert came to an end on Instagram a few days after she filed for divorce, sharing a since deleted post in which she seemed to tell fans her marriage became more about keeping up the façade of happiness. "Sometimes we stay 'married' for face value or to say 'we did it' but the truth is...it couldn't be more broken &further apart than we are NOW!...even on an anniversary!," she wrote, per Essence, explaining she decided to stay with Herbert for as long as she did but eventually realized she wasn't winning by keeping herself in an unhappy situation. "I decided I didn't want to be married for the sake of saying so. I wanted to have a relationship. Someone to share my/our dreams, our successes, our failures, our past, present & future with...& not finding out s**t online...some of us have been living a LIE!," she added.
Fans saw their friction play out on their reality show "Tamar & Vince," while she opened up a little more to "The View" in February 2018. "It was just to a point where I felt like divorce was the only option that I had left," she explained, revealing that they started going to counselling together but it wasn't enough to save their relationship. Tamar said they decided to go their separate ways to create a healthier environment for their son, Logan.
Tamar Braxton and Vince Herbert's cheating and domestic abuse allegations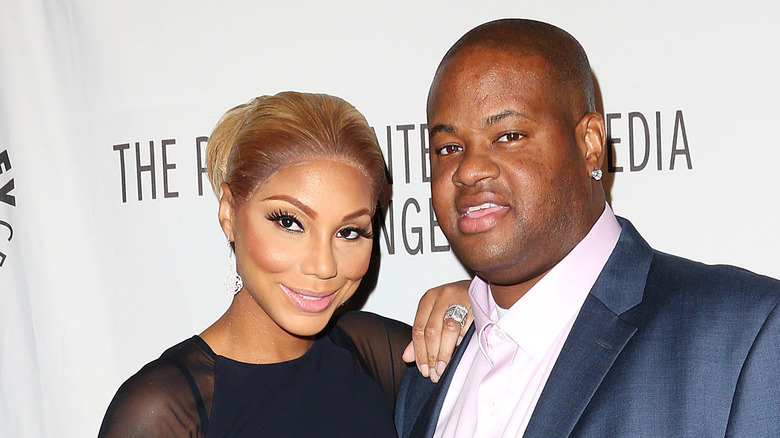 Frederick M. Brown/Getty Images
Around the time of their divorce, there were plenty of rumors swirling around Tamar Braxton and Vincent Herbert. Daily Mail alleged police were called to a domestic dispute at the now former couple's home in August 2017 (two months before she filed for divorce), around the same time Bossip alleged that the cops were called while the two were at a hotel after Herbert purportedly physically abused his now former wife. Tamar's mom, Evelyn Braxton, also spoke out against Herbert, claiming to The Grio that her daughter had allegedly been abused by Herbert for years. "Everybody saw Vince as a knight and shining armor, [but] behind closed doors that's a horse of another color. I'm tired of [Tamar] being abused and misused," she said. A source close to Herbert denied Evelyn's claims to TMZ, though Herbert was arrested on Christmas Day 2017 for spousal assault.
Then there were Tamar's claims that same month that Herbert had allegedly gotten another woman pregnant, with Tamar claiming in a now deleted Instagram post, per E! News, she was informed by the woman. Both ended up denying those claims on "The View," though, with Tamar taking responsibility for believing incorrect information, while Herbert hit back when asked if he was expecting another child, per, "Absolutely not. And all the other allegations are not true... I love [Tamar] with all my heart. I will never stop fighting with my family and make it great."
If you or someone you know is dealing with domestic abuse, you can call the National Domestic Violence Hotline at 1−800−799−7233. You can also find more information, resources, and support at their website.