What Chadwick Boseman's Wife Taylor Simone Ledward Has Been Doing Since His Death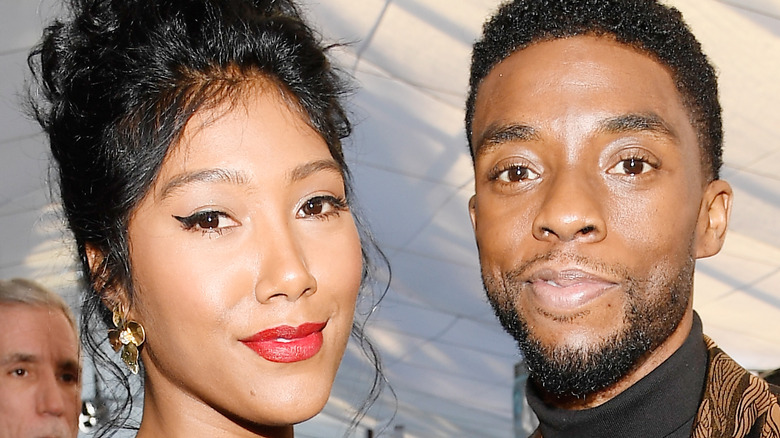 Kevork Djansezian/Getty Images
Very few stars possess the electric charisma of the late Chadwick Boseman. From "42" to "Marshall," he consistently impressed critics and audiences alike with his performances. However, perhaps his most enduring role is that of King T'Challa AKA Black Panther, from the movie of the same name. Through this role, he made history as the first Black lead in a Marvel Cinematic Universe film. More than that, he was the first Black lead in a big-budget, mainstream superhero film.
"I think there's a thirst for these images, there's a thirst for a Black superhero," Boseman told Willie Geist on "Today" in 2018. He loved getting to play a role that meant so much to others.  "As far as my character goes, there's a real search for, 'how do I lead?' I think people are searching for that: leaders that actually care about the people." Boseman also added that he hoped that children who saw the film would see that they could be stars, too. 
His star continued to rise with appearances in "Avengers: Endgame," "21 Bridges," and more, but privately, Boseman was suffering with colon cancer. Diagnosed in 2016, the actor fought the disease in secret, undergoing chemotherapy while filming some of his most well-known films (via Biography). Unfortunately, Boseman died on August 28, 2020 at the age of 43, leaving many hearts broken — including that of his wife, Taylor Simone Ledward.
How Taylor Simone Ledward upholds Chadwick Boseman's legacy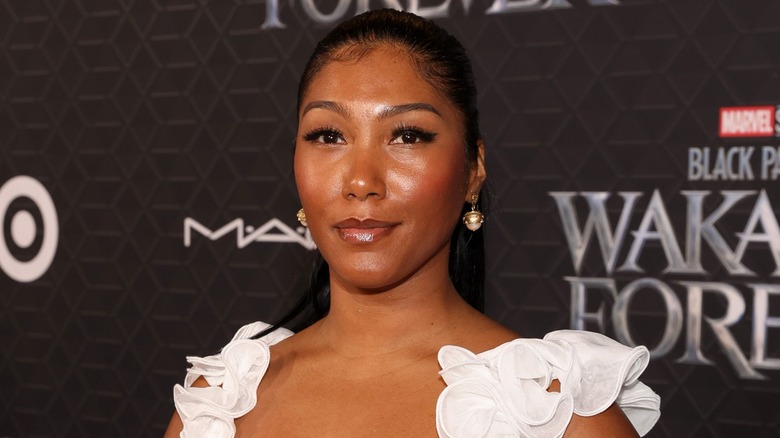 Jesse Grant/Getty Images
Though the loss of her husband surely weighs on her, Taylor Simone Ledward bears his legacy with grace. She frequently represents Chadwick Boseman at major events. A graduate of Cal State Poly, she is a singer by profession. In fact, one of her most moving tributes to her late love involved performing a cover of "I'll Be Seeing You" at a Stand Up for Cancer charity event in 2021, per Entertainment Weekly.
Beyond that beautiful performance, Ledward has accepted multiple awards for Boseman, from Gotham Awards to Critic's Choice Awards to Golden Globes. She honored her husband with a powerful speech while accepting his Emmy for "Marvel's What...if?" Ledward explained (per Hollywood Reporter) that his nomination reminded her of "everything that was going on in the world and in our world and just being in such awe of his commitment and his dedication." She added that it was "a beautifully aligned moment" that one of his last projects was not only a return to the role of T'Challa, but "an exploration of something new." 
One of Ledward's key objectives since Boseman's death was establishing the Chadwick Boseman Foundation for the Arts. In addition to supporting young Black professionals in the film industry, the Foundation, in conjunction with Netflix, provided the Chadwick A. Boseman Memorial Scholarship to students of his alma mater, Howard University. Determined to maintain his legacy, she also represented her husband at the premiere for "Black Panther: Wakanda Forever" in October 2022, per BuzzFeed.
Taylor Simone Ledward cared for Chadwick Boseman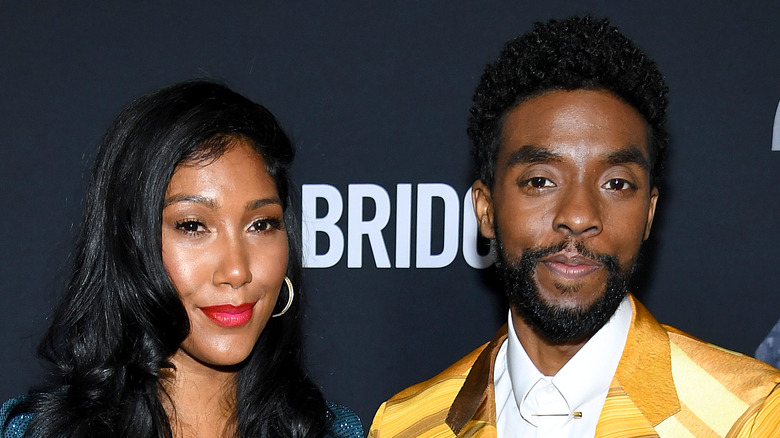 Dimitrios Kambouris/Getty Images
Of all the hearts broken by Chadwick Boseman's death, none felt the loss more strongly than his wife, Taylor Simone Ledward. The couple enjoyed their time out of the spotlight, but proved to share an unbreakable bond.
Singer Ledward first began dating Boseman around 2015. The pair was notoriously private, and their relationship was confirmed by her grandmother to In Touch Weekly in 2018. Though the timeline isn't clear on when they married, Boseman and Ledward were indeed husband and wife by the time he passed. Denzel Washington, a friend and mentor of Boseman, recalled to CBS News watching "how she took care of him" and telling him "Man, you need to put a ring on that finger." Ledward supported Boseman throughout his career and illness, and she was by his side when he passed. 
"A true fighter, Chadwick persevered through it all, and brought you many of the films you have come to love so much," the family shared on Boseman's Instagram, confirming his death. Revealing that Ledward was with the star when he passed, the family thanked fans for their love and prayers. "It was the honor of his career to bring King T'Challa to life in Black Panther."