Inside Dave Bautista's Close Friendship With Jason Momoa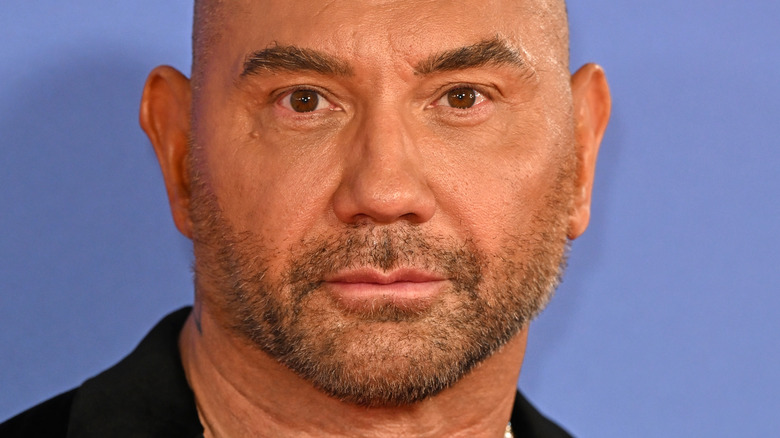 Jeff Spicer/Getty Images
Dave Bautista and Jason Momoa both have an imposing screen presence which helped lead to them being cast in Denis Villeneuve's "Dune." That was the first movie to feature the two action stars, and neither actor had to audition for their role. "He just straight up asked me if I would come and play this part," Bautista said about Villeneuve while speaking to Collider in 2021. "I was so taken aback I didn't even know what to say, except for, obviously, 'yes,'" the former WWE wrestler added. Momoa had a similar experience earning his part, although the ease of being cast only added pressure. "Knowing Denis picked me to play this role ... I've never been this nervous," the "Conan the Barbarian" star told Men's Health in 2020.
After they were finished working on "Dune," Bautista and Momoa reconnected for the Apple TV+ series "See," where they played feuding brothers Baba Voss (Momoa), and Edo Voss (Bautista). In the series, the two had mutual resentment which led to an epic battle in Season 2. Momoa teased the scene on his Instagram in 2021. "Be careful brother, Baba's coming," he wrote in the caption.
Although they worked together as on-screen enemies, Bautista revealed they had a personal connection. "I had been wanting to work with Momoa for years," he told Variety in 2021. "We just really gel," Bautista added. The pair enjoyed the process so much that they decided to team up once again, and they used social media to pitch the idea. 
They used their influence to star in a movie together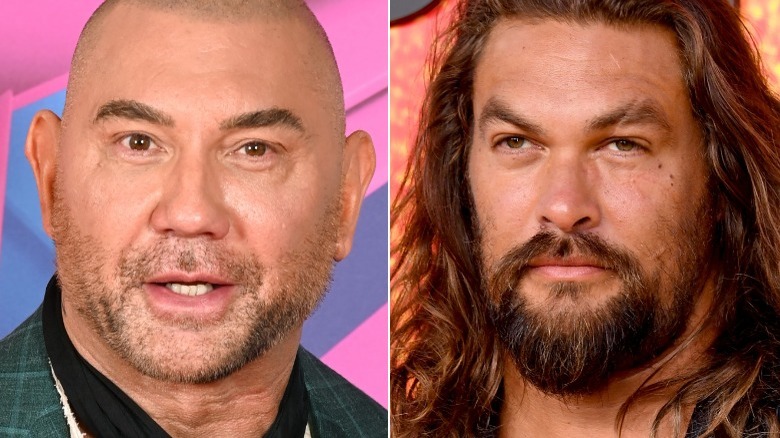 Dave J Hogan & Jon Kopaloff/Getty
Dave Bautista excited fans when he took to Twitter in August 2021 to pitch a movie idea that would star bother him and Jason Momoa. "Here we go ... Me and Momoa in a Lethal Weapon type buddy-cop movie directed by David Leitch," the "Guardians of the Galaxy" actor wrote. The tweet went viral, but Bautista had not gone rogue when he proposed the idea to the public. "He did text me first, which is how respectful he is," Momoa said of Bautista when speaking to Entertainment Weekly in August 2021. "And then it turns out he just tweeted it right after getting my approval." While discussing the prospect of the buddy-cop movie, Momoa revealed that the two actors were more than just co-stars. "We love each other," the "Braven" star said on "The Late Late Show with James Corden" in 2021.
Hearing that Bautista and Momoa were onboard for an action movie was all that Hollywood needed to put the wheels in motion. Months after Bautista posted the viral tweet, it was announced that a bidding war broke out between studios to scoop up the actors for the project, per Deadline. Bautista and Momoa had teamed up with "See" writer Jonathan Topper to pitch the movie, and the result pleased the "Army of the Dead" actor. "Two months and 11 days. Wait time acceptable!" Bautista tweeted after the movie was greenlit.
Long before getting a chance to work together, Bautista had gone out of his way to meet Momoa face-to-face.
Dave Bautista and Jason Momoa met as fans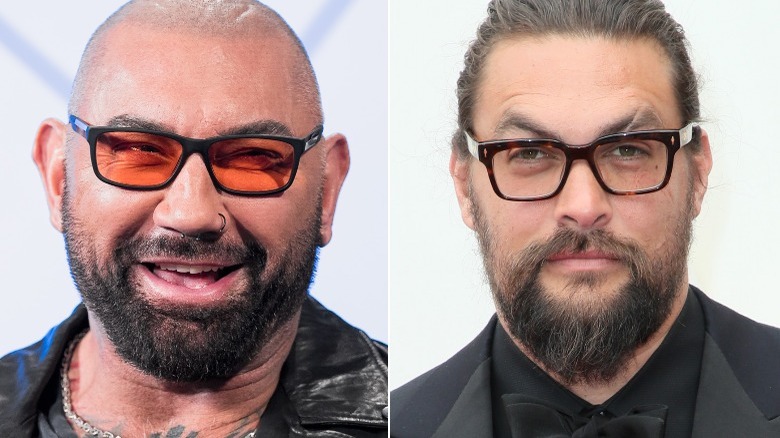 Rich Polk & David Livingston/Getty
The first meeting between Dave Bautista and Jason Momoa was not on a film set. Before collaborating on "Dune," "See," or their buddy-cop movie, the two action stars met where many people go to meet Hollywood actors. "We both geeked out on each other at Comic-Con." Momoa said on "Late Night with Seth Meyers" in 2021 while being interviewed alongside Bautista. In fact, it was Bautista who fanned-out first over the "Justice League" star. "I actually had reached out to him maybe a year or a year and a half before on Instagram," Bautista said. "I creeped into his DMs."
Once the pair met, and had a chance to collaborate with each other, then their relationship truly blossomed. "I adore the guy," Momoa told Entertainment Weekly in 2021 while discussing his "See" co-star. He gushed over Bautista, and believed the sentiments were reciprocated. "I love being around his energy, and I feel like he feels the same about me," Momoa added.
Besides enjoying his camaraderie, Momoa was envious of the physicality that Bautista brought to his roles. "I'm hoping when I'm Bautista's age I can still do what he does," Momoa told Entertainment Weekly. "He's one of those big guys that can move and fight really well." With their off-screen friendship, and their on-screen chemistry, fans will likely enjoy seeing Bautista and Momoa work together for years to come.