Have Mary-Kate And Ashley Olsen Ever Had Plastic Surgery?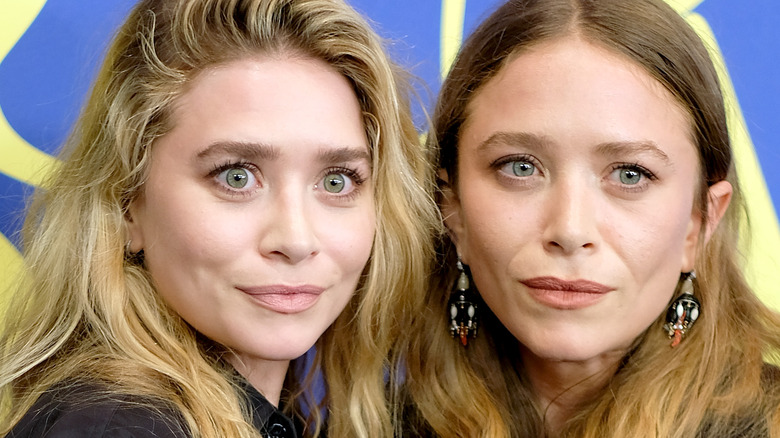 Dimitrios Kambouris/Getty Images
Mary-Kate and Ashley Olsen were only babies when they started out on "Full House." For eight seasons, the twin sisters shared the role of Michelle Tanner on the ABC sitcom, and fans never knew which one they were seeing on-screen. Dubbed the Olsen twins, the two looked almost identical and did everything together. After "Full House" ended in 1995, the twins starred in a series of straight-to-video movies as well as the twin-themed TV series' "Two of a Kind" and "Too Little Time" before heading off — together — to New York University (via Los Angeles Times).
In 2004, the twins told "The Oprah Winfrey Show" that they had subtle differences in their appearances. Ashley noted that she is an inch taller than Mary-Kate and "used to" have a freckle above her lip that has since disappeared. They also had different hair colors at the time. 
Two years later, Mary-Kate and Ashley started their fashion design business, The Row, while still in college. And while they were still mostly joined at the hip, over the next 15 years, fans began to notice that the celebrity twins didn't look exactly alike anymore.
Mary-Kate and Ashley have long been hit with plastic surgery rumors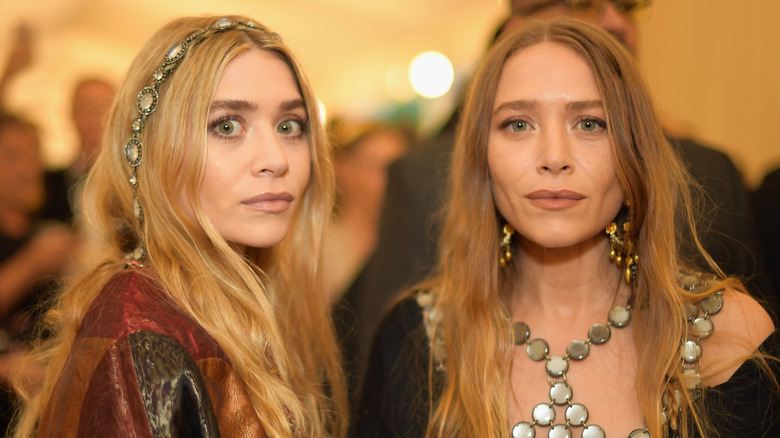 Matt Winkelmeyer/mg18/Getty Images
Mary-Kate and Ashley Olsen are fraternal twins, not identical, but fans could never tell them apart because the differences in their looks were so subtle when they were kids. But as they entered adulthood, people began to notice that their faces no longer looked the same. In 2014, the Daily Mail posted photos of the Olsen twins posing on the red carpet at the World Children Awards in New York City, where they looked noticeably different. On social media, fans zeroed in on Mary-Kate, with many speculating that she had plastic surgery to achieve a more hollowed-out face. Then, in June 2021, the sisters sat down for a rare interview with i-D, during which Ashley was described as having "dirty-blonde, alabaster, minimal silk shirt, mirrored necklace" and Mary-Kate as "honey-toned hair, bronzed skin, paisley shawl."
The Olsen twins have never spoken publicly about the plastic surgery rumors, but plastic surgeon Dr. Rian Maercks did. In an interview with Life & Style, Dr. Maercks blamed Mary-Kate's changed appearance on her cigarette habit. "I would say that technically the majority of the changes we see could be due to accelerated aging associated with nicotine products, tobacco, or other environmental factors, as [Mary-Kate] is a known smoker," the doctor revealed.
The synopsis makes sense, considering how off-brand it would be for one of the twins to undergo a solo cosmetic surgery. "We do everything together," Ashley once told WSJ Magazine, to which her sister added, "We came out of the womb doing that."
Mary-Kate and Ashley's younger sister has also dealt with plastic surgery rumors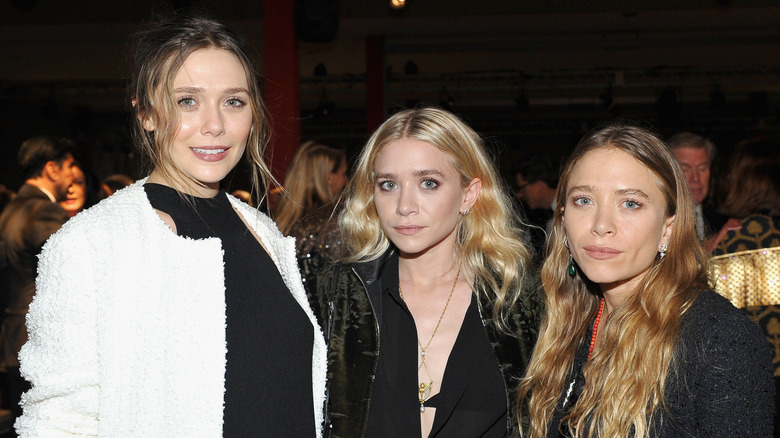 Donato Sardella/Getty Images
It's not easy being an Olsen, especially one in the spotlight. While Mary-Kate and Ashley Olsen have mostly retreated from Hollywood to run their fashion empire, their younger sister, Elizabeth Olsen, remains front and center as an actor. Elizabeth has appeared in movies and television shows, such as "Avengers: Endgame" and "WandaVision," per IMDb. And like her older sisters, she has been hit with rumors about her looks.
Elizabeth revealed that people often think she had a nose job. When she was a guest on "Watch What Happens Live" in 2014, she said, "Apparently, people think I've had a nose job because I have a very small nose." She also laughed off a "crazy" rumor accusing her sisters of "stuffing" her with "so much cocaine" when she was a kid that she was forced to get surgery on her nose.
In a 2018 interview on "The Late Late Show With James Corden," Elizabeth noted that the nose job rumors were rampant. "When I first started working... if you were to Google my name, the first search that would come up would be 'nose job,'" she told Corden. "And well, I've never had a nose job. I've had this same nose my whole life and I used to be made fun of for having a Michael Jackson nose. But he had a lot of surgeries to get there."