Why Was Will Smith Hesitant To Kiss Eva Mendes On Set?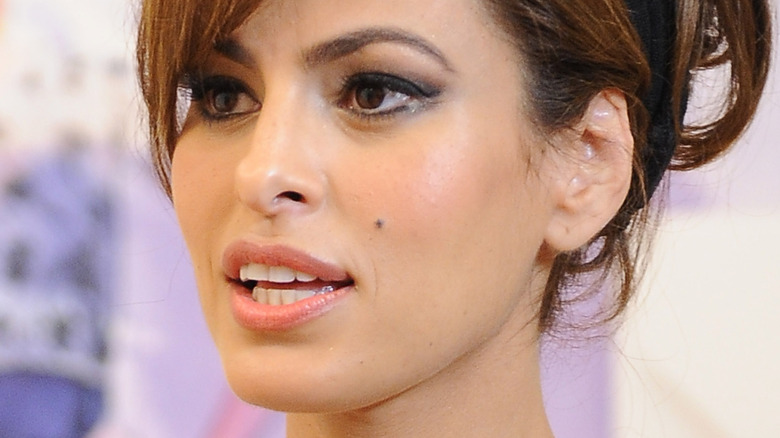 Angela Weiss/Getty Images
It's always a good idea to stock up on breath spray and mints if you're an actor because you never know when a co-star is going to kiss and tell. The dreaded on-screen kiss is an awkward job requirement that's difficult to dodge in Hollywood's one-of-a-kind workplace environment, so plenty of celebs have spoken out about their awful experiences locking lips with co-stars. Then, there are those who seem to enjoy kissing their co-stars too much.
Most of Hollywood's biggest stars have stories about memorable on-screen kisses to tell, and sometimes actors can be unexpectedly candid about their experiences. In a 2004 interview with Blackfilm, Will Smith confessed that he struggles with kissing scenes in general. "You can't just snatch off when they say 'cut,' you know?" he explained. After Rosario Dawson worked with him on "Seven Pounds," she told Access that Will was so nervous about their kissing scene that he asked his wife, Jada Pinkett Smith, to be a supportive presence on-set as they filmed it. He eventually got through it, with Dawson recalling, "There was lots of tongue. I mean, I got permission from Jada."
Meanwhile, Will's "Hitch" co-star, Eva Mendes, made her own kissing confession to Boston.com about her work in the 2003 film "Once Upon Time in Mexico." Said the actor, "I regret not kissing Johnny Depp for longer." But, before Mendes locked lips with Will in "Hitch," he saw her do something that didn't exactly have him desiring to prolong their own smooching scene.
Eva Mendes calmed her nerves with the 'stank breath special'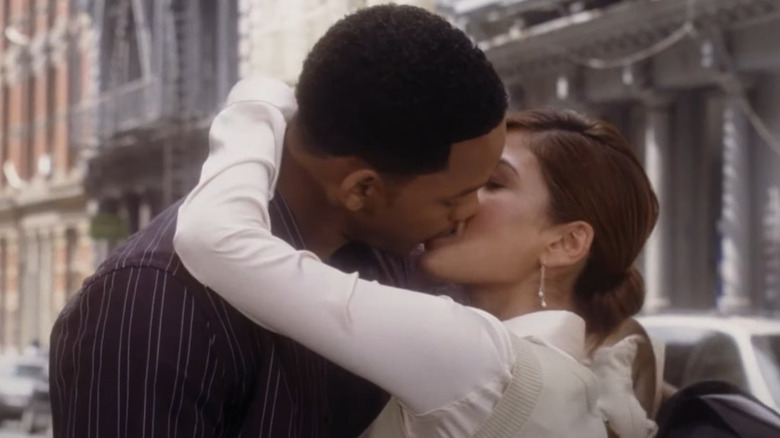 Sony Pictures
Eva Mendes has locked lips with a number of popular leading men. In a 2003 interview with Dark Horizons, she revealed that her first on-screen kiss was with Denzel Washington in "Training Day," and she dished that pretending to make out with her "2 Fast 2 Furious" co-star Paul Walker was a pleasant experience. But she said of her overall experience with kissing scenes, "They are really nerve-wracking."
In an interview with The Times, Mendes admitted that smooching her co-stars hadn't become any less awkward by the time she filmed the 2005 rom-com "Hitch" with Will Smith. "Will put me at ease and he does smell good, but I was so nervous, I thought I'd have some comfort food," she recalled. In an appearance on "The Oprah Winfrey Show," she described the culinary creation that helped calm her down as the "stank breath special," revealing that it was a sandwich filled with crushed-up Doritos, tuna fish, and plenty of onions. 
Unfortunately, Smith saw her scarfing it down right before he was about to get a big whiff of her breath. "He just went, 'What are you doing?' That made me even more nervous, and I started brushing my teeth obsessively," Mendes told The Times of the mortifying experience. Thankfully, her attempt at erasing any evidence of acrid odor apparently worked — when she asked Smith what the kiss was like on "Oprah," he replied, "It was absolutely wonderful."
Jada Pinkett Smith wanted to kiss Eva Mendes, too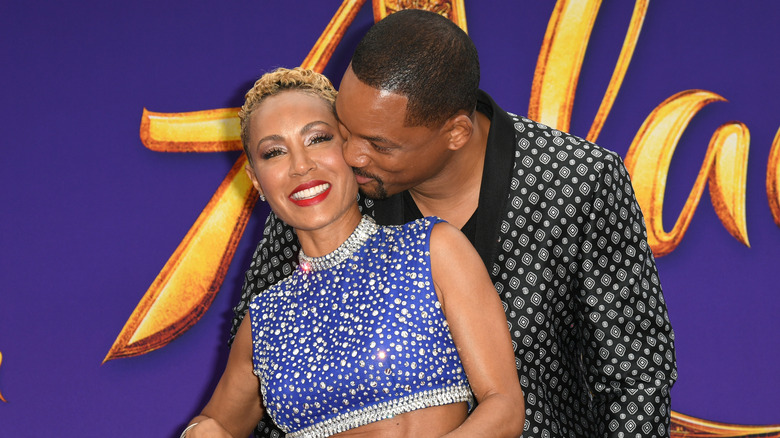 Kevin Winter/Getty Images
When Vivica A. Fox learned that she would be locking lips with Will Smith in "Independence Day," Will was dating Jada Pinkett Smith, so Fox made sure to reach out to her co-star's real-life leading lady before filming the steamy scene. Fox recalled to People, "She said, 'Girl dive on in, just load up on that Binaca.'" (FYI, breath spray seems to be a staple in the Smith household. After filming kissing scenes with Will in "Focus," Margot Robbie told E! that the actor spritzes his mouth with a magical concoction that "tastes like Christmas.")
Jada similarly sought Smith's blessing when Eva Mendes was cast as her love interest in the 2008 movie "The Women." She shared his decidedly non-PC response with Black Voices, recalling, "Will was like, 'Oh, I had her already. You can have my leftovers.'"
Jada was excited about her character's storyline in the film and revealed that she had an absolute blast working with her hubby's "Hitch" co-star. "I play a lesbian, which is fantastic, and I got to be in love with Eva Mendes, which is even more fantastic," she said. However, she expressed disappointment over a change to the script, which happened to be the scene she was most looking forward to shooting. "I thought I was going to [get] the opportunity to kiss Eva Mendes, but that didn't happen," she revealed. Maybe Will didn't warn her about Mendes' affinity for stanky sandwiches?