Who Is Dennis Rodman's Most Recent Ex-Wife, Michelle Moyer?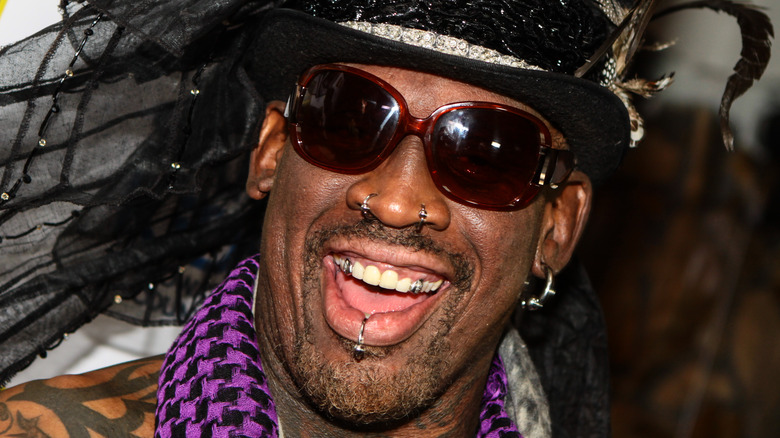 Ulora/Shutterstock
There are few certainties in life: death, taxes, and the fact that wherever Dennis Rodman goes, contretemps and drama are sure to follow. The retired NBA star is like the Kanye "Ye" West of ballers, with a long and storied track record of controversial, outrageous, and bodacious behavior. There's Dennis and Kim Jong-Un's bizarre relationship and his attempts to broker world peace. There's also his candid tell-all "Bad As I Wanna Be," where he opens up about his love of cross-dressing.
And who could forget Dennis and Madonna's short-lived steamy relationship, or his multiple marriages, including when Dennis got hitched to himself in 1996. Presumably, that unification was as short-lived and unsuccessful as his other three, given that he swapped vows in Las Vegas with Carmen Electra in 1998. According to People, Dennis was wasted during the impromptu "I do's" after embarking on an "all-night bender." The former athlete filed for an annulment claiming "he was of unsound mind when he recited his vows" just nine days after they tied the knot.
"Dennis alleges he was so inebriated at the nuptials that he didn't know which end was up, what he was doing,″ his attorney told the New York Post (via AP News). According to Distractify, Dennis' first marriage didn't fare much better. He was hitched to model Annie Bakes for a year, from 1992 to 1993; however, it did result in his daughter, Alexis Rodman. So, two wives down and one to go. Who is Dennis Rodman's most recent ex-wife, Michelle Moyer?
Michelle Moyer claimed Dennis Rodman was a deadbeat dad
Dennis Rodman's most recent ex-wife, Michelle Moyer, also filed for divorce one year after marrying him. Per The U.S. Sun, the couple wed on the beach on Dennis' 42nd birthday in May 2003. They'd first met in 1999 and dated for four years before making it official, so you'd think Moyer would have known what she was getting herself into. Seemingly not, though, as the third Mrs. Rodman wanted out by 2004.
However, the pair worked through their issues and ultimately stayed together until 2012, when they officially divorced. The relationship added two more kids to Dennis' stable. His son, Dennis Jr. Rodman, aka D.J., was born in April 2001, two years before Dennis and Moyer signed on the marriage certificate dotted line. His daughter, Trinity Rodman, followed in May 2002.
The couple's divorce led to the Hall of Famer facing jail time following accusations that he was a "deadbeat dad." According to The Daily Pilot, Moyer's attorney filed court documents in 2012 claiming Dennis owed "$808,935 in back child support." The lawyer also alleged that he owed "$51,441 through March 1 in back spousal support." Dennis' attorney fired back, claiming her client was "extremely sick" and so broke that he was "barely capable of paying for his living expenses." Sports Illustrated reported that Dennis had lost most of his money in a financial scam, which several other NBA players fell for, too.
Michelle Moyer was basically a single mom
Dennis Rodman's most recent ex-wife, Michelle Moyer, is clearly a loving mom. Per Hola!, before she met Dennis, Moyer already had a daughter, Teyana Lima. The proud mom's Instagram feed is packed full of family photos and pics of her kids and grandkids.
D.J. and Trinity Rodman both inherited their dad's sporting prowess. ESPN reports D.J. is following in Dennis' giant footsteps. The 6'6" senior has played for the Washington State Cougars for three seasons. "Rodman has maintained outstanding performance throughout, which has earned him lots of admirers," Players Bio opines. "[He has a] great responsibility to continue his father's legacy and gain the same love and respect that [Dennis] has." 
Trinity became the youngest pro soccer player ever when she was drafted by the Washington Spirit in January 2021. She made her professional debut in April and scored a goal just minutes into her first match. The teen told The Guardian that her famous last name has made her "more driven" to succeed. But she wants to ensure her mother gets props, too, as following her divorce, Moyer was basically a single mom who raised the kids alone, with limited interaction from Dennis. Trinity's keen to clarify that her and D.J.'s achievements aren't all down to inheriting their dad's genes. "I just want people to know that my mom's been my support system in everything in life," she said. "She has an extremely competitive and driven mindset."