The Young And The Restless' Michelle Stafford Had An Unusual Journey To Motherhood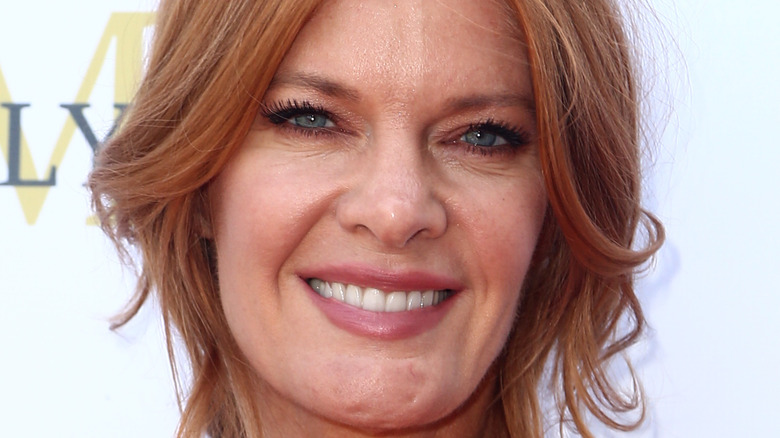 Tommaso Boddi/Getty Images
Phyllis Summers (Michelle Stafford) isn't your ordinary mom on "The Young and the Restless." Her relationships with her daughter Summer Newman (Allison Lanier) and son Daniel Romalotti (Michael Graziadei) have left much to be desired. Thankfully, that's not the case for the character's portrayer Michelle Stafford when it comes to her off-screen relationship with her on-screen children. Stafford took to Instagram to share a sweet text exchange she had with Graziadei, captioning the post, "Years ago when they aged my son on "Y&R," I was completely freaked out having never played a mother to a grown adult in my life. I quickly fell in love with the Grazzzz, as did our entire cast. He is beyond an outstanding actor. He is also an outstanding human. He is joy personified."
And while Stafford seems like that kind of work mom everyone would love to have, fans seem to be particularly interested in her journey to motherhood in real life — because it was anything but ordinary.
Michelle Stafford's favorite role is her role as a mom
Phyllis Summers has been through the wringer on "The Young and the Restless," but each time she's been knocked down, she's only come back stronger. Michelle Stafford can certainly relate to her on-screen character when it comes to her journey to motherhood. 
In 2020, Stafford wrote a blog post for People detailing how she became a mother. After several failed IVF attempts and three surgeries, her body had enough. That's when she decided to welcome her first child, Natalia Scout, via surrogate. The actress wrote, "How lucky was I that she was beautiful, calm, and healthy? But unbeknownst to me, the real work was about to begin."
Stafford when on to say that being a single parent over the age of 40 had presented challenges for her, but it's the one thing she wouldn't change for anything in the world. Now a mother of two, she welcomed her son Jameson in 2016, per Soap Opera Digest. Stafford said at the time, "I did know that if I didn't at least try again with the frozen embryos I had, I would regret it later down the road, and that was more powerful to me than anything else because I knew myself." 
And while the diaper stage was a tough one for Stafford, there were a few other things about parenting that she was unprepared for, too.
Michelle Stafford is lucky to be a mom both on and off screen
Michelle Stafford is a lucky woman because she gets to be a mom on-screen and off. "The Young and the Restless" star has made it no secret that she's very close to the actor who plays her on-screen son, Michel Graziadei, as she often shares behind-the-scenes photos with him on Instagram. However, despite also working long hours at the CBS soap, she still prioritizes spending time with her children Natalia and Jameson, even when it seems impossible.
Speaking about her kids and their sibling rivalry, she told Soap Opera Digest in 2018, "They fight all the time, and they cry all the time — and they're snuggly and beautiful and loving all the time. They're so smart and so assertive, which makes it harder on me because they're not docile. Especially Jameson. My daughter was so assertive that I thought, 'Oh, okay, I'm going to get a poet! A sweet, sweet poet.' No, I got more of a lunatic!"
But then again, fights are something that Stafford is used to — at least on the small screen. After all, "The Young and the Restless" is not your typical soap opera, just like Stafford isn't your typical celebrity mom.