Rose McGowan Reveals She Was Sexually Assaulted By Another 'Very Famous' Hollywood Big Shot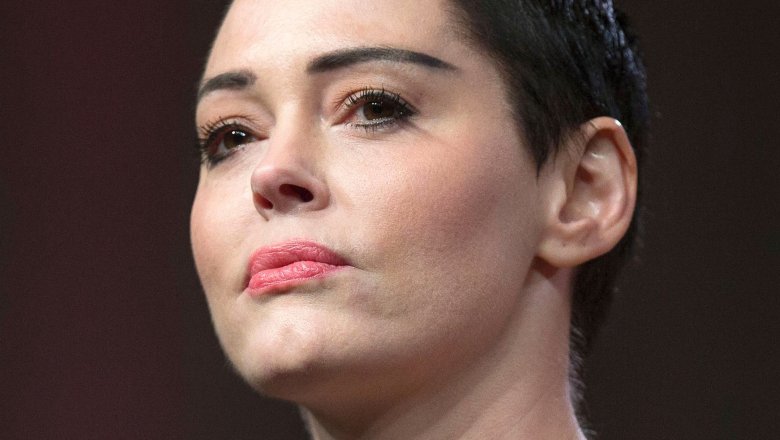 Getty Images
The Charmed star just opened up about another painful moment from her past.
On Thursday, Feb. 1, 2018, Rose McGowan spoke with writer Ronan Farrow about the Harvey Weinstein scandal, which Farrow helped break in October 2017 (via The Hollywood Reporter). And, sitting on stage with Farrow at New York City's 92Y, McGowan described how she's been feeling since Weinstein, whom she's accused of rape, was taken down in Hollywood.
"Right now it feels like a cross between A Spacey Odyssey — that was when Ronan, his beauty and his mind and his tenacity and his grit, helped destroy very much what you know. When the movie gets to the Jupiter section and all of a sudden it's graphics and nobody has been there," Mcgowan explained. "But then we cut to Superman 2. There are these three bad characters, who are of course dressed in all black, and they land there with a thump on the earth. And that's how I feel with the book [Brave] coming out — I came through the atmosphere with a thump."
While news about Weinstein's alleged history of sexual harassment and abuse in the entertainment industry certainly sparked change for women both in society and in the workplace, McGowan revealed that it also helped her realize that she'd been assaulted before.
As reported by THR, Farrow told the audience that McGowan had been sexually assaulted by a "prominent" man in Hollywood when she was just 15 years old — years before she was allegedly raped by Weinstein. "He took me home after he met me and he showed me a soft porn movie he had made for Showtime, under a different name. And then he had sex with me," McGowan recounted of her time with the "very famous" man.
As to why she'd never thought it'd been abuse before, McGowan stated, "In my mind, playing it back, I had been attracted to him, so I always filed it away as a sexual experience."
She added, "It was not until two weeks after your story broke — our story, our world's story — that I was in bed and I started saying, 'Oh my god. I think that's molestation.'"
When asked if McGowan was prepared to open up about the experience, McGowan replied, "In general? Sure." However, the actress wasn't quite ready just that very second. 
"Right now at this moment? I've had a big day," she said.