A Look Inside Flavor Flav And Brigitte Nielsen's Romance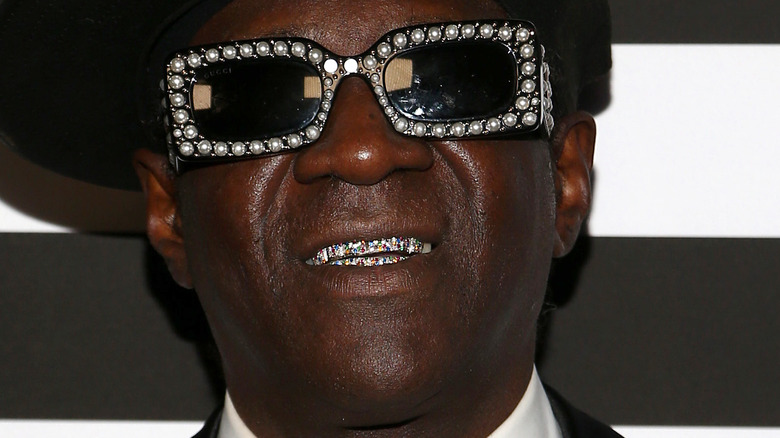 Tommaso Boddi/Getty Images
Flavor Flav and Brigitte Nielsen's romance seemed to come out of nowhere, and their romance fascinated reality TV fans. Flav rose to fame as a member of the groundbreaking hip-hop group Public Enemy. The group — which also included lyricist Chuck D — gained notice following the release of their debut album, "Yo! Bum Rush the Show," in 1987. The rappers produced several more hits, like the anthemic "Fight The Power," and "Welcome to the Terrordome."
Nielsen had a similarly successful career. The Danish model made her acting debut in the 1985 film, "Red Sonja," in the titular role. However, her big break came when she appeared alongside her then-husband, Sylvester Stallone, in the cult classic "Rocky IV." Nielsen and Stallone later paired up for the movie "Cobra," before calling it quits in 1987.
Years after the success Flav and Nielsen achieved in the 80s and 90s, the two took part in a reality show venture that ultimately led to their shocking love affair.
Flavor Flav and Brigitte Nielsen were a surreal duo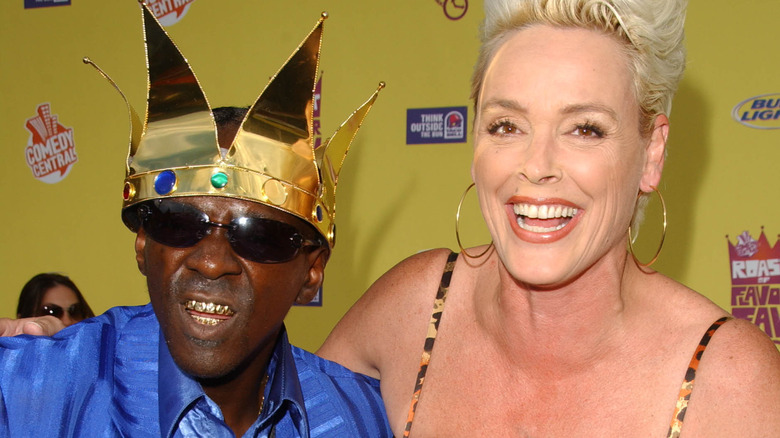 s_bukley/Shutterstock
In 2004, Flavor Flav and Brigitte Nielsen took part in the third season of VH1's "The Surreal Life." The reality series followed the messy interactions of an unlikely group of celebrities (other contestants over the years included Vanilla Ice and evangelist Tammy Faye) who agree to live together for a short time. During the season, Flav and Nielsen developed an intense romance, which came after the two were involved in a physical altercation.
Years later, Flav opened up about their tense exchange during an interview with Vlad TV. The rapper recalled an incident during filming for the reality show, where Nielsen slapped him. "as soon as she smacked me. I reached way back to Africa somewhere and I came to America with this smack... and I smack the s*** out of Brigitte," Flav explained. "She held her face and then she started smiling and she said, 'Oh I like that.'"
The pair's romance was later documented in "The Surreal Life" spinoff, "Strange Love," before breaking up in 2005. Despite their split, Flav and Nielsen have continued to support one another.
Flavor Flav and Brigitte Nielsen still have love for each other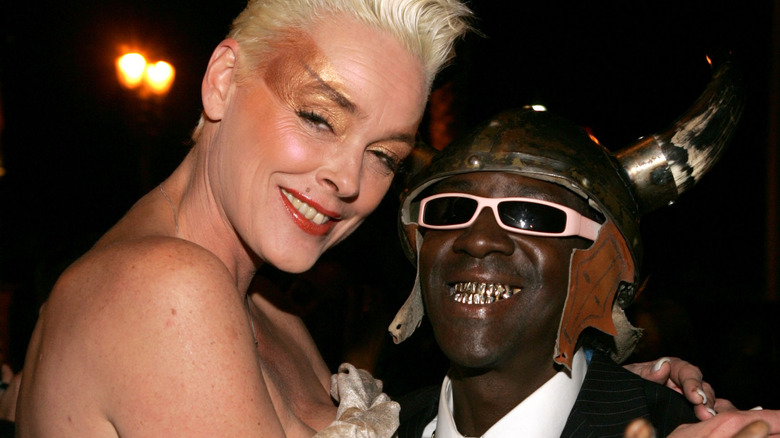 Frank Micelotta/Getty Images
Following her relationship with Flavor Flav, Brigitte Nielsen began dating model Mattia Dessi, according to People. The couple officially tied the knot in July 2006 and welcomed their first child together more than 10 years later. Upon hearing of the news, Flav gushed over his ex's newfound happiness and even sent her well wishes. "This pregnancy at over 50, it's amazing! It shows everybody in the world that everything and anything is possible," Flav told People. "I was proud. I was siked to see her belly that big." The rapper went on to confirm that while he hasn't seen his ex-girlfriend in over a decade, he was very "happy for Gitte."
Similarly, Nielsen also appears to hold fond memories from her time with the Public Enemy hypeman. In 2021, Nielsen also shared kind words about her former lover. "We think about him every now and then," the former model told The Hollywood Fix, and she added, "I hope he's doing well."