Tyler James Williams' Hidden Musical Talent Has Fans In Awe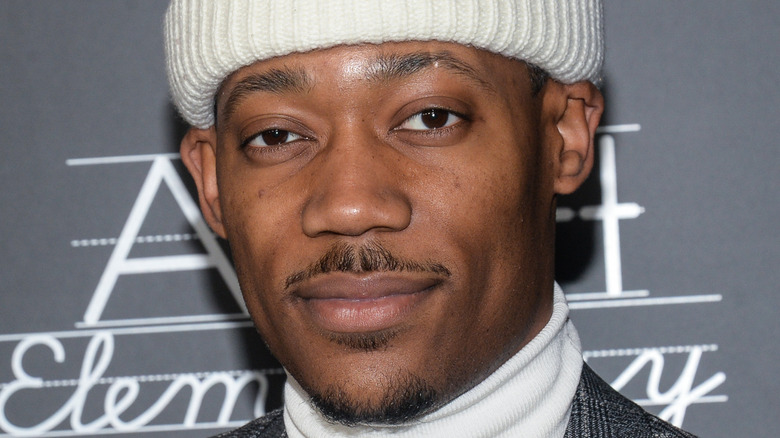 Ray Tamarra/Getty Images
Tyler James Williams may soon be adding a new title to his resume. The "Abbott Elementary" star recently stopped by Sirius XM's "Sway in the Morning," where he talked about Season 2 of the hit sitcom and shared a hidden talent that left fans impressed.
During his October 25 radio appearance, Williams spoke about being a child star and how fans perceive him based on his TV characters. "So much of my life has been on screen," the actor told host Sway. "When you grow up with people and you're in their houses a lot, they think that they know you."
"When they approach me, it's based on what they think that they know, but not who I actually am," the actor continued. Eventually, though, Williams learned to make peace with this and credited his therapist for helping him do so. "Therapy is a beautiful thing," he added. In the same interview, Williams also delighted listeners with a musical number — and the internet loved it.
Tyler James Williams impressed fans with a GloRilla freestyle
During his October 25 appearance on "Sway in the Morning," Tyler James Williams gave fans a surprise freestyle over GloRilla's hit song "F.N.F. (Let's Go)." And based on all the Twitter reactions, Williams might want to consider rap as a side gig. 
Not long after the video surfaced online, fans started praising the actor and even quoted some of his freestyle lyrics. "Tyler James Williams said 'Being with me can be hard, but trust me being my ex ain't easy' i f****n felt that," one fan tweeted. "Wait til she S.I.N.G.L.E again, but don't get ya hopes up bc we still 'friends,'" another wrote, along with a series of flame emojis.
Meanwhile, others were shocked (and turned on) by some of Williams' raunchy lyrics. "I'm not gonna say what I wanna say about that Tyler James Williams video cause my account would be BANNED," a fan joked. Some are even coming up with rap names for the actor. "That's not Tyler James Williams that's The Truth," another person tweeted. Though Williams' freestyle came as a surprise to many, this isn't the first time the actor has flaunted his rapping skills. Williams previously freestyled over Drake's "6 God" during a 2014 appearance on "Sway in the Morning," and also rapped in the 2012 Disney Channel movie "Let it Shine," where he portrayed an aspiring young rapper named Cyrus.