Inside Adam Levine And Jonah Hill's Longtime Friendship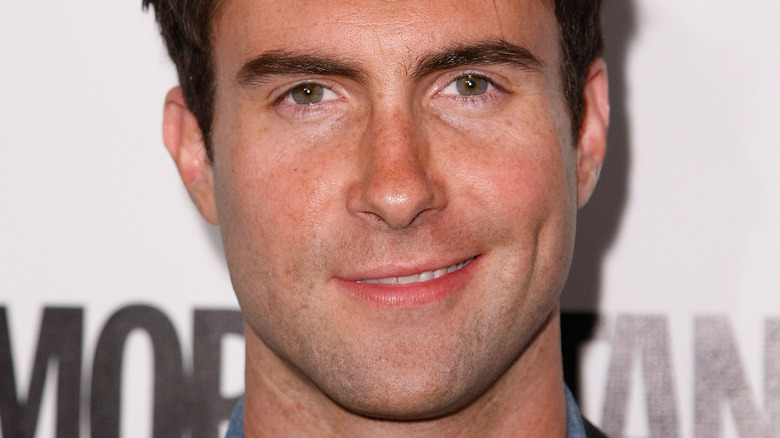 Michael Buckner/Getty Images
Jordan Feldstein, the late brother of actors Jonah Hill and Beanie Feldstein, played an instrumental role in Adam Levine's career. Jordan managed the singer's band, Maroon 5, for years, and Levine considered him a dear friend. So when Jordan died from a heart attack in 2017, Levine was devastated. "This is a kid I've known since we were in diapers. He was one of the most important people in my life from a very early age," he told Variety.
Luckily, the rocker and Hill had each other to lean on. They had also developed a close friendship as kids, and they formed quite the celeb squad growing up. In an appearance on "The Howard Stern Show," actor Jake Gyllenhaal revealed that he and Levine became friends in grade school, and Levine met his good pal Jason Segel through Hill when he was in high school. But Levine told Smile that he wasn't in quite the same income bracket as his friends. "People say that I grew up like a rich kid in Brentwood. ... But the people that I went to school with were the ones who were extremely loaded," he revealed.
Wealth came Levine's way not long after music producer Tommy Allen happened to hear the future star's first band, Kara's Flowers, playing at a party while he was out for a run on a Malibu beach (per Internet Archive). Levine was just 17 at the time, but he remained friends with Hill long after he hit it big.
Jonah Hill helped Adam Levine land an acting role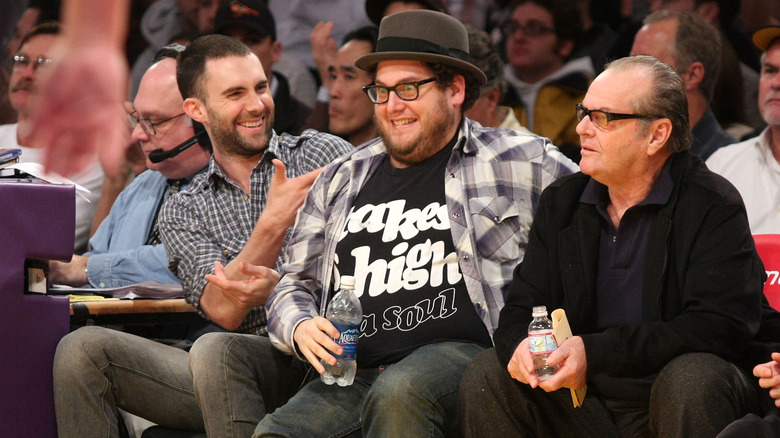 Noel Vasquez/Getty Images
In a 2014 appearance on "The Howard Stern Show," Jonah Hill revealed that his friendship with Adam Levine was a generational thing. "Our dads met in the principal's office in junior high," he explained. But while he and Levine also became BFFs, Hill was a few years younger. He recalled being 8 years old when he first saw Levine and his band, Kara's Flowers, perform in concert, saying of the rocker, "I always looked up to him." The appreciation was mutual. "Jonah is family," Levine told Details in 2012. "He was a screwy kid, like me. We were both rebellious [and] didn't like school."
Their paths diverged after high school, with Levine continuing to pursue music and Hill landing movie roles in "I Heart Huckabees" and "The 40-Year-Old Virgin." By the time Levine decided to follow his friend into film, Hill was a well-established star, thanks to his roles in hit movies such as "Superbad" and "Moneyball." Hill also worked with their mutual pal, Jason Segel, in the 2008 comedy "Forgetting Sarah Marshall." 
Levine later revealed to Howard Stern that Hill used his Hollywood cred to help the musician land his first movie role in the 2013 music dramedy "Begin Again," which costarred Keira Knightley and Mark Ruffalo. "He kind of vouched for me and I will always be thankful for that," Levine admitted. However, the Maroon 5 frontman confessed that he ignored Hill's advice to avoid memorizing his lines.
Jonah Hill officiated Adam Levine's wedding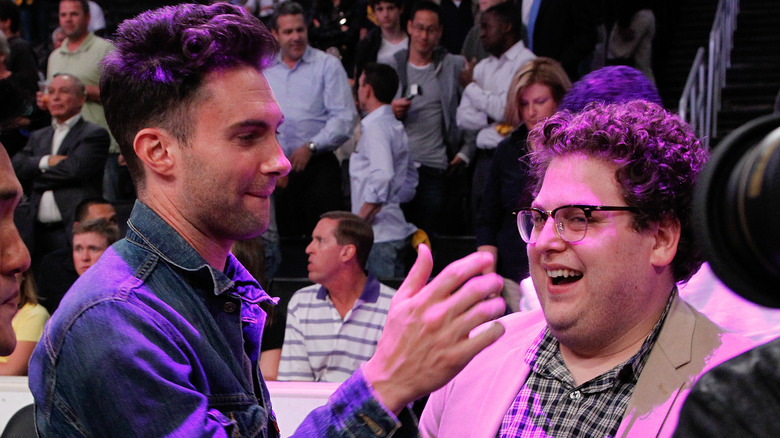 Noel Vasquez/Getty Images
For Adam Levine's 2014 wedding to model Behati Prinsloo (per Us Weekly), Jonah Hill later revealed that, when Levine asked him to officiate, he was a bit bummed. On "The Howard Stern Show," he said that he got so stressed about his duties that he worried he wouldn't be able to have fun at the wedding, which took place in Los Cabos, Mexico. Hill was trying to write a sincere speech but recalled, "Adam's like, 'You should be funny.'" So Hill decided to include a bit about his pal's famous wedding guests. "The joke I wrote was like, 'Adam and I grew up together ... it's so nice to see all the people we grew up skateboarding with ... like Gene, and Stevie Nicks, and Robert Downey Jr.,'" he recalled.
In a 2014 interview with Playboy, Hill listed a few of the other activities he and Levine enjoyed as kids, including shooting hoops and watching movies. The friends later teamed up for a 2018 Oculus Go ad in which Hill referenced their childhood together by telling a made-up story about Levine peeing his pants. He also joked about taking a picture of his humiliated pal, putting it on a t-shirt, and wearing it to Levine's wedding.
But in real life, Hill has nothing but respect for his bro. "Adam was like family, and he still is," he told Playboy. "I don't see him as a rock star. He's just a great person to me."