Here's Why Taylor Swift And Kendall Jenner Aren't Friends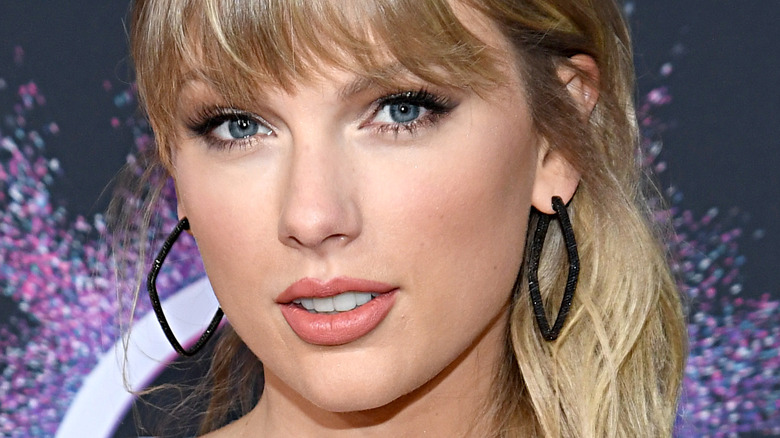 Kevin Mazur/Getty Images
There is a long history of a reported feud between Taylor Swift and Kendall Jenner. The first reported instance of a tiff between the two came in 2013 when Jenner was romantically linked to Harry Styles, per Us Weekly. The One Direction singer had dated Swift earlier that year. News of Styles' romance with Jenner appeared to rub the "Bad Blood" artist the wrong way as she froze him out at that year's American Music Awards. "Taylor and Harry walked by each other at least three times during the show and didn't say anything to each other," a source told Hollywood Life in 2013. "Harry looked at her as if to say hello, but Taylor just walked by."
All had seemed to be forgiven by December 2014 as Swift welcomed Jenner into her star-studded inner circle. The Victoria's Secret model was spotted leaving Swift's apartment alongside Cara Delevingne, per the Mirror. Later that month, Gigi Hadid posted an Instagram video where both Swift and Jenner helped her put up Christmas decorations. Though they appeared to have patched things up, the bond between Swift and Jenner was short-lived.
Kendall Jenner sides with her family over Taylor Swift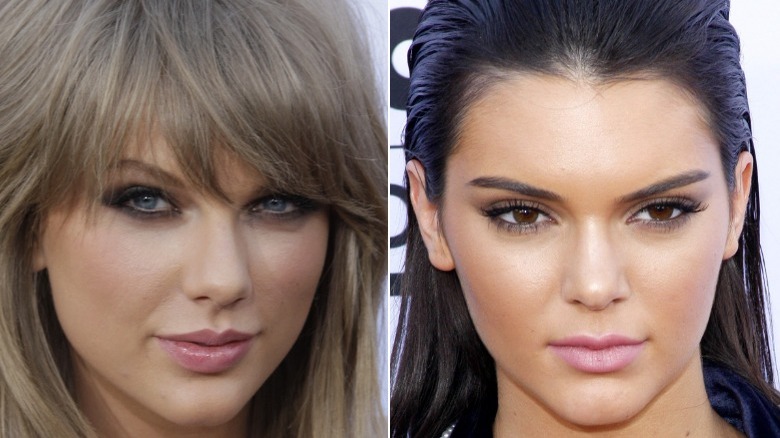 Tinseltown & Phil Stafford/Shutterstock
In 2016, Taylor Swift celebrated the Fourth of July with some of her celebrity friends. Fans noticed that Kendall Jenner was absent from the fun. That caused some to speculate that Swift's ongoing feud with Kanye "Ye" West — Jenner's former brother-in-law — had caused a rift between the two women, per Cosmopolitan.
In support of her then-husband, Kim Kardashian put Swift on blast when she aired snippets from a phone conversation between the rapper and pop star in July 2016. Swift had taken issue with West's lyrics about her in his hit song "Famous," where he rapped, "I feel like me and Taylor might still have sex ... I made that b**** famous." According to the "Shake It Off" singer, she had never consented to the lyrics, but Kardashian posted clips of a recorded phone conversation between the two artists that appeared to prove otherwise, per Vanity Fair. 
The Kardashian-Swift feud appeared to further fracture the relationship between Swift and Jenner. After Kardashian leaked the audio, the Skims CEO was asked if the move had caused the singer to banish Jenner from her inner circle. "I don't know if Kendall was a part of her squad," Kardashian responded to a fan on an episode of "Watch What Happens Live with Andy Cohen" in 2016. "I don't think she was, or is. I don't think it was awkward," she added.
The two have taken subtle shots at each other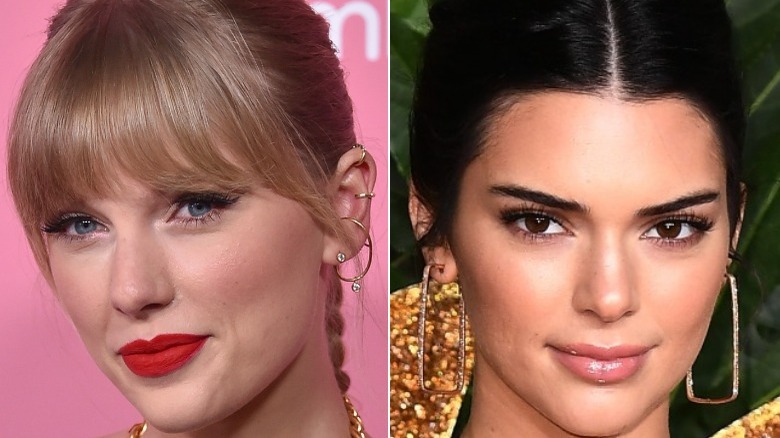 Jeff Spicer/bfc/Getty & undefined & DFree/Shutterstock
Kendall Jenner has made it clear that she was fine being on the outside of Swift's bubble. In September 2016, the model was asked about her close friendships with Cara Delevingne, Gigi Hadid, and Hailey Baldwin. "This is going to sound really, really lame, but we all call ourselves the Super Natural Friend Group because we all have such cool individual lives," Jenner told Allure. It was suggested that Jenner giving a name to that group was a response to Swift's own highly-publicized crew.
The following year, Swift appeared to take a thinly-veiled shot at Jenner in her "Look What You Made Me Do" music video. In the visuals, the singer posed in a manner that was reminiscent of a photo Jenner posted to her Instagram account. In the since-deleted post, Jenner posed while sipping a drink and captioned the shot, "Tea time." This post was shared around the time that Kardashian leaked the Swift-West phone conversation, per Elle.
In 2019, Swift was embroiled in a music rights battle with her former manager Scooter Braun. His wife, Yael Cohen Braun, took direct shots at Swift in a scathing Instagram post. "The world has watched you collect and drop friends like wilted flowers," she wrote. "Don't blame him because Kim caught you in a lie." Jenner once again hinted that she was not Team Swift, as she liked Yael's strongly-worded post that bashed the singer.