Small Details You Missed In Kylie's 'To Our Daughter' Video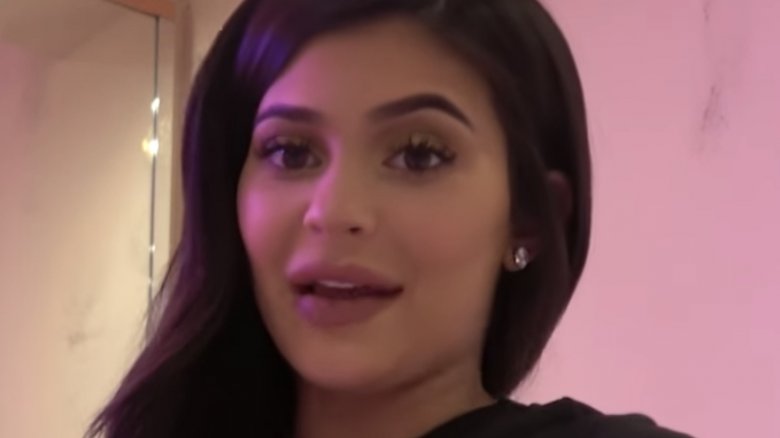 YouTube
Keeping Up With the Kardashians fans had long suspected Kylie Jenner was pregnant. But, ever since rumors spread that the makeup mogul was expecting her first child in September 2017, the youngest KarJenner kid had kept mum on the details. Fortunately, that all changed when Kylie announced that she'd given birth to a baby girl on Feb. 1, 2018 — but that's not all she revealed in her baby announcement video. Keep reading to find out the little snippets of info Kylie dropped in "To Our Daughter."
Sisters stick together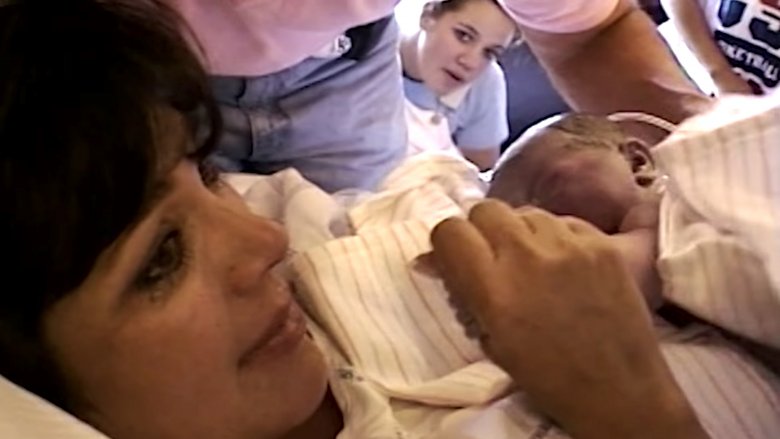 YouTube
Big sister Khloé Kardashian has been there for Kylie since day one — literally. In footage of Kylie's birth, shared in the social media star's announcement video, a young Khloé can be seen peeking over at her mother, Kris, who'd just welcomed baby Kylie into the world. And, coincidentally, Khloé was also around when Kylie gave birth to her daughter, waiting in the hospital to celebrate the arrival of her new baby niece. Looks like things really do come full circle.
And the cutest couple award goes to...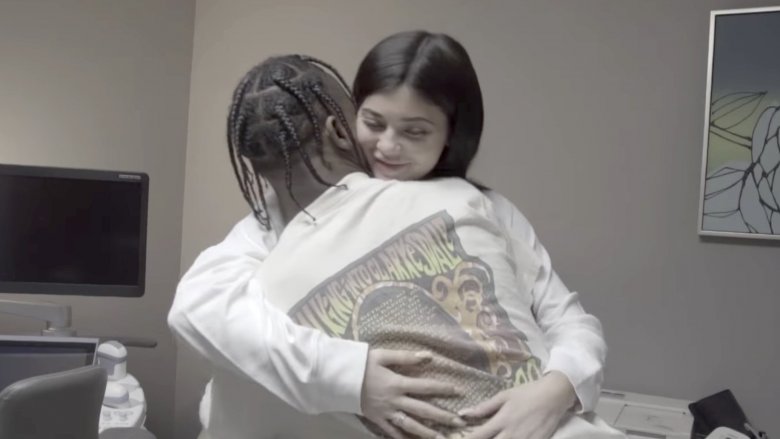 YouTube
For any fans still mourning the end of her relationship with rapper Tyga, Kylie showed them just how perfect she and boyfriend Travis Scott are together. Or, at the very least, how adorable they are. In "For Our Daughter," the new parents can be seen cuddling up close at various points, going heavy on the PDA. Makes sense that this new chapter of their lives would bring them even closer together.
Fortunately, however, Kylie isn't only close with the father of her child — she's also bonded with his family. In the video, Kylie can be seen hugging Scott's family and excitedly sharing details about her pregnancy. Both Kylie and Scott's families even appear to happily spend the holidays together, a difficult feat many non-celebrity couples can rarely achieve.
Think positive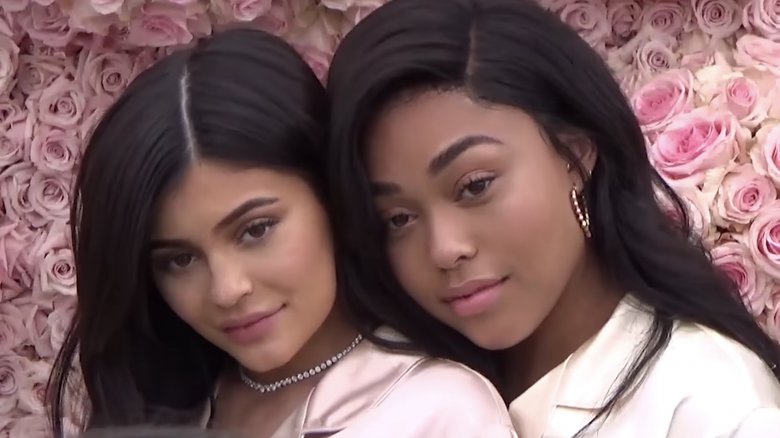 YouTube
While Kylie likely has access to the best medical professionals out there, she found out that she was pregnant the exact same way many other future moms do — by taking an at-home pregnancy test in her bathroom. Recalling the moment Kylie discovered she was expecting, Kylie's BFF Jordyn Woods said, "One day, I was in your mom's bathroom with her, and she took a little test."
She continued, "And she passed [the pregnancy test] to me after, like, 'Surprise.'"
Twenty and pregnant? Nobody could have expected that. Kylie's friends must have been shocked.
Mom in the making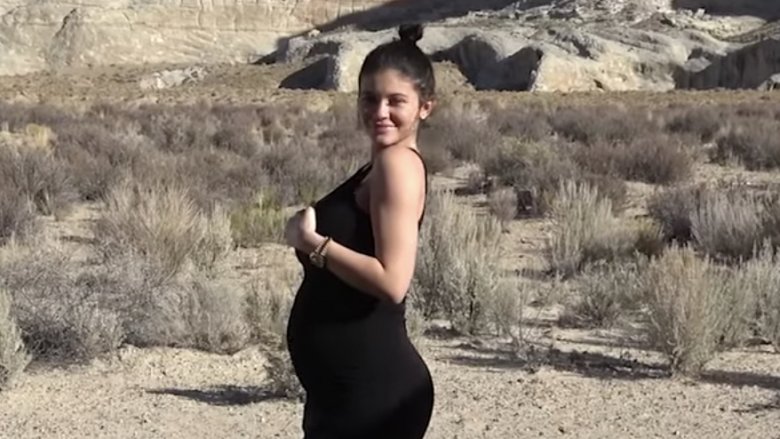 YouTube
While Kylie's gal pals were taken aback by her sudden announcement, none of them appeared worried for their friend's journey to motherhood. According to one baby shower attendee, Kylie was simply "born to be a mom." Recalling the moment she learned Kylie was pregnant, friend Anastasia Karanikolaou said, "Obviously, I started crying. I was so happy. I was proud of her."
She added, "I knew this was what she wanted ever since she turned 15."
Likewise, Jordyn Woods noted, "When you're 20 years old, you're just figuring out your life. You don't know what you want. You're [an] indecisive teenager and you're just becoming a young adult." But, she said, there was one thing Kylie always knew she wanted — her baby girl.
The name game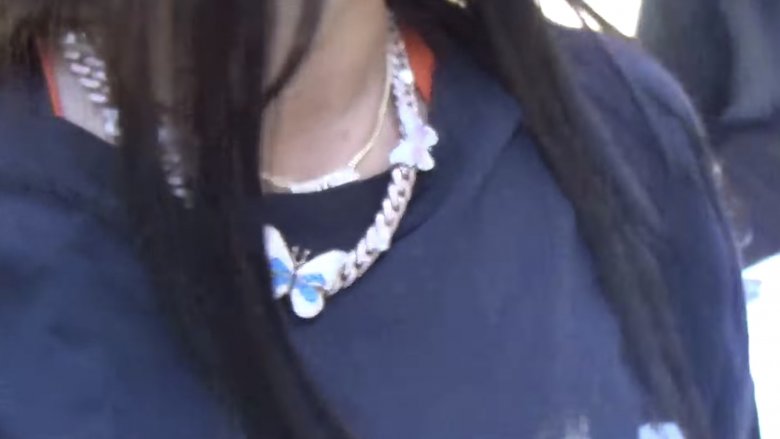 YouTube
Notice a strange butterfly theme in Kylie's baby announcement video? Yeah, so did everyone else. But the jury's still out on why the socialite, who donned a butterfly necklace in the footage, was so obsessed. Soon after the video was released, fans theorized that Kylie and Scott were naming their baby something butterfly-related, like Monarch or Mariposa, which is Spanish for "butterfly" (via E! News) The latter was a popular guess, as the same day Kylie's baby was born, Kylie Cosmetics released a new lip kit color called Posie K — potentially a nickname for Mariposa, as noted by People.
And honestly, the speculation didn't seem far off. Kylie and Scott both have a connection to butterflies — Scott released a song in 2017 called "Butterfly Effect," and the pair boast matching butterfly tattoos on their ankles (via Refinery29).
Unfortunately, these fans would be wrong, as Kylie later announced that her baby girl was named Stormi. Maybe Mariposa could be Stormi's middle name? We'll just have to wait to find out.
Eating for two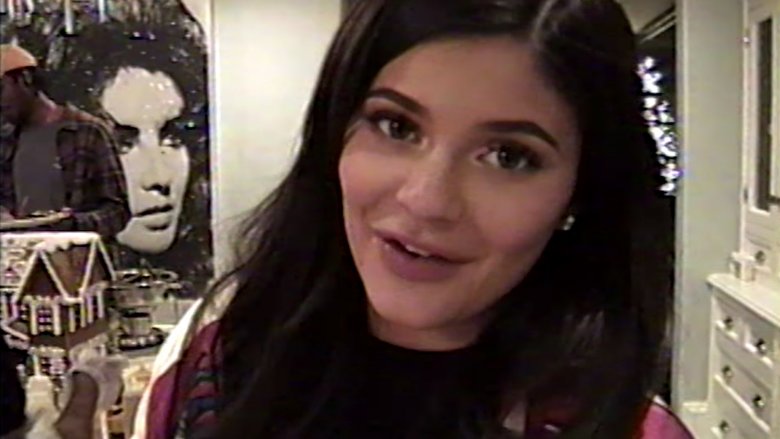 YouTube
Like most pregnant women, Kylie had some serious food cravings when she was pregnant. Showing off her plate at a holiday dinner, the social media star revealed that she was eating two burgers — one for her and one for the baby — and had helpings of both regular french fries and sweet potato fries, as she liked the regular ones but her baby enjoyed the sweet potato flavor.
While Kylie's doctor advised her to stay in shape during her pregnancy, it doesn't seem like Kylie was too strict with her diet. In fact, she seemed to be a pretty big fan of Hollywood's favorite fast food joint, In-N-Out Burger. Speaking to her doctor about exercising, Kylie said, "It's just... In-N-Out Burger these days literally tastes like... it's the best thing I've had."
Can't blame you, Kylie. In-N-Out Burger's the best.
Pajama party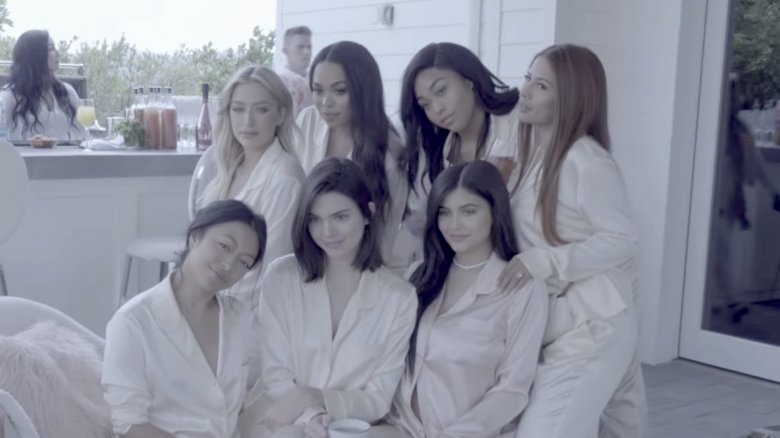 YouTube
As Keeping Up With the Kardashians fans know, the Kardashian-Jenner family goes big with just about everything. Their birthday parties? News-worthy. Their Christmas parties? Iconic. Their weddings? Legendary. So, given the crew's history, it should come as no surprise that Kylie's baby shower was a major event among her friends and family — and it had everything an expecting mama could ever want.
As seen in the "To Our Daughter" video, Kylie's baby shower had a pajama party theme, similar to sister Kim Kardashian's October 2015 baby shower for son Saint (via Us Weekly). All guests donned cream pajama sets as they enjoyed the party's festivities, taking photos in front of a giant flower wall and decorating onesies for the mom-to-be's future bundle of joy. And, judging by a shot of Kylie's drink, there was even a barista on hand to make baby bottle latte art.
What. A. Party. You done good, Kris Jenner.
Future fashionista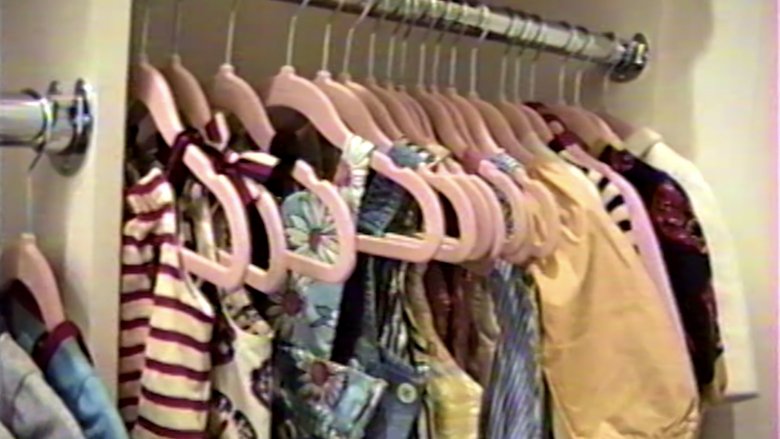 YouTube
In case there was any doubt, Kylie and Scott's kiddo is going to grow up to be super stylish. Just check out the newborn's closet — there's enough tyke-sized clothes in there to outfit an army of rugrats. And, of course, baby Stormi will wear some sleek kicks when she and mama Kylie are ready to make their first appearance as a family. Kylie's pal Jordyn Woods even snagged a hot pair of red and white Nike sneakers for the little one, officially sealing the kid's fate as the coolest baby around.
Sorry, North West. Better ask your parents for some Yeezys.
Introducing Chicago West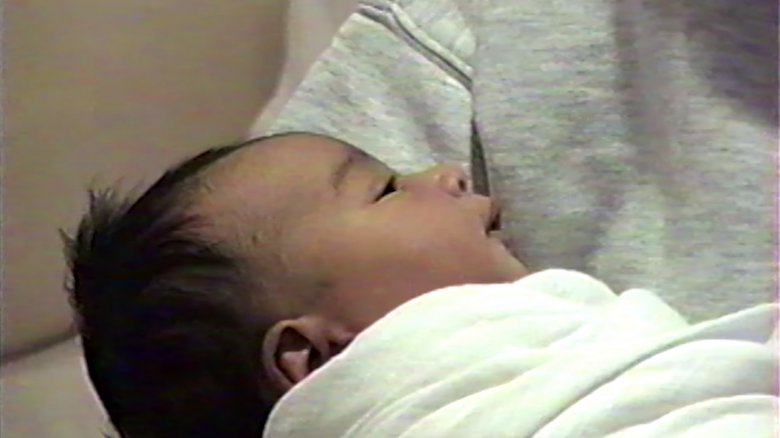 YouTube
Kylie's baby bump wasn't the only star of the "For Our Daughter" video. Kim and Kanye West's daughter Chicago stole the show at one point, making her first appearance to the public. In the video, Kim handed Chicago, who was born in January 2018 via surrogate, over to a very pregnant Kylie. Holding the newborn in her arms, Kylie remarked, "She's so little."
And apparently, when this footage was taken, Kim hadn't yet decided on a name for her baby girl, though she told Kylie that she was thinking about the name "Chicago."
"I love Chicago," Kylie responded. Guess Kylie's input settled it!
A family affair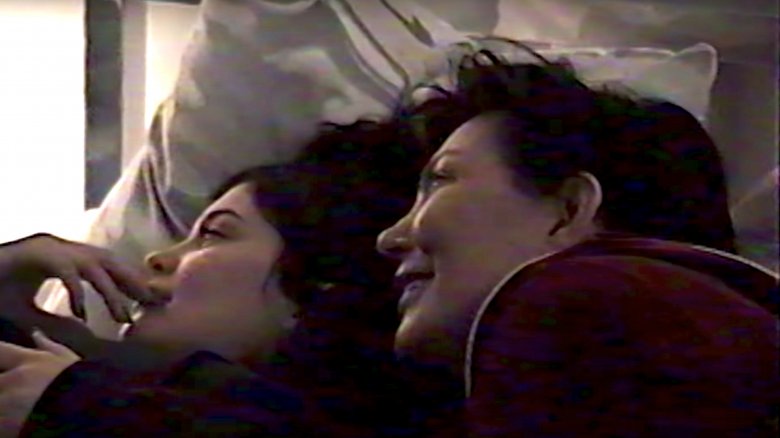 YouTube
For the birth of her first child, Kylie had all hands on deck. Her boyfriend was with her the day of the delivery, as was Khloé and mom Kris. Even sister Kendall Jenner was on FaceTime, so she wouldn't miss the big moment.
Notably absent, however, was Kylie's other parent, Caitlyn Jenner. While some people took Caitlyn's absence to mean that there was a rift between the two, the Daily Mail explained that Caitlyn was simply out of the country when Kylie went into labor, attending the Xpose Benefit Awards in Ireland.
Caitlyn later put rumors of distance between herself and her daughter to rest when she congratulated her kid on the recent birth of her child. Sharing a photo of Kylie when she was a baby, Caitlyn wrote on Instagram, "My daughter just had a daughter. It's amazing to be by your side through this journey. She's SO beautiful already. Can't wait to watch her grow."
Glad to hear that Caitlyn and Kylie are on good terms!
Hush, little baby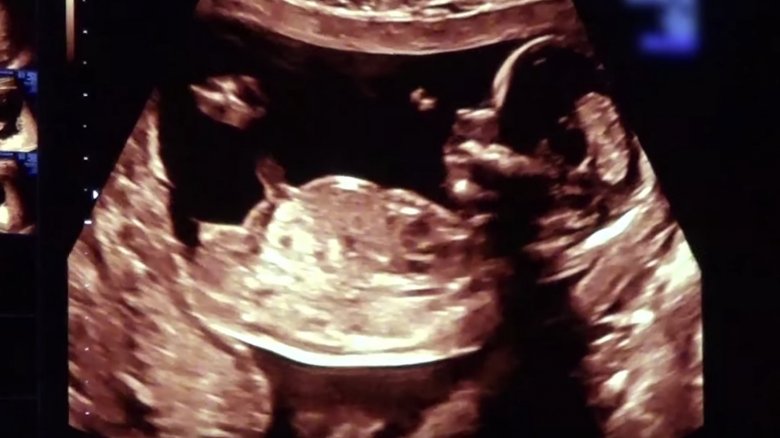 YouTube
Perhaps the biggest lesson fans learned from Kylie's pregnancy video is that her family can keep a secret. While the Kardashian-Jenner crew often shares every detail of their lives on their E! reality show, their pay-to-view apps, and their social media accounts, they have proved they can be tight-lipped when it comes to respecting their loved ones' wishes. Way to go, guys.
Now, can we please get a peek at baby Stormi? We can hardly wait to see the future celebrity!