Tia And Tamera Mowry Once Babysat Another Pair Of Famous Twins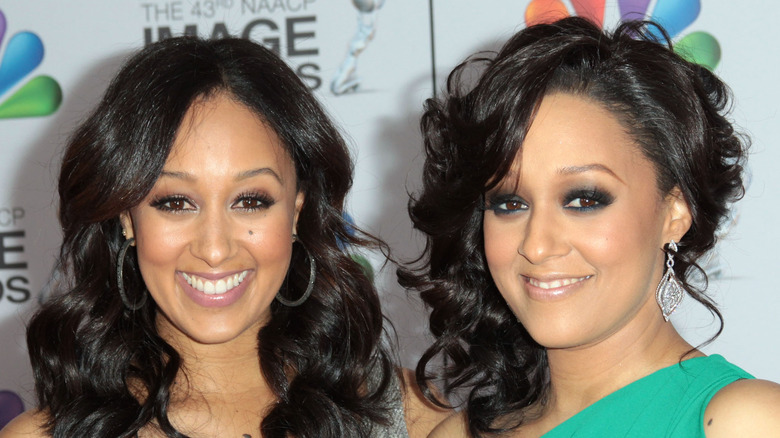 Frederick M. Brown/Getty Images
When we think of the most famous sets of twins in the world, two big names really spring to mind, Mary Kate and Ashley Olsen and Tia Mowry and Tamera Mowry-Housley. The two sets of twins have pretty similar stories when it comes to how they rose to fame, with both sets of lookalikes getting their starts on TV at young ages.
The Olsen twins, of course, are probably most famous for appearing as kids on "Full House," splitting the role of Michelle Tanner for eight seasons. They then went on to land roles in a slew of big TV shows and movies after that, including the likes of "Two of a Kind," "So Little Time," and "New York Minute." As for the Mowry twins, their big break came via "Sister, Sister," while they went on to appear in several other big projects together, including "Twitches" and "Double Wedding." All that screen time has made the foursome some serious bank, too. The Mowrys and the Olsens are two of the richest sets of twins in the world, as The Richest reported the former had a joint net worth of around $8 million, while the latter are worth a combined $300 million.
But did you know that these twins have more in common than just their big and small scree pasts? Yep, it turns out there was actually a time the Mowrys actually babysat the Olsens back in the day. Twins babysitting twins? Mind. Blown.
Tamera Mowry-Hardrict had 'so much fun' babysitting the Olsen twins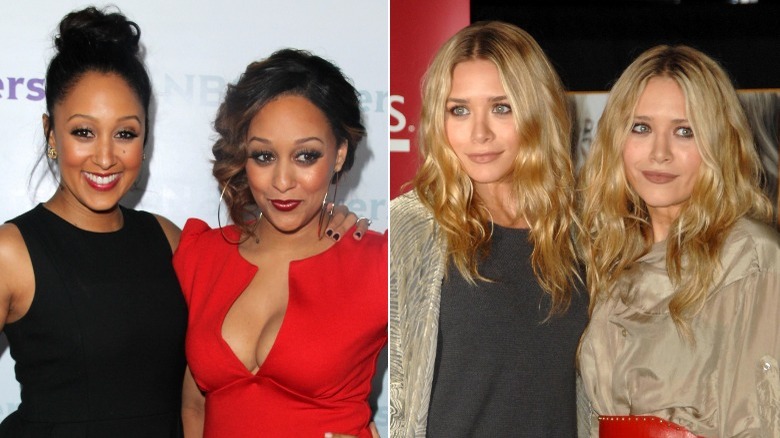 s_bukley & s_bukley/Shutterstock
Tia Mowry dropped the bombshell back in 2015 on "The Meredith Viera Show," revealing that pre-fame, she and Tamera Mowry-Housley would watch over Mary Kate and Ashley Olsen on the set of "Full House." The connection actually relates to another sibling, as Tia and Tamera's brother, Taj Mowry, appeared in several episodes of the sitcom as Teddy, which is how they got on set. Tia revealed that it was actually because they were hanging out backstage that she and her twin sister ended up getting their big break, recalling, "We even did a guest spot on 'Full House.' It's kind of like where we got our first start."
Tamera then opened up a little more about their connection to the Olsen twins in her 2022 book, "You Should Sit Down For This." She revealed that their babysitting duties took place for about half a day during filming of the Season 5 episode, "The Devil Made Me Do It." "It was just for a moment... It was so much fun. I forgot where the mom had to go, but I love the fact that she trusted my sister and I to take care of them," Tamera wrote. "[Mary Kate and Ashley] had to have been, I want to say 7 or 8. They were very young. So sweet, so kind," she added. Tamera even remembered what they served up for the youngsters, revealing they wanted matzo ball soup.
Are the Mowry twins and the Olsen twins friends today?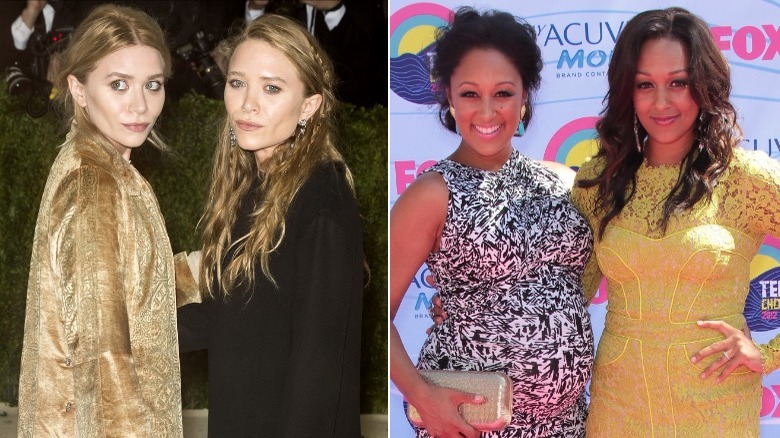 Ovidiu Hrubaru & s_bukley/Shutterstock
Though we'd love to tell you Tia Mowry, Tamera Mowry-Housley, Ashley Olsen, and Mary Kate Olsen still sit down together and enjoy some matzo ball soup every now and again, this connection that goes way back didn't exactly stand the test of time. When asked if they were still friendly on "The Meredith Viera Show," Tia admitted, "I mean, we're not friends, but of course if we see each other we will say hi." Tamera seconded that thought when she revealed in October that they did briefly run into each other again several years after they played babysitters, when the Olsens were in their early 20s. All that time seeing them on the set of "Full House" back in the day was no help, though, with Tamera telling People, "I couldn't tell them apart!"
If they ever run into one another again, though, let's just hope it's not in a cage. In 2012, Tia and Tamera joked they'd easily win a cage match against their fellow twins, with Tia telling CNN, "I think my sister and I would definitely win that." Tamera then joked, "I think so, too. I mean... look at us!" adding, "[Mary Kate and Ashley] are amazing. But I think we would definitely kick their butts!" 
Well, there's only one way to settle this one!