What Really Happened Between Michelle Rodriguez And Vin Diesel?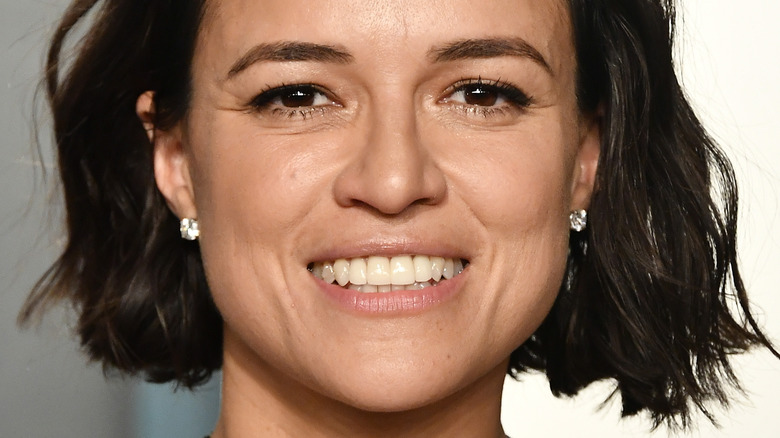 Frazer Harrison/Getty Images
After "F9" debuted in 2021, Universal Pictures announced that the tenth film in the "Fast and Furious" franchise, called "Fast X," would drop in 2023. According to the studio, "Fast X" will be the second to last film in the series, Entertainment Weekly reported. At the center of the franchise is Vin Diesel, who plays Dominic Toretto, a man whose love for his family turned into a meme, per Polygon. In the original 2001 film "The Fast and the Furious," Michelle Rodriguez plays Diesel's on-screen girlfriend Letty, but when she and Diesel signed on to join the cast, neither could have imagined how their lives would completely change. Prior to the car-centric drama, Rodriguez only had her breakout boxing film, "Girlfight" (via IMDb). While Vin Diesel had a bit more experience from his cult hit "Pitch Black," he too was nowhere close to the success found after 2001 by starring in nearly every movie in the series, Entertainment Weekly summarized.
Sadly, the cast lost one of its best after the tragic death of series regular Paul Walker, but the franchise was such a success that big stars kept coming onboard. Gal Gadot, John Cena, and Dwayne "The Rock" Johnson joined, even though he had some on-set drama with Diesel.  Yet, Rodriguez was curiously absent from the series after 2001 before reprising her character Letty in the 2009 sequel "Fast & Furious." Since she and Diesel played lovers on-screen, we can't help but wonder... what really happened between these two stars?
Inside Michelle Rodriguez and Vin Diesel's high-rev meet cute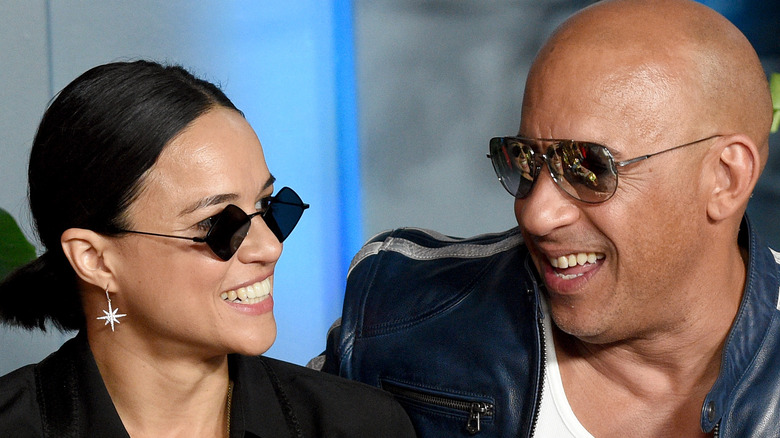 Kevin Mazur/Getty Images
After "The Fast and the Furious" came out in theaters, Michelle Rodriguez and Vin Diesel were basking in the success of the debut. Fans drove the film — which cost $38 million to make — to earn over $207 million worldwide, Forbes reported. According to Diesel, he also netted a relationship with his co-star, Rodriguez. He claimed that the pair dated at some point in 2002 or earlier. Rodriguez clarified that there was nothing romantic anymore between the actors, but she explained what made Diesel so appealing. "It's that raspy voice that gets you," she told USA Today. Rodriguez added, "You won't ever hear a story about him being (a jerk) to people. He's not (a jerk) kind of actor. That's one thing that will assure at least that I'm open to always being his friend." However, the two reportedly fell for each other while filming the original movie, and were once even spotted getting cozy together by paparazzi. When asked whether or not they were a couple, Rodriguez told radio host Howard Stern that Diesel "will be a part of my life for a very long time" (via ABC).
As far as dating, Diesel claimed that, despite speculation, he was not gay, but instead, liked to keep his relationships private. Additionally, he also felt that dating another celebrity might not end well. "It's a sucker's bet," he said about Hollywood couples, adding that he would rather date in Europe, per Hollywood.com.
Michelle Rodriguez and Vin Diesel discuss being on-screen lovers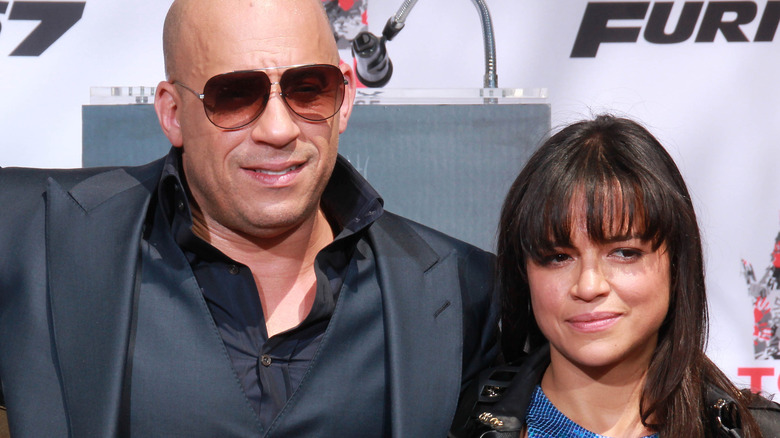 Kathy Hutchins/Shutterstock
"The Fast and the Furious" was only the second movie Michelle Rodriguez worked on as an actor, so she was grateful to work with Vin Diesel — and the admiration went both ways. "One of the biggest blessings of the franchise is my relationship with Michelle," Diesel told Entertainment Weekly. Referencing their characters from the film, Diesel explained, "I've been told that the Dom-Letty love story is potentially the biggest love story that we've seen in cinema. After two decades, you understand that point."
Even with her limited experience in Hollywood, Rodriguez was unafraid to tell the script writers about flaws in her character. Co-star Jordana Brewster explained, "When Michelle read her role, she was like, 'No, I'm not playing that.' And then she changed it completely. It went from a trophy girlfriend to this really layered character." Rodriguez explained that, in her experience, there needed to be a more realistic power dynamic between her and Diesel's characters. She remembered telling producers, "'You're going to lose me if you don't change this.' And they figured it out." After appearing in "F8," Rodriguez still seemed to have issues with how women were portrayed in the series. She posted on Instagram that if writers didn't better develop the female characters, she might quit the franchise. Fortunately, Rodriguez was confident Diesel understood his responsibility and, in terms of reprising her role for another film, "I'm sure he'll convince me," she told The Hollywood Reporter.