Why Mark Wahlberg Isn't A Fan Of Tom Cruise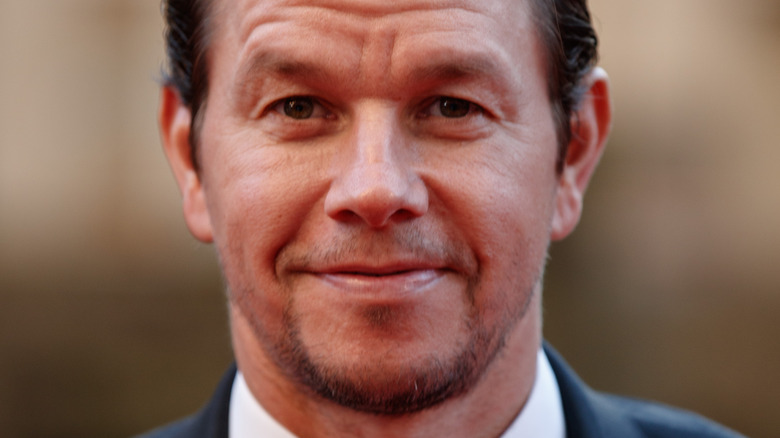 John Gress Media Inc/Shutterstock
Celebrity feuds are unsurprisingly common in Hollywood, particularly amongst the more outspoken A-listers. While some were obvious, like the infamous feud between Taylor Swift and Kanye "Ye" West, which started at the 2009 VMAs, others aren't as well-known. In 2013, Mark Wahlberg revealed his beef with Leonardo DiCaprio surrounding the 1995 film "Basketball Diaries," per The Hollywood Reporter. When Wahlberg was suggested to play opposite DiCaprio, the "Titanic" star's response was, "Over my dead f***ing body. Marky Mark's not going to be in this f***ing movie." Wahlberg recalled a past incident with DiCaprio that led to his grudge. "I didn't even realize it, [but] I was a bit of a d*** to him at a charity basketball game. So he was like, 'This f***ing a**hole is not going to be in this movie." Wahlberg ended up auditioning for "Basketball Diaries" and apparently impressed DiCaprio enough that he allowed him to star in the movie.
Wahlberg's brief feud with DiCaprio wasn't the only one in which he engaged, though. According to Celebretainment, he and rapper Eminem had years of bad blood between them, with both trading verbal blows. It's clear Wahlberg does not hold back when it comes to voicing his dislike for someone and he made that known when Tom Cruise once made a flippant comment about the military.
Tom Cruise compared acting to being in a war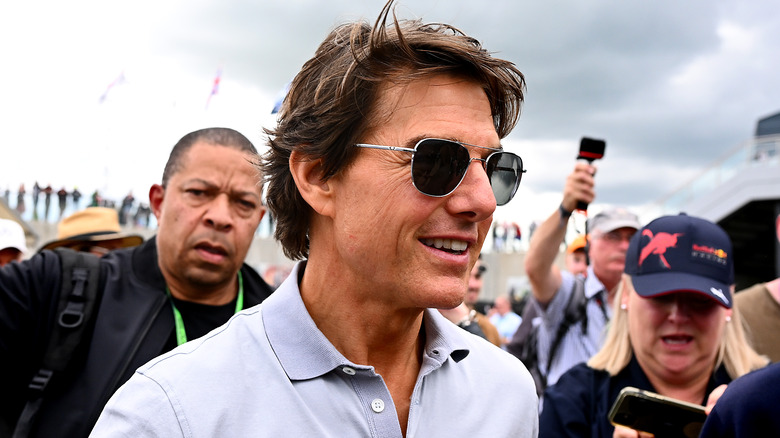 Clive Mason/Getty Images
In 2013, TMZ obtained court documents from the deposition of a lawsuit Tom Cruise filed against Life & Style and InTouch for $50 million. Cruise compared shooting movies on location to fighting a war in Afghanistan, stating, "That's what it feels like. And certainly on this last movie, it was brutal. It was brutal."
When word got out of Cruise's remark, Mark Wahlberg took serious issue with it. Wahlberg, who played a Navy SEAL in "Lone Survivor," was able to understand what it was like for the real troops who served in Afghanistan and went off about Cruise's comment. "For actors to sit there and talk about 'Oh I went to SEAL training' and I slept on the — I don't give a f*** what you did. You don't do what these guys did. For somebody to sit there and say my job was as difficult as somebody in the military's. How f***ing dare you. While you sit in a makeup chair for two hours" (via The Wrap).
Wahlberg later claimed he wasn't pointing fingers at Cruise and wasn't aware that he had made that statement. "I love Tom Cruise ... I have nothing but the utmost respect for Tom Cruise. But I also have the utmost respect for military guys. It's just unfair for anybody to comment on that," he stated, per TMZ. Unfortunately for Cruise, another A-list actor didn't give him the same respect.
Mickey Rourke wasno't impressed with Tom Cruise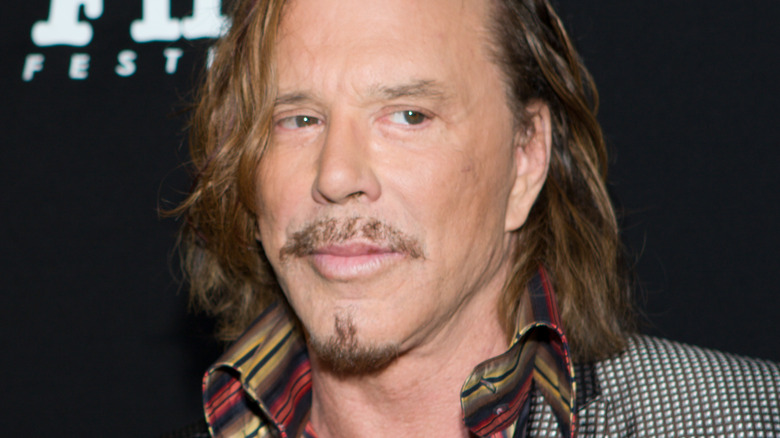 Terry Straehley/Shutterstock
In July, Piers Morgan asked Mickey Rourke his thoughts on Tom Cruise's latest movie, "Top Gun: Maverick," which grossed more than $1 billion at the box office. Rourke was quick to disparage Cruise, saying, "That doesn't mean s*** to me. That guy's been doing the same f***ing part for 35 years, you know? I got no respect for that. Really, brother. I don't care about money and power." Rourke then stated that he looks up to actors Al Pacino, Christopher Walken, and Robert De Niro, to name a few. "That's the kind of actor I want to be... A lot of guys just tried to stretch as actors." When asked if he thought Cruise was a good actor, Rourke bluntly stated, "I think he's irrelevant, in my world."
Cruise has yet to respond to Rourke's diss, but according to Variety, he earned a whopping $100 million for "Top Gun: Maverick." Perhaps it's sour grapes for Rourke, who is reportedly worth only $10 million, per The U.S. Sun. It seems that many celebrities are unimpressed with Cruise, but at least the multi-millionaire can laugh his way to the bank.