The Untold Truth Of Lil Pump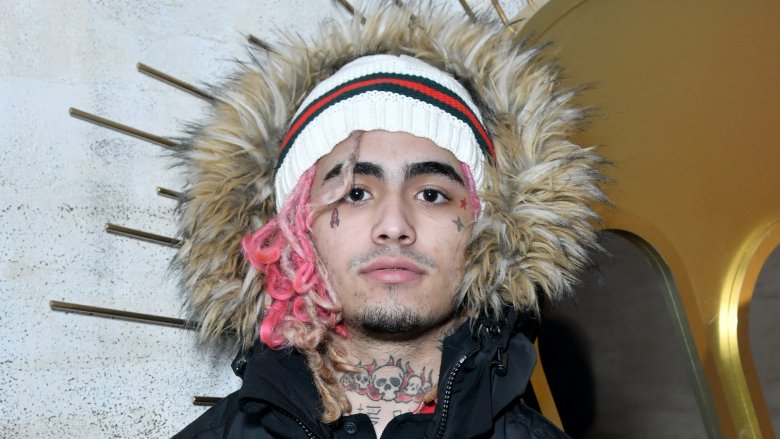 Getty Images
In the blink of an eye, South Florida rapper Gazzy "Lil Pump" García went from uploading music to his SoundCloud page to topping the Billboard charts with his hit song, "Gucci Gang." Catchy lyrics aside, his eccentric appearance — consisting of colorful dreadlocks and a body covered in tattoos — has helped him attract legions of fans. However, not everyone is enthralled by Lil Pump's shtick. The Guardian defined his music as "mindless, parent-resistant mumble rap," and the Miami New Times called him a "dunce, a moron, a clown even." But for the naysayers who laugh at his unintelligible tracks, Lil Pump is laughing even harder...straight to the bank! 
How did the Florida native go from making music in a makeshift studio with his pal, Smokepurpp, to topping the charts? From a head-scratching rap sheet to ruffling some feathers with the Catholic Church, this the untold truth about the confidant teen who made hip-hop veterans clamor for his attention. 
'Gucci Gang' set a peculiar record
Some musicians can go through their entire careers without making a single song that lands at the top of the charts, and yet upstart Lil Pump is already setting records. Coming in at just two minutes and four seconds, "Gucci Gang" became the shortest song to land in the top ten on Billboard's Hot 100 list in 42 years. It's true. According to Paul Haney with Record Research, there hasn't been a song that short in the top ten since 1975, when Dickie Goodman's "Mr Jaws" nabbed listeners' ears for all of two minutes and three seconds.
Perhaps Lil Pump's short and sweet tune, infused with lyrics referencing drug use and the rapper's penchant for wearing French luxury brand Balmain, is signaling some sort of shift in the music industry. The rapper appears to be at the forefront of snippet-tracks that are quick, catchy, and get straight to the point in less time than it takes to spell E-S-K-E-T-I-T. Confused? Keep reading. We'll explain in a minute.
His music video got a Catholic school in big trouble
When it came time to film the "Gucci Gang" music video, Lil Pump headed out to Blessed Sacrament School — a Catholic elementary school. In the opening scene, the rapper can be seen smoking marijuana as bags of pot are flung about the grounds, a tiger roams the hallway, and a nurse pushes a "care cart" consisting of cups presumably filled with Sprite and codeine — a mixture the hip-hop community affectionately calls "purple drank," "sizzurp," or "lean." Basically, the video depicts plenty of images that don't jive with the values one probably connects to elementary schools. It certainly wasn't a look the Archdiocese of Los Angeles wanted to promote at one of its institutions.
A spokesperson for the church told TMZ that an investigation was underway because Blessed Sacrament failed to follow the filming policies and procedures by which all Catholic schools and parishes must abide. In other words, purple drank and pot are most definitely not on the lunch menu, and someone is probably going to pay for those sins.
He has a thing for Miranda Cosgrove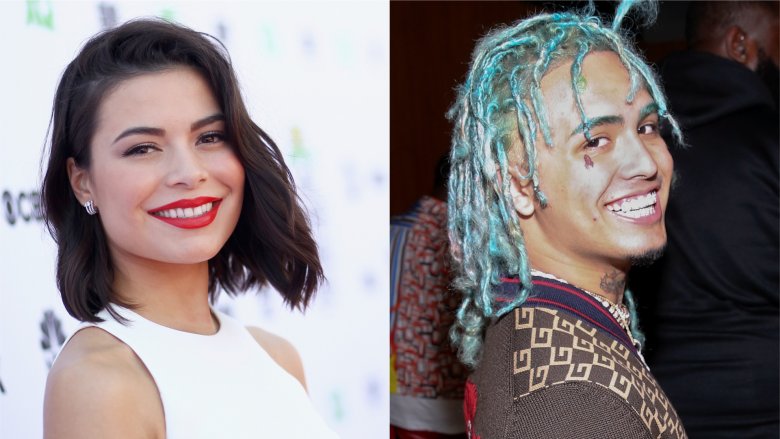 Getty Images
Sure, we all love the Nickelodeon series iCarly, but Lil Pump seems to really, really like the show. Actually — allow us to clarify. It's not the program in its entirety that makes Lil Pump go gaga. The rapper appears to be fixated on the show's leading actress, Miranda Cosgrove. 
This is more than a crush. Lil Pump even had a cake made, bearing Cosgrove's image. He posted a photo of the yummy dessert on his Twitter with the boorish caption: "ICARLY IM TRYNNA F**K SO I MADE U A CAKE." At the end of his proposition, he posted a skull and crossbones and two tongue emojis, alongside the word "ESSKEETIT," which is an exaggerated form of his catchphrase, Esketit. Lil Pump coined the term as an alternative way of saying, "Let's get it." See? we all learned something new today!
Cosgrove has yet to respond to the offer, but it's probably difficult to ignore his advances. At one point, she was the only person he was following on his Instagram account, and he often showers her with compliments in the comments section of her photos. Awkward.
His record contract went belly up and started a bidding war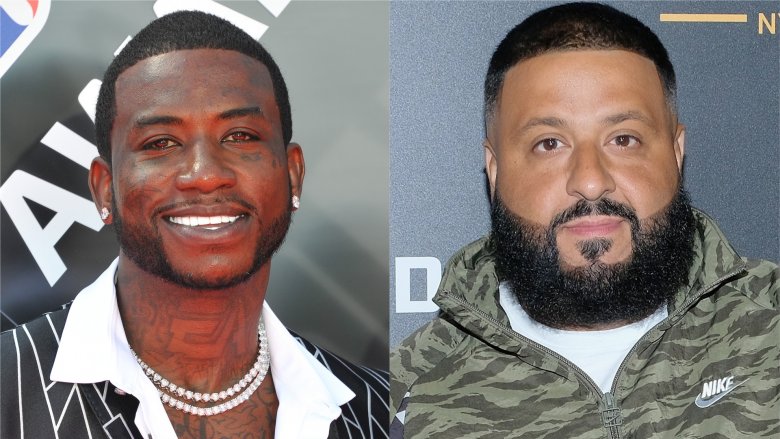 Getty Images
Lil Pump signed with Warner Bros. Records in December 2017. That deal included a $345,000 advance, along with a promise to release five albums, according to XXL. However, a month after the ink dried, the contract was voided when it was discovered he was underage when he signed on the dotted line and that the contract was "never certified by the court," reported Billboard. At that point, Lil Pump took to his Twitter to announce: "F**K IT IMA SIGN LIL PUMP TO LIL PUMP." 
And that's when the offers started rolling in. Rapper Gucci Mane reached out to Lil Pump by commenting on his Instagram page (via XXL), telling him to "name the price." DJ Khaled weighed in too, uploading a picture of Lil Pump to Instagram with the caption: "MOGUL TALK!! STILL IN THE MEETING!!!! I TOLD MY LAWYER THIS IS URGENT!! Let's get this deal done!" But Warner Bros. didn't give up. By May 2018, the label had enticed Lil Pump with a brand-spankin'-new deal, complete with an "$8 million advance, and then $9,000 for the first year, $12k for the second and $15k for the 3rd through 7th contract years," reported TMZ, noting that the rapper would also cash in on royalties. Cha-ching!
Lil Pump is a big spender
He may be a newcomer in the industry, but Lil Pump isn't wasting any time splurging on the finer things in life. According to TMZ, the rapper purchased eight chains (for a total cost of about $350,000) inscribed with the words: "Tha Lights Global" — the name of a "full-service, next generation music and entertainment company," with which the rapper was affiliated, according to XXL. Each chain was reportedly designed by a New York City jeweler and features 10 to 30 carats of bling.
As he continues to rake it in, Lil Pump's obsession with splashing out on pricey jewels has become even more evident. He posted the foot selfie above to his Instagram with the caption, "rich & bored." He also shared some of his favorite pieces from his jewelry collection in an interview with GQ, including a blingin' medallion in the shape of his face and a stack of diamond bracelets that cost $13,000 a pop. No wonder he was holding out for a massive record contract. He obviously needs the cash to buy more "iced out chains; iced out rings!" 
Happy mug shot. Serious trouble.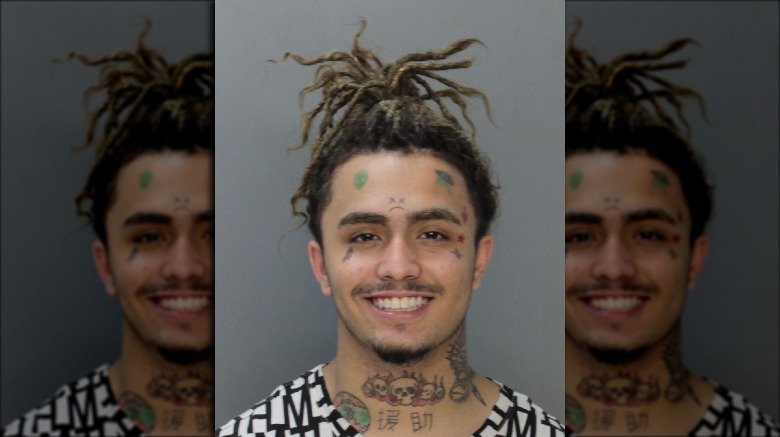 Getty Images
Lil' Pump has already gotten into a lil' trouble with the law. In February 2018, the 17-year-old was reportedly arrested and locked up in a juvenile detention center after firing a gun while home alone, reported TMZ. The rapper's manager claimed three men were trying to break into Lil Pump's apartment and fired a bullet through his door. "Cops say the trajectory of the bullet hole shows it came from inside the home," reported TMZ. Police also found an unloaded handgun in the bushes below the balcony of Pump's home and ammo for that gun inside his pad. Oh, and police found marijuana in his apartment too. TMZ said he was "arrested him for discharging a weapon in an inhabited place" and reported that Lil Pump's absent mother was "under investigation for endangering a minor and having an unsecured gun at home."
Lil Pump had another run-in with the law in August 2018, when Miami police discovered the license plate on his pricey Rolls-Royce belonged to a Mini Cooper. The rapper was also driving without a valid license, reported TMZ. Judging by the grin on his mug shot (above), he doesn't seem too bothered by his legal issues. 
He called his music style 'ignorant'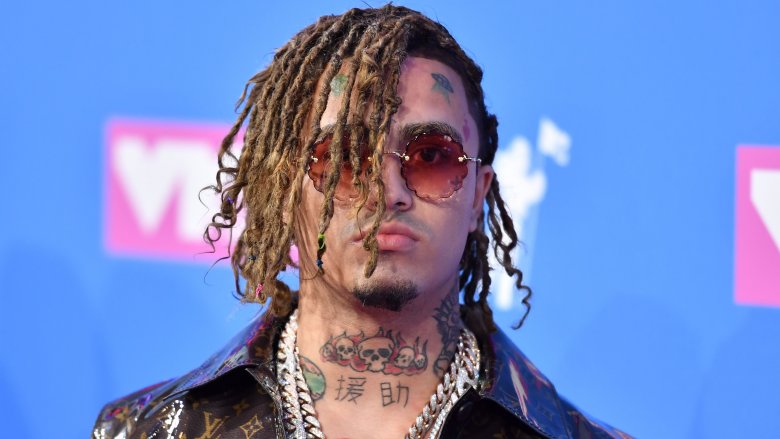 Getty Images
Now that we're living in the digital age, aspiring artists don't even have to leave the comforts of their home to gain attention and launch careers. Cranking out original tunes or recording covers and posting the finished product online is all it takes for some people to become overnight sensations. Hey, it worked for Justin Bieber. While the Biebs used YouTube to catapult his singing career, Lil Pump took to the music-sharing site SoundCloud to promote his work. With some help from his partner, Omar "Smokepurpp" Pineiro, his music caught the attention of hip-hop heads worldwide, and his tunes have since been streamed millions of times.
"Loosely pulled together by social media, this wave of music is often called 'Soundcloud Rap,' but Pump and Purrp ... prefer not to define it" reported Noisey, "...they happily declared that what they do is just 'ignorant.'
He thinks he's 'a god'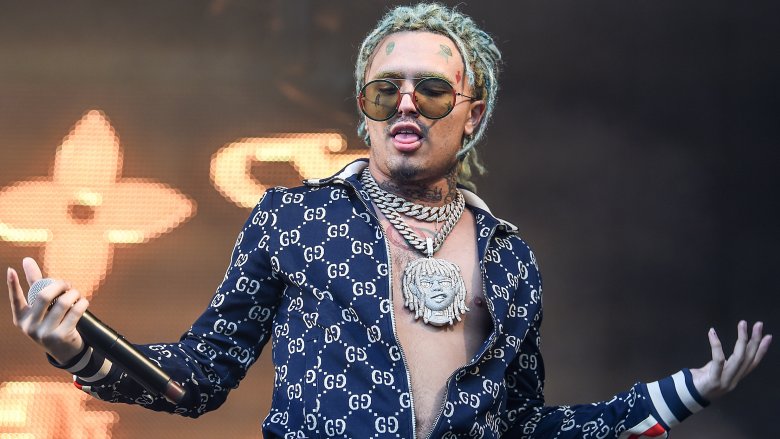 Getty Images
Lil Pump has given some wild interviews since being propelled into the limelight, including in June 2018, when he told Nardwuar he could "barely read." Um, we're not sure if he was being serious, but moving on...
Perhaps his most off-the-wall comment came during a 2017 sit-down interview with XXL. The "Boss" rapper discussed the start of his career and what he planned to bring to the game. When asked what his goal was in the music industry, he said he wanted to be the "biggest thing that's out" and cited his unique flow as the reason he was able to stand out within a sea of other rappers. Some up-and-comers may have lofty aspirations of becoming the next Jay-Z or the next 2Pac, but Lil Pump? He's apparently too good for the human race. "Lil Pump is a God," he said. "I just run s**t." 
Waka Flocka Flame says he stole his flow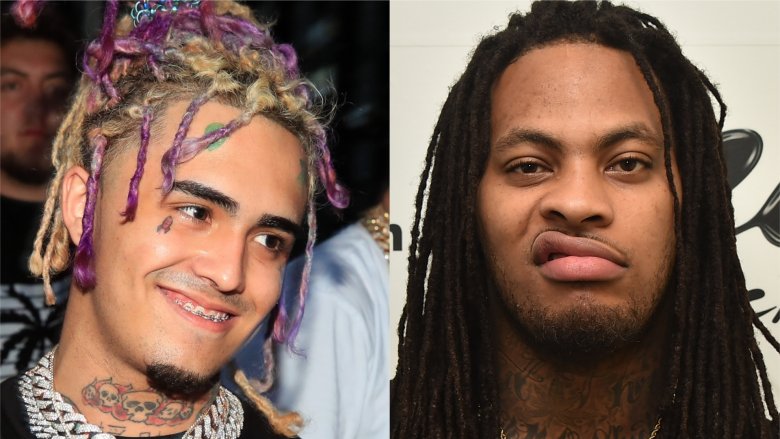 Getty Images
Lil Pump immersed himself in hip-hop culture growing up by listening to other artists such as Chief Keef and Lil B, so we wouldn't be shocked to hear that he was inspired by their music. But one artist who Lil Pump has never mentioned by name is convinced that he deserves credit for shaping the young star's entire flow.
In a radio interview with the Domenick Nati Show, Juaquin "Waka Flocka Flame" Malphurs immediately shut down the idea of collaborating with Lil Pump, calling the "Flex Like Ouu" rapper an "albino Waka Flocka." According to Malphurs, "Lil Pump raps about the s**t I've been rapping about on my last 30-plus old CDs. Same s**t — same way on my same sounding beat." Is there any truth to that claim? You decide, but we think it's safe to assume that Waka Flocka Flame won't be throwing on his favorite Gucci outfit and sitting front row at a Lil Pump concert anytime soon.
Meet his SNL parody: Lil Doo Doo
You know you've made it big when Saturday Night Live makes fun of you. The sketch comedy show paid homage to (or dissed, depending on your point of view) the offbeat rapper when SNL's Pete Davidson impersonated him. In the bit, Davidson plays a character by the name of Lil Doo Doo — a fictitious rapper with a hit song called "Doody Gang" — who receives a rap history lesson from veteran hip-hop group Soul Crush Crew, played by Chance the Rapper, Kenan Thompson, and Chris Redd. 
The parody was such a comedic success that Davidson reprised the role of the mumble rapper, unveiling a music video in which the hook of "Gucci Gang" was changed to "Tucci Gang" in honor of The Devil Wears Prada actor Stanley Tucci. That comedic masterpiece plays off the name of Tucci's wife, Felicity Blunt, and includes the lyrics: "Some of you don't know that name, but that's the guy from The Hunger Games."
He impressed his nemesis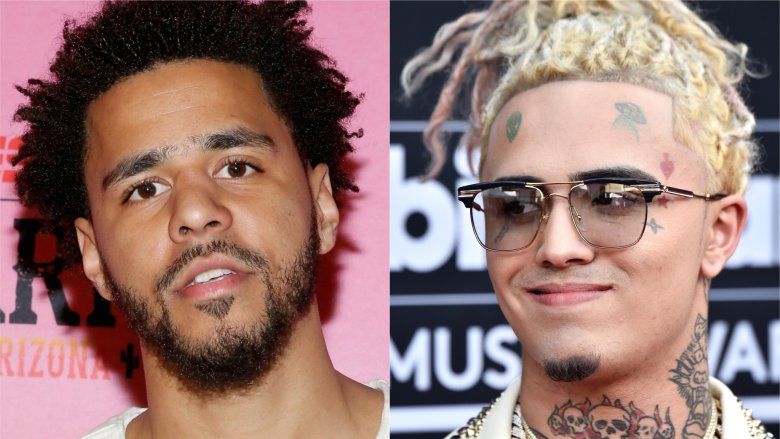 Getty Images
To be considered a credible rapper, it seems like one must be involved in at least one high-profile feud. Lil Pump fulfilled that obligation by engaging in a rather weird tête-à-tête with fellow rapper J. Cole. It's hard to pinpoint what sparked their beef, but Revolt reported that Lil Pump started it all in a since-deleted tweet that read, in part: "B***h I'm better than j Cole." Them fightin' words! J. Cole fired back in "1985" — a diss track that many believed was directed toward Lil Pump. But right before the tension came to a boiling point, the two rappers suddenly squashed the animosity. Yup, just like that. It was all over. Huh?
Here's how it happened: Lil Pump was hanging out with a mutual acquaintance who called up J. Cole. Lil Pump suggested they FaceTime, but, J. Cole wasn't interested. He thought the Lil Pump was just being a little punk. Eventually, J. Cole let his guard down, and they had a friendly, 15-minute conversation. "When I spoke to you on the phone, I was like, 'Yo, he is smart.' I could tell just from talking to you on the phone. You smarter than what people know, what people might give you credit for, and I think you smarter than what you put out there," J. Cole said during a joint interview. 
D'aww. Don't you just love a happy ending?
He didn't want to be a rapper. It 'just happened'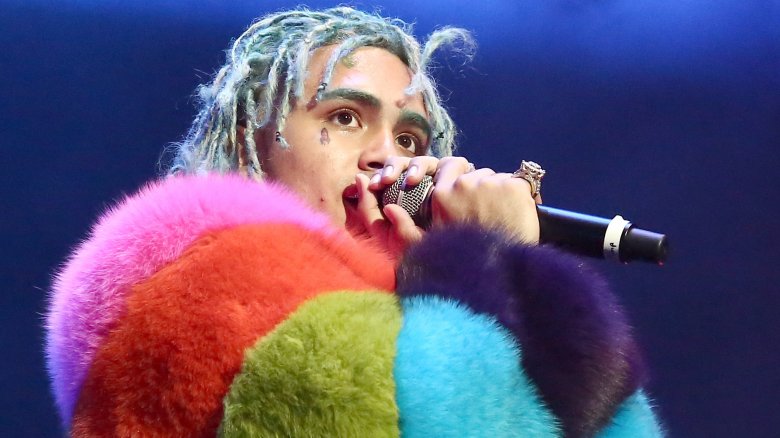 Getty Images
Dreams sometimes come true, and sometimes dreams that aren't even dreams come true too. Lil Pump told XXL that all his fame and fortune practically dropped right into his lap thanks to his pal, Smokepurpp. "He was freestyling and he was like, 'Record some s**t,' but I said no. But he made me go into the studio one day to do it and I just freestyled. I never wanted to be a rapper before, it just happened."
After the release of his first song, "Pump," the lil guy was amazed by the success of the track and how rapidly he rose to prominence. "This is happening quickly," he said, making a point to dish out some poetic words to his fans and critics: "I f**k with all my fans and f**K everybody who's hating." So there you have it, kids. You can be anything you don't set your mind to.