What We Know About Brandi Glanville's Time As A Model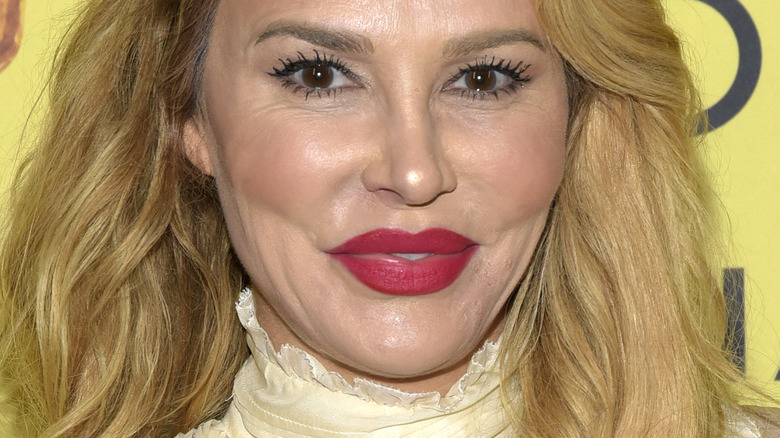 Michael Tullberg/Getty Images
Since she stepped into the reality TV spotlight, Brandi Glanville has kept people talking. Who could forget her rumored affair with Denise Richards? How about her feud with ... well, several cast members of "The Real Housewives of Beverly Hills?" Whether you love her or hate her, you have to admit that Glanville is undeniably entertaining. Though the "RHOBH" alum is no longer on the show, it doesn't mean that her co-stars have forgotten about her.
On "Watch What Happens Live with Andy Cohen" at BravoCon 2022 (via Bravo), cast member Erika Jayne revealed her thoughts on Glanville. She shared, "Here's the thing: Brandi is a truth teller whether you like it or not. Even though she called me 'the most overrated Housewife' the other day, I still love her for it." Jayne, who's also known for her bold personality, continued, "And I want to say something else: You don't have to like everybody in the group, but you can respect people for being in-your-face honest, and Brandi does that." That statement surely sums up how some fans feel about the often polarizing Glanville.
So, what was Glanville up to before stirring up drama on "RHOBH?" Well, the television personality is actually a former model who had lots of success in the fashion world! Let's take a look.
Brandi Glanville was a print and runway model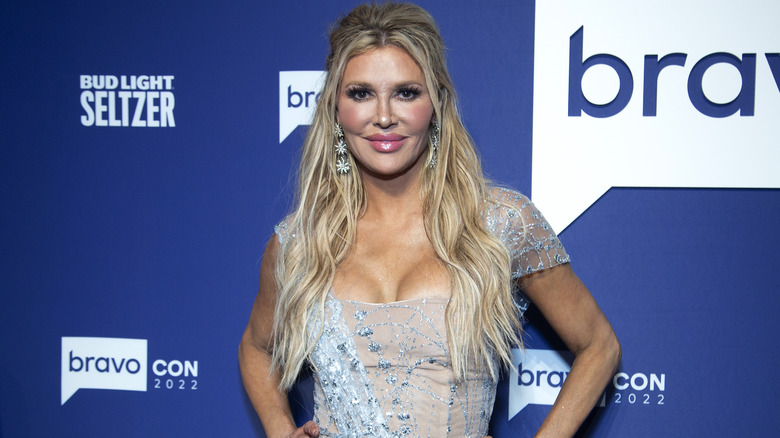 Santiago Felipe/Getty Images
According to Us Magazine, Brandi Glanville moved to France at age 16 for her modeling career. She strutted down many catwalks and was featured in magazines such as Cosmopolitan and Glamour. According to TV Overmind, she had a contract with Elite Model Management and had a career spanning 17 years. She worked with notable designers such as Gucci and Chanel, per Bravo. On social media, there are plenty of throwback pictures of Glanville's modeling days. In one Instagram photo, she shows off her fierce posing skills. Modeling for a clothing company, she wears a fitted blue jacket, t-shirt, and skirt.
Glanville clearly enjoys reminiscing about her past experiences modeling. In 2014, she posted a portrait on Twitter with the caption, "@Andy from 1992 these are my cheekbones!! Swear it!" to seemingly prove her cheekbones are au naturale. It's worth noting that Glanville has previously taken the heat for plastic surgery accusations. One user commented, "You haven't aged a day. What's your secret?!? Other than just being naturally stunning." Another person replied, "THOSE are but the ones you have now? Look different." 
So, what ended up happening with Glanville's modeling career? Well, once she transitioned into reality television, she didn't completely quit posing. According to Bustle, Glanville once did a modeling challenge for "The Celebrity Apprentice." The star certainly isn't camera shy, as she apparently went topless!
Brandi Glanville's son followed in her footsteps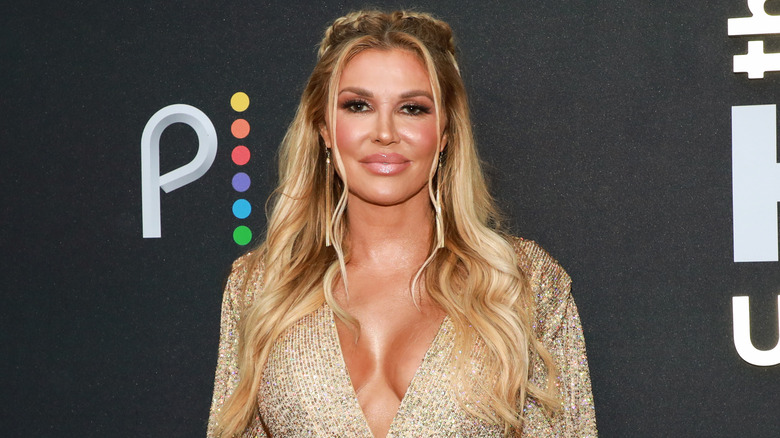 Jason Mendez/Getty Images
Brandi Glanville isn't the only one in her family to pursue modeling. According to People, Glanville's son Mason Edward Cibrian is signed with DT Model Management. Glanville shared that Cibrian, who's typically a private person, ultimately decided to model for the money. How does Mama Glanville feel about it? As reported by the outlet, she sounds supportive of her son's decision. She told People at BravoCon 2022, "He has a really unique look. He's really tall." However, there's one catch. Glanville added, "I'm on all the emails, all the texts. I let the agent know, though. I go, 'Everything that you're sending him, you need to [send me]' because I'm very protective."
Apparently, it was Glanville herself who reached out to DT Model Management's president, per ScreenRant. She clearly couldn't be happier for her son, as evidenced in a recent Instagram post. She shared a modeling photo of Cibrian with a serious expression on his face. She wrote, "Proud mama moment, have to brag a little bit ... Mason Cibrian for @dtmodelmgmt." Both Glanville and Cibrian know how to strike a pose.