What We Know About Joan Collins' Children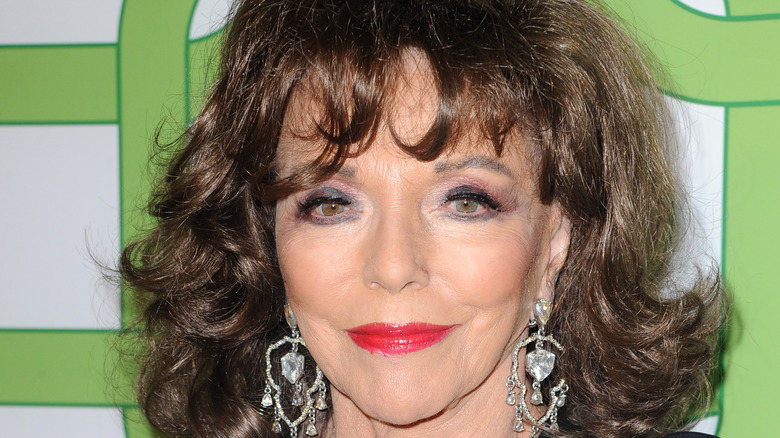 Tinseltown/Shutterstock
English actress Dame Joan Collins has a storied career spanning seven decades of work, but her personal life is just as fascinating as her Hollywood blockbusters. From her five marriages to her past affairs with Harry Belafonte and Warren Beatty, as Collins revealed in her autobiography (via the Daily Mail), there is little doubt that the dame would have some interesting stories to tell. What fans might not realize is that Collins also has three children by two of her five husbands, as Hollywood Life reports.
Collins' first daughter, Tara Newley, and her son, Alexander Newley, are her children from her marriage to Academy Award nominee Anthony Newley, while her second daughter, Katyana Kass, is from her marriage to businessman Ron Kass, per Hollywood Life. More true to life than a Hollywood film, perhaps, not everything has been perfect for Collins and her children over the years, including a scary incident that almost cost Collins' youngest child her life.
Katyana Kass almost died as a child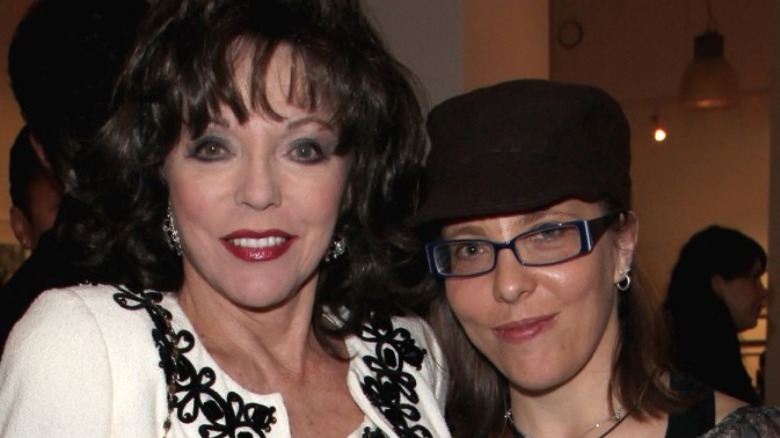 Tim P. Whitby/Getty Images
Frighteningly, Joan Collins' younger daughter, Katyana Kass, had a very close call when she was still a child. Collins, who described the incident in the BBC Two documentary "This Is Joan Collins," explained that her younger daughter (also known by the nickname "Katy") was hit by a car when she was just nine years old, saying, "Katy's accident was the worst thing that had ever happened to me" (via Express). Kass luckily recovered from the August 1980 accident, from which her mother said that she "sustained very serious brain injuries" (via Metro). An archived article from the Sunday Mirror published in 1996 elaborates that Kass was in a coma for 47 days.
In 2012, Kass was reportedly hospitalized after falling and hitting her head at her mother's home in California (via the Mirror). Understandably, Collins was concerned for her daughter's welfare, but a source told the Mirror at the time that Kass' fall was not related to the 1980 accident. E! Online reports that Collins then filed a lawsuit against her condominium complex, Sierra Towers, alleging that Kass suffered from hypothermia due to the cold temperature of the pool water and broke her left eye socket as a result.
Alexander Newley has a rocky relationship with his mother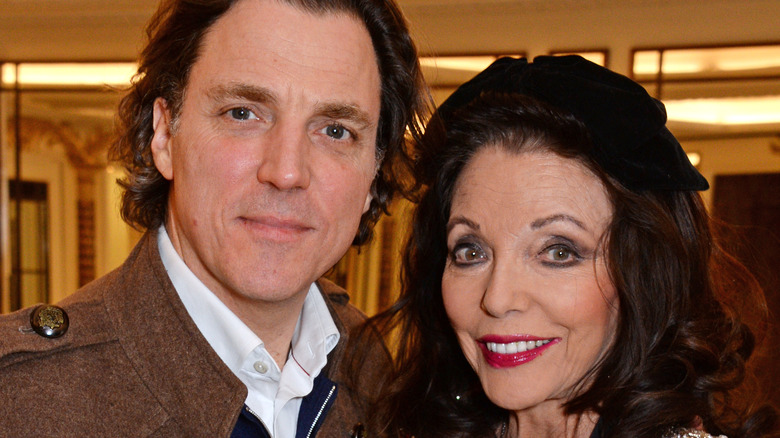 David M. Benett/Getty Images
Joan Collins' only son, Alexander "Sacha" Newley, penned a memoir about his childhood, titled "Unaccompanied Minor: A Memoir," and an excerpt of the book published by the Daily Mail is not complimentary of Collins' parenting. In that excerpt, Newley wrote, in part, "My mother stalked the house in a self-righteous temper. Cooking for her kids, doing the school run and entertaining them just wasn't in Joan Collins's mission statement" (via the Daily Mail).
Newley has also claimed that his late father, Anthony "Tony" Newley, was a pedophile, which Collins denied during an appearance on the television show "Good Morning Britain." During that television segment, Collins responded to her son's claims about her ex-husband by stating, "Well, I think that Sacha's being extremely naïve and not really knowing the meaning of that word because what Tony admittedly was, was he loved young women, and young women of 17, 18, 19 years old, not children by any means. Never in a million years would I have been married to somebody like that."
If you or someone you know may be the victim of child abuse, please contact the Childhelp National Child Abuse Hotline at 1-800-4-A-Child (1-800-422-4453) or contact their live chat services.