Who's The Woman In Maroon 5's New 'Wait' Music Video?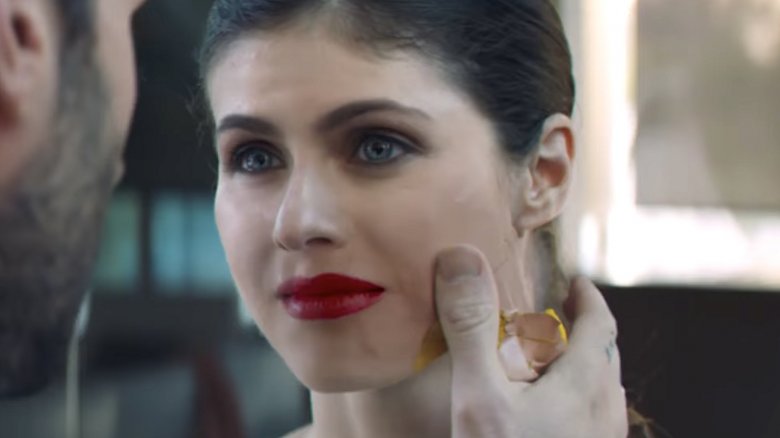 YouTube
The star of the band's latest video looks awfully familiar.
On Thursday, Feb. 8, 2018, Maroon 5 dropped the music video for their song "Wait." The mind-bending visuals for the track, which were directed by Dave Meyers, follow the band's frontman, Adam Levine, as he attempts to reunite with his scorned ex despite repeatedly betraying her trust by cheating on her. While the video is memorable with its strange altered reality — at one point, Levine swims through a literal sea of women — it's the leading lady that's snagging some major attention.
With piercing light blue eyes, the actress makes her presence known on-screen, as she fights with Levine throughout various scenes. But this isn't the woman's first acting gig. In fact, chances are viewers have seen those very same baby blues before.
The actress in "Wait" is none other than Alexandra Daddario. Boasting 50 acting credits to her name, the 31-year-old has established herself on both the small and big screens. However, she's probably best known for her roles in the Percy Jackson film franchise, Texas Chainsaw 3D, and, more recently, in the 2017 Baywatch movie. She also played Dwayne "The Rock" Johnson's daughter in San Andreas and acted alongside Kate Upton and Matt Barr in The Layover.
Other projects she's been involved in include White Collar, Parenthood, True Detective, and American Horror Story, though those are only a few of her many TV credits. 
Movie buffs may have also spotted Daddario in the trailer for the soon-to-be-released film When We First Met, which stars Workaholics' Adam Devine. Check out the upcoming Netflix movie in the trailer below: