How Long Did Prince Harry And Meghan Markle Date Before Getting Engaged?
Max Mumby/indigo/Getty Images
As they detailed in their bombshell March 2021 interview with Oprah Winfrey, the early days of Prince Harry and Meghan Markle's relationship were fraught with drama from external factors. Not only did Markle have to deal with racism from the British tabloids, but as they say in the movies, the call was coming from inside the house. Senior members of the Royal family reportedly were displaying racist tendencies toward the now Duchess of Sussex, and "The Firm" in general turned a blind eye when her mental health began to suffer as a result, per People.
That's when the Duke and Duchess took a step back as senior members of the Royal family, moved from London to Vancouver, then ultimately California, and launched their own endeavors, such as the podcast "Archetypes," led by Meghan. The former "Suits" actor speaks to notable personalities in each episode about topics that affect many marginalized and underrepresented communities, such as the "angry Black woman" trope, per Vanity Fair.
While the Sussexes can't seem to escape the spotlight in the present, it turns out, while the former British Army captain and the former "Deal Or No Deal" star were dating, there was also a lot of speculation and rumors about the couple in the press. With such scrutiny on their courtship, royal fans often wonder how long Harry and Meghan dated before he popped the question.
Rumors abounded about their relationship before they went public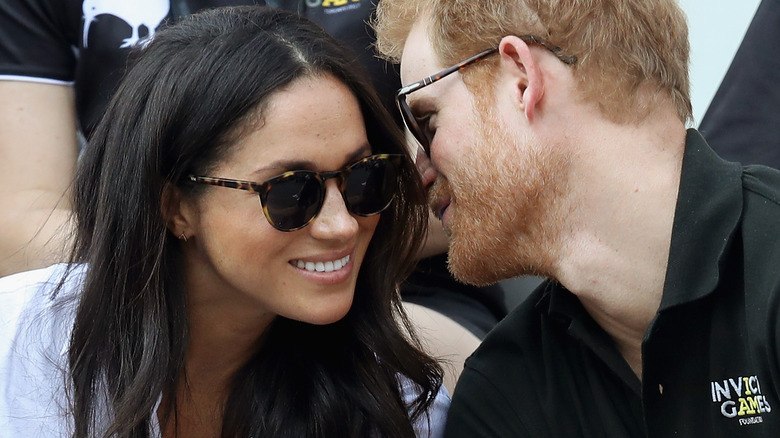 Chris Jackson/Getty Images
The royal rumor mill kicked up in 2016 when it was reported that "Suits" actor Meghan Markle, who lived in Toronto, Canada, and the scion of the British monarchy, Prince Harry, had quietly started dating. Meghan was dating a Toronto chef when they met, and Harry was with a model, but those other relationships quickly fell by the wayside. By October 2016, The Toronto Star was reporting on the local Harry sightings, but according to Markle, they were secretly dating way before. "We were very quietly dating for about six months before it became news," she told Vanity Fair in 2017. By November, the pair could no longer deny their courtship after several sightings together, and Kensington Palace released a statement. It almost took a full year after that for their first official outing together in September 2017 in Toronto at the Invictus Games, a sporting event for wounded servicemen and women that Harry helped found in 2014. 
By November 2017, just over a year after they went public with their relationship, The Toronto Star reported that Markle wanted to leave "Suits" after her contract was up to begin her new life with Harry. Only a few days later, the couple announced their engagement with a jubilant video of them holding hands in the rain and gushing about their excitement to begin their next chapter as the Duke and Duchess of Sussex.
Meghan gushed about their love before their engagement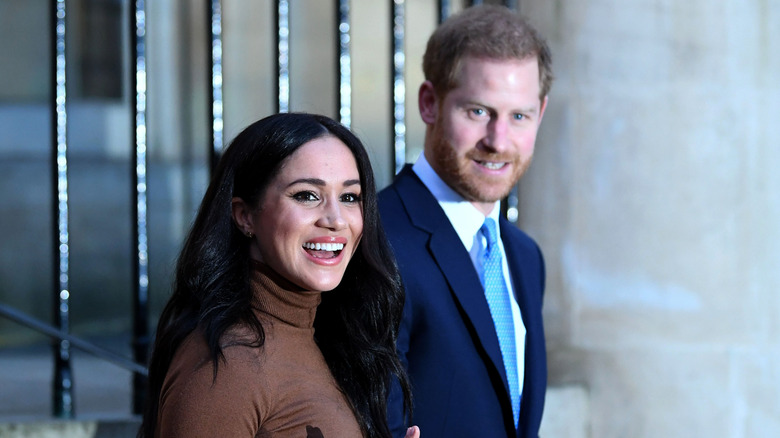 Wpa Pool/Getty Images
But Prince Harry and Meghan Markle's romance wasn't easy. The Prince called out the "sexism and racism" directed at Markle on social media, and how her family and ex-partners were experiencing harassment from the press. "It is not right that a few months into a relationship with him that Ms. Markle should be subjected to such a storm," the palace said.
Despite the tumult, Markle gave a revealing interview with Vanity Fair in September 2017, saying their relationship was "special" because it was "just ours. Personally, I love a great love story." Gushing that she and Harry were "really happy and in love," she made sure to note that she was still the same person she was before she became a member of "the Firm." "Nothing about me changed. I'm still the same person that I am, and I've never defined myself by my relationship."
However, by 2019, Markle was displaying signs of struggle which she would later detail in her bombshell Oprah Winfrey interview as suicide ideation, per Entertainment Tonight. Speaking with ITV News, she appeared fragile and close to tears as she admitted she wasn't okay. So while it hasn't been an easy road in the media and in public for the couple since they tied the knot, they do have two beloved children, Archie and Lilibet to show for it.