The Young And The Restless' Melissa Claire Egan's Emotional Journey To Motherhood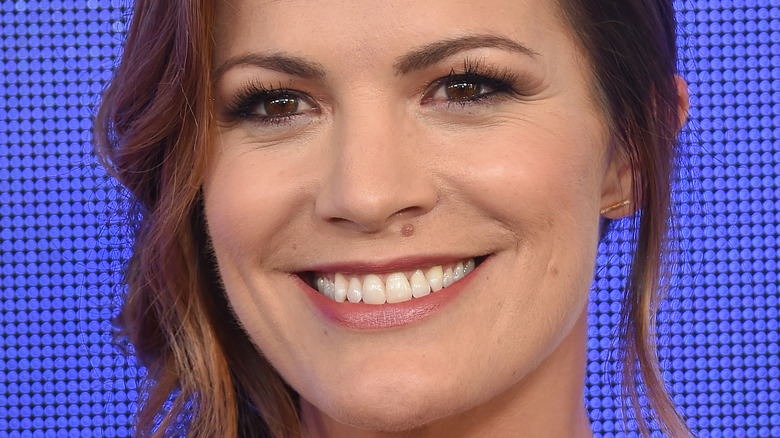 DFree/Shutterstock
As Chelsea Newman on "The Young and the Restless," Melissa Claire Egan has seen her character do some pretty naughty, if not downright awful, things over the years. She got pregnant with Billy Abbott's (Jason Thompson) child during a wild night out in Myanmar in 2011, per Soaps. A year later, Chelsea got pregnant with Adam Newman's (Justin Hartley) baby, though she first passed it off as Dylan McAvoy's (Steve Burton) child instead. Let's just say that if there's anything we've learned about Chelsea over the years, it's that she will do what she wants to when she wants to, regardless of what anyone has to say about it. That, and there's no knowing who her baby daddy might be.
Luckily Egan's real life is nowhere near as dramatic as Chelsea's is on the small screen. But if there's been one interesting storyline she has shared with her fans about her personal life, it's her emotional journey to motherhood. 
Melissa Claire Egan's road to motherhood wasn't as she expected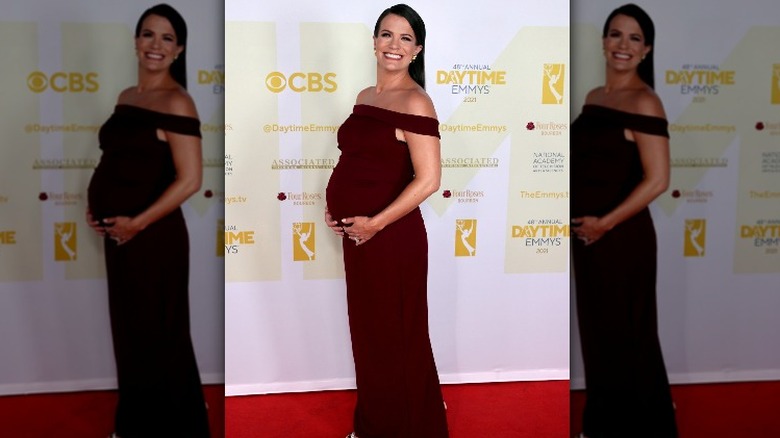 Kevin Winter/Getty
In April 2021, Melissa Claire Egan stunned fans when she shared a photo of her pregnant belly on Instagram. While many people were overjoyed for her and her husband, Matt Katrosar, "The Young and the Restless" star also opened up about her struggles with fertility. She admitted for the first time that she had previously lost two pregnancies. She wrote in her caption, "As happy as we are, the journey to get here has been filled with lots of tears, stress, sadness, helplessness, hopelessness, and two miscarriages. To anyone going through this process or any kind of fertility issues, I feel you, I see you, you're not alone." Egan also urged her fans and followers not to give up hope in their own journeys toward motherhood. Many of her followers commented with their own struggles with fertility and also congratulated Egan on her new chapter in her life. 
Luckily, Egan had a very uneventful pregnancy the time around — which included plenty of pregnant belly shots on the beach – before she and Katrosar welcomed their son, Caden Robert, in August 2021, per People. Though the actress doesn't share many traits with her on-screen alter-ego, Chelsea, she quickly introduced her little one to the "The Young and the Restless" world and her co-stars, according to Soaps. Egan definitely isn't taking any moment with Caden for granted.
Melissa Claire Egan is the kind of mother you'd expect
These days, Melissa Claire Egan is counting her blessings with her family. She posted several photos of her son Caden on her Instagram account for his first birthday in August. She captioned her with, "Happy 1st Birthday Caden Robert Katrosar! You are such a gift from God and a miracle, and we love you so much!!! You are the happiest little boy, you love peaches and blueberries and already have the best sense of humor. Dad really wants you to be a lefty but no pressure."
When Egan is not celebrating all of Caden's joyful milestones with the family, she is soaking up all the Halloween memories with the young tot and making sure that he grows up to become a Tar Heels fan. But that doesn't mean motherhood doesn't come with challenges for Egan. As she told Soap Opera Digest, "Of course, it's exhausting, and I'm definitely tired, but it's so worth it. I can't wait to get home to see him. It still feels so surreal that he's ours. He's a really good boy, and we're so grateful for him."