The Untold Truth Of Mike Pence's Kids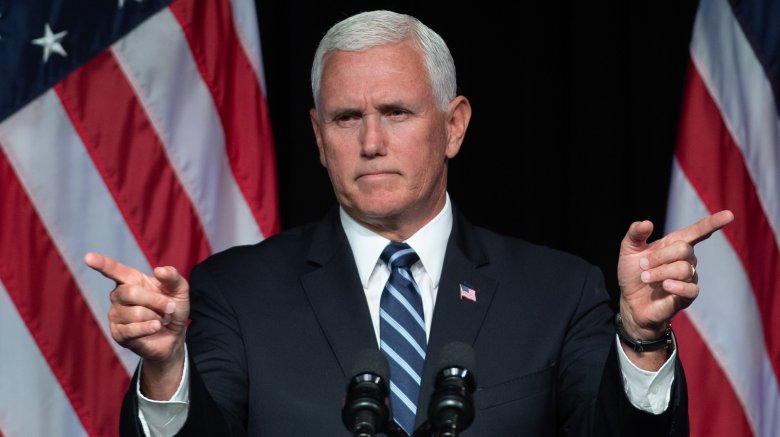 Getty Images
Whenever there's a new administration in the White House, we want to know all about the leaders' kids. Maybe we're projecting our own thoughts about what it would be like to roam the halls of the White House or how our family dynamics would change if our parents were among the most powerful people in the world. 
We're well aware of the lifestyles of Donald Trump's progeny. Ivanka Trump, Eric Trump, and Donald Trump, Jr. all work closely with their dad, and Tiffany Trump and baby-of-the-family Barron Trump occasionally make headlines too. You know who we don't hear about very often? The three adult children of Vice President Mike Pence and his wife, Karen. Let's take a closer look at the diverse and fascinating lives of Charlotte, Audrey, and Michael Pence, Jr. From military service to world travel to a book about a bunny, these kids are staying out of the spotlight but certainly keeping busy.
Mike Jr. is a high-flying Marine and a married man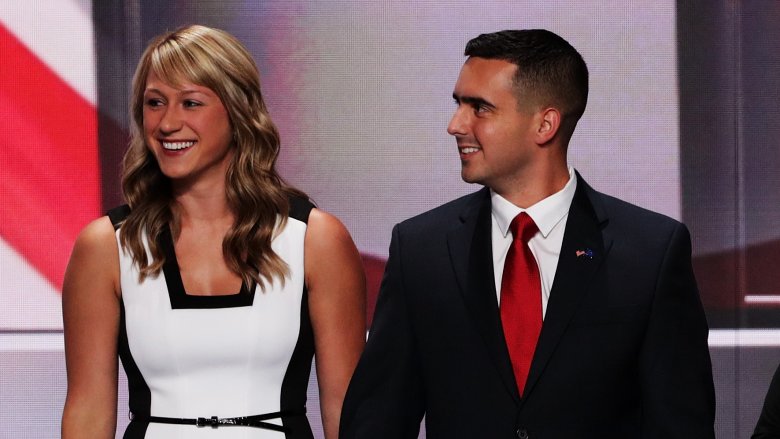 Getty Images
The Pences' eldest child is son Michael J. Pence, Jr., who stuck close to his family's Indiana stomping grounds when he attended Purdue University. After graduation, he jumped into military service, commissioning as a second lieutenant in the U.S. Marine Corps in 2015 at age 23, reported The Associated Press. Junior then pursued aviator training at the Naval Air Station in Pensacola, Fla. and was subsequently stationed in Mississippi at the Naval Air Station Meridian with Training Air Wing One. 
What followed was no doubt a busy time for the young officer. His parents reportedly visited him for Thanksgiving following the 2016 election, and in December 2016, he reportedly wed his college sweetheart, Sarah Whiteside, in a very small ceremony at the governor's mansion in Indiana. The following month, he attended his father's swearing-in as vice president. In October 2017, the Pence family reportedly gathered for a delayed wedding reception to celebrate Sarah and Mike Jr. at a state park in Indiana. 
Fun fact: The newlyweds reportedly met in a political science class at Purdue. How appropriate.
Audrey doesn't necessarily toe the party line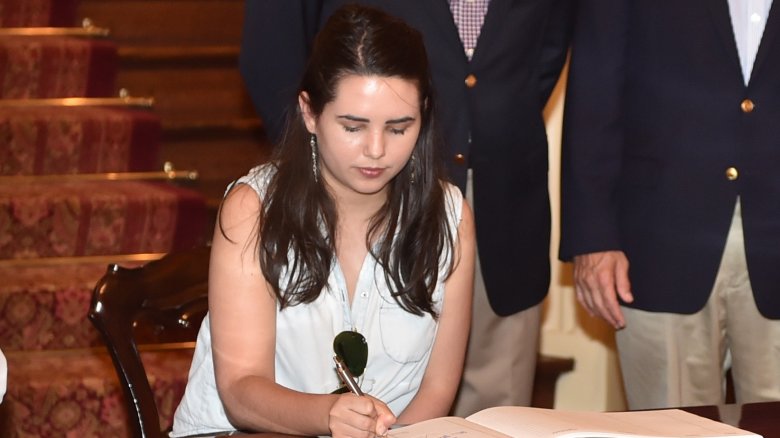 Getty Images
The vice president's youngest child is Audrey Pence, who turned 18 and thus became eligible to vote just before the 2012 election that sent her father to the Indiana governor's mansion. While her dad is obviously a Republican through and through, Audrey has been hesitant to assign herself to a party. While still in high school, she told an NBC affiliate in Indianapolis that she was a political independent with socially liberal values. Following her first trip to the ballet box, she also mentioned that she voted for some Republican candidates and some Democrats. And guess what? 
Her famous father thinks that's pretty cool. "Probably the person I get the most respect from is my dad," Audrey said. "He tells me so many times, 'I am so proud of you for having your own opinions and looking into things.'"
Charlotte wrote a book about a bunny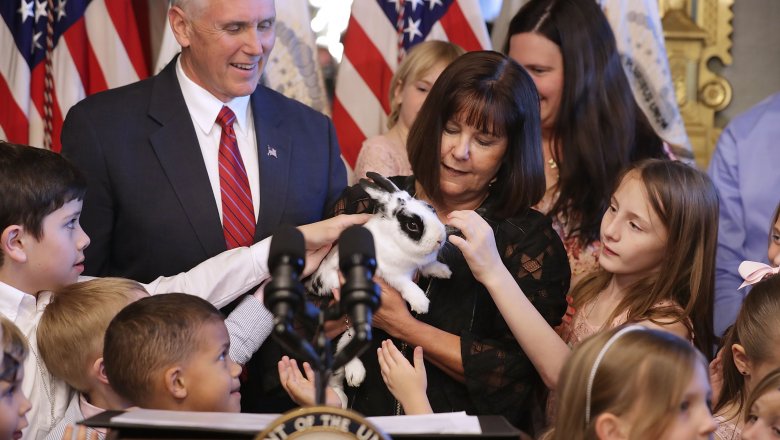 Getty Images
There's actually a long, bizarre tradition of family members of the executive branch writing books for or about their pets. In 1992, Barbara Bush ghost-wrote Millie's Book on behalf of her dog, Mildred Kerr Bush, who was listed as a co-author in the nonfiction piece. Six years later, then-First Lady Hillary Clinton published Dear Socks, Dear Buddy: Kids' Letters to the First Pets. (Socks was the White House cat; Buddy was the dog.) President Trump doesn't have any pets, but the Pence family has a rabbit named Marlon Bundo (his name is a bunnified version of legendary actor Marlon Brando.) In March 2018, Karen Pence and her daughter, Charlotte Pence, debuted a children's book called Marlon Bundo's A Day in the Life of the Vice President. It's a story about Mike Pence's vice-presidential responsibilities, written from the bunny's point of view. 
Karen (painter, art therapist, and former art teacher) created the watercolor illustrations, while Charlotte wrote the text. Proceeds benefit two charities: the art therapy initiative Tracy's Kids and an anti-human trafficking program called A21.
When her book became a joke, she took it in stride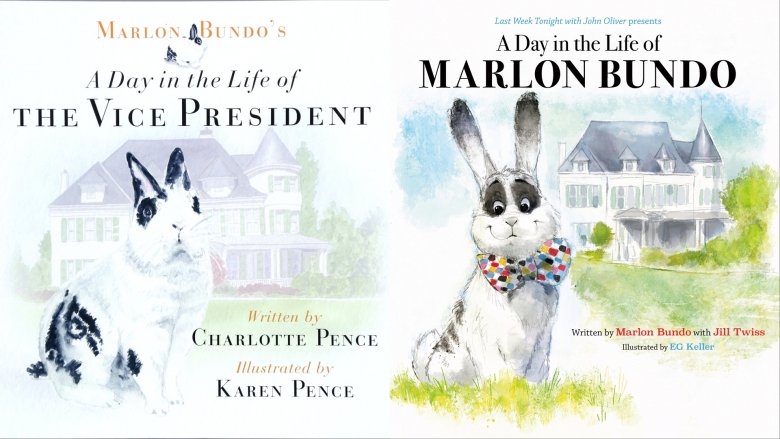 Marlon Bundo's A Day in the Life of the Vice President is an innocuous children's book that supports good causes, but it still bore the name "Pence," which was bound to bring things back to politics. 
Last Week Tonight with John Oliver highlighted the release of that book while also calling attention to the vice president's controversial beliefs (and political record) pertaining to LGBTQ issues. As a form of protest, Last Week Tonight published a parody book titled A Day in the Life of Marlon Bundo. It's a love-is-love story about a bunny named Marlon Bundo who falls in love with another boy bunny named Wesley. Illustrated by Gerald Kelly (under the name EG Keller) and penned by Last Week Tonight writer Jill Twiss, proceeds go to AIDS United and the Trevor Project, a suicide hotline for LGBTQ teens.
Charlotte Pence was actually kind of enthusiastic about the whole thing. "Imitation is the most sincere form of flattery in a way," she told Fox Business News (via Vanity Fair). "But also, in all seriousness, [the Last Week Tonight] book is contributing to charities I think we can all get behind." She even bought the other bunny book. "I also want to support those charities," Pence told ITK (via The Hill). "I really mean that."
Where in the world is Audrey Pence?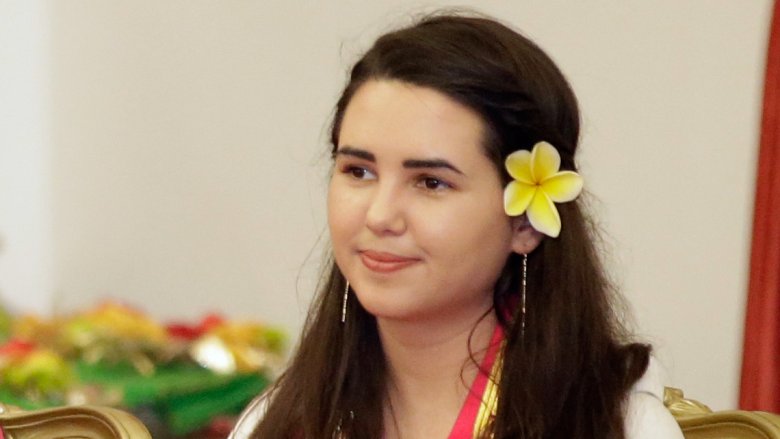 Getty Images
While her father's sidekick devotes copious amounts of time to attacking so-called "fake news," Audrey Pence has been busy traveling the world as a journalist. As a graduate of Northwestern University with a degree in international affairs, Audrey has wasted no time gaining real-world experience traveling to Turkey and the Balkans. As a student, she participated in the Fuller Project for International Reporting covering complex topics. For a piece about a Syrian underground newspaper, Audrey said the team "had to be extremely careful when writing that story when it came to names and locations." Her piece on the 1915 Armenian Genocide was published by CNN. 
Audrey has also expressed an interest in working with a U.S. embassy or consulate. "I've talked to a lot of people who are foreign officers and seen the work they do and many have said they are all very much generalists rather than specialists, which is something I really identify with; being able to take different lessons from all around the world and applying them," she said.
Is Charlotte a vampire?
Okay, probably not, because vampires aren't real, and even if they were, Charlotte Pence has been seen and photographed in the daylight plenty of times, but a 2016 viral photo of the Pence family apparently made a lot of people wonder. 
During a break from the 2016 campaign, Mike, Karen, and Charlotte grabbed a meal at a Chili's in New York City. Papa Pence shared a picture of the meal on Twitter. In the snap, there's a mirror adjacent to the family's table, and Karen and Mike are clearly visible in that mirror, but where is Charlotte's reflection? 
Everybody knows that vampires don't have reflections, so is Charli secretly a bloodsucking creature of the night? Or was the photo taken at such an angle that she's somehow blocked from appearing in the mirror? We'll let you and your wild imagination decide.