Why Hollywood Dropped Catherine Zeta-Jones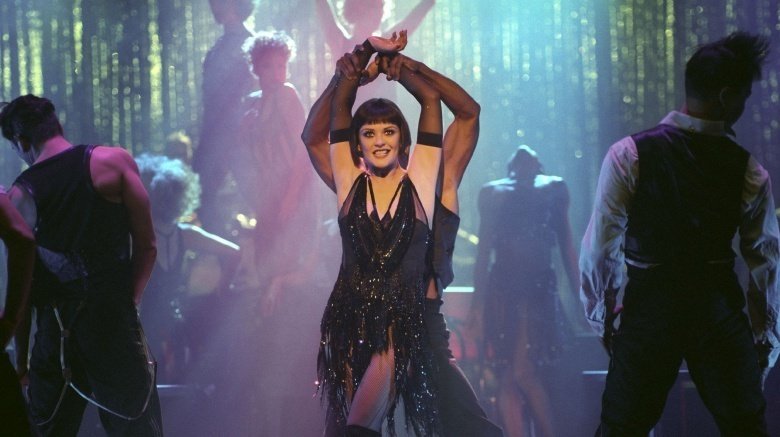 She looks as though she's barely aged, she's won a best supporting actress Oscar in 2002 for Chicago, and she's married to one of Hollywood's favorite leading men, Michael Douglas, yet we don't see Catherine Zeta-Jones in big, juicy roles anymore. Why not? Here are some possible reasons Hollywood isn't casting the actress.
Her marriage troubles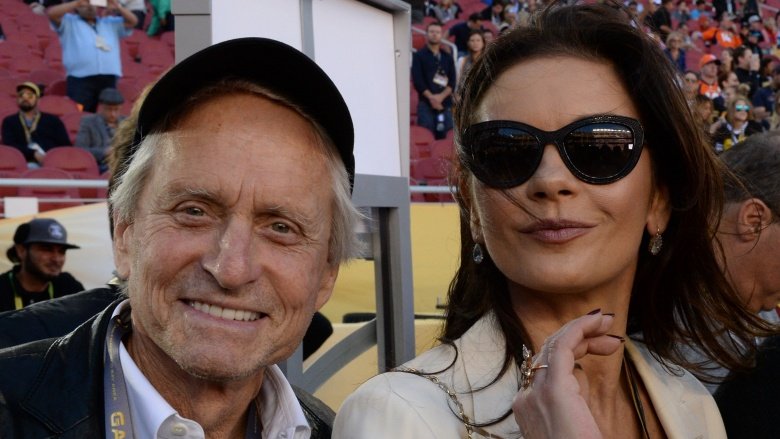 Getty Images
In 2013, People reported that Zeta-Jones and Douglas were quietly living apart, and her rep confirmed they were working on their marriage. The pair eventually reconciled and seemed stronger than ever in 2016, but even so, their widely reported personal issues have detracted from the actress' professional pursuits.
She's not 'indie'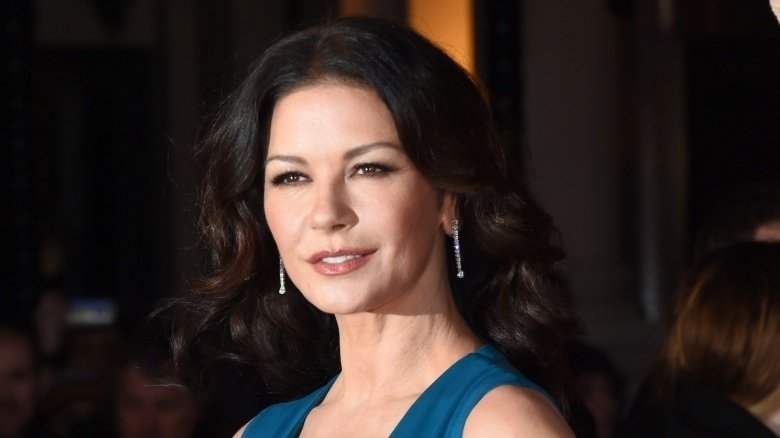 Getty Images
Zeta-Jones' resume touts big budget flicks, such as The Mask of Zorro (1998) and Chicago, opposite other A-list co-stars, but those roles can dry up as actresses mature. Zeta-Jones never pursued independent film projects, so she doesn't have those credentials to return to when major motion pictures stop calling. Indie films have rejuvenated other actresses' stalled careers, but that may not be an avenue Zeta-Jones can pursue comfortably.
She has battled bipolar disorder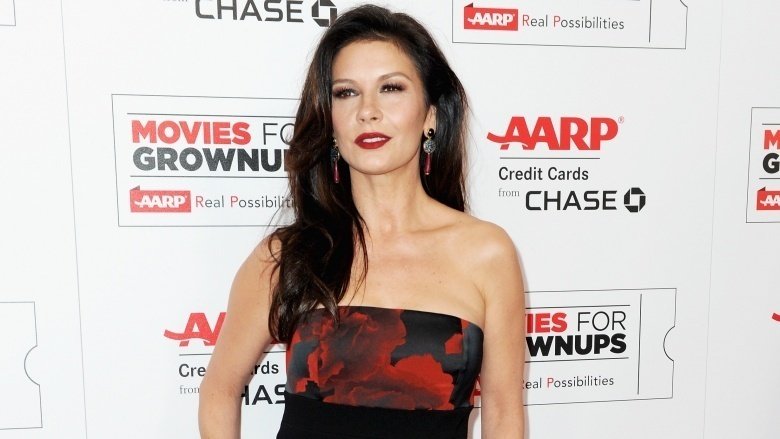 Getty Images
Zeta-Jones went public with her bipolar disorder diagnosis in 2011. She told Good Housekeeping (via the Express), "Finding out that it was called something was the best thing that ever happened to me! The fact that there was a name for my emotions and that a professional could talk me through my symptoms was very liberating. There are amazing highs and very low lows. My goal is to be consistently in the middle. I'm in a very good place right now. A lot of that is to do with the fact that I'm much more knowledgeable about what I call my pain in the ass."
While it's absolutely terrific that Zeta-Jones has been candid about her struggles and possibly helped others battling the same condition by sharing her experience, her revelation also suggests that the grueling pace and high demands of moviemaking may not complement her overall health and happiness. Perhaps the reason we haven't heard much from Zeta-Jones is not because Hollywood won't cast her, but because she has conscientiously decided to put Hollywood in her rear-view mirror in order to prioritize her health. Regardless, we applaud her.
She's spending more time with Michael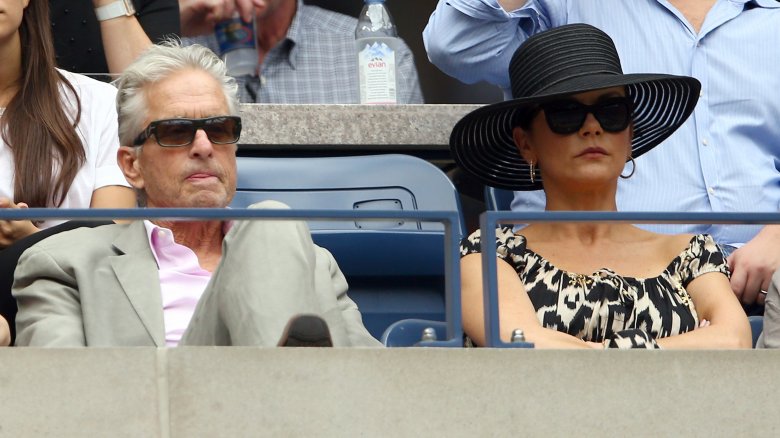 Getty Images
Having endured Douglas' battle with stage IV tongue cancer and their marital woes, these A-List stars have seemingly slowed their careers to focus more on family. Speaking with Independent News Service, Douglas said he and Zeta-Jones are "tighter than ever" thanks to the "new outlook on life" he arrived at following his scary diagnosis. "Family gives me more purpose than any other thing in my life," he said.
Zeta-Jones echoed the sentiment in an interview with AARP, saying, "For anyone facing a challenge like cancer, it focuses you on what's important. You realize precious moments are something you can't take for granted." With Douglas swapping his busy movie schedule for more time with family, it seems practical for Zeta-Jones to do the same.
She's been too busy curating her insanely opulent life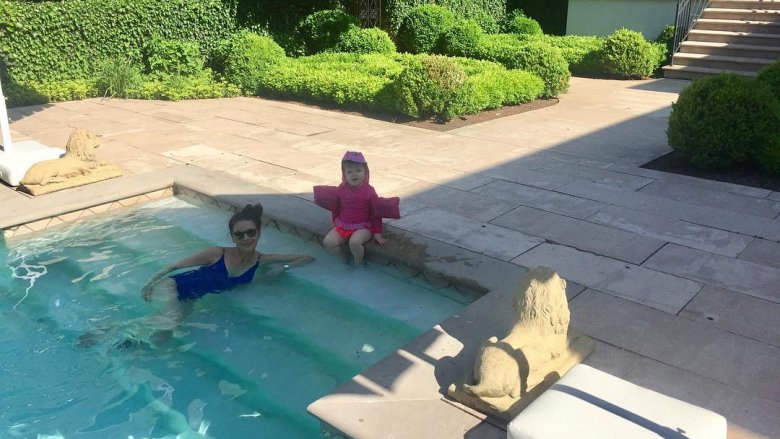 Instagram
With a combined net worth of just under $200 million dollars, Zeta-Jones and Douglas never have to step foot in front of a camera again if they don't want to. According to a Daily Mail profile titled Zeta-Jones' "zillionaire life," she has embraced the option to stay off-screen in favor of tending to her luxurious lifestyle.
With five swanky homes spread across the globe, including a $5 million apartment overlooking Central Park in New York City and a "holiday home" in Majorca, Spain, Zeta-Jones has spent the last few years appointing them with features that would cost normal people at least a year's salary. Like her walk-in-closet that's so large it literally has hallways. She documents the fabulousness on her Instagram, which includes everything from snaps of her cliffside lunch in panoramic Parma, Italy, to the pricey artwork lining the walls of her abodes. With a real life like that, who needs filters?
She doesn't have a signature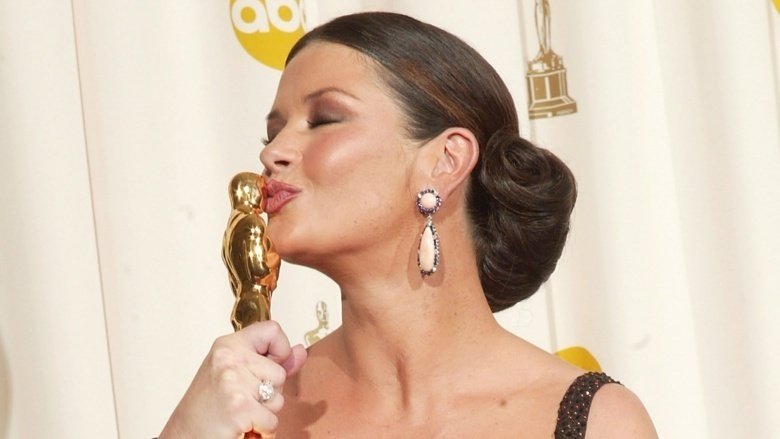 Getty Images
Think about it: Zeta-Jones doesn't have a cinematic signature or a "type." Yes, she's done musical films, such as Chicago and Rock of Ages (2012), but she's not the quirky sidekick or the tomboyish leading lady. She's often a glam goddess, which can describe lots of actresses. While having a particular type can often work against performers, branding them as one-notes, not being typecast as anything may have worked against Zeta-Jones. She's one of many gorgeous and talented actresses with Oscars that don't have that one unique thing that makes them stand out from the rest. Lots of Academy Award winners fade into the background after they take home the Oscar. This could be her fate, too.
Her comeback role was controversial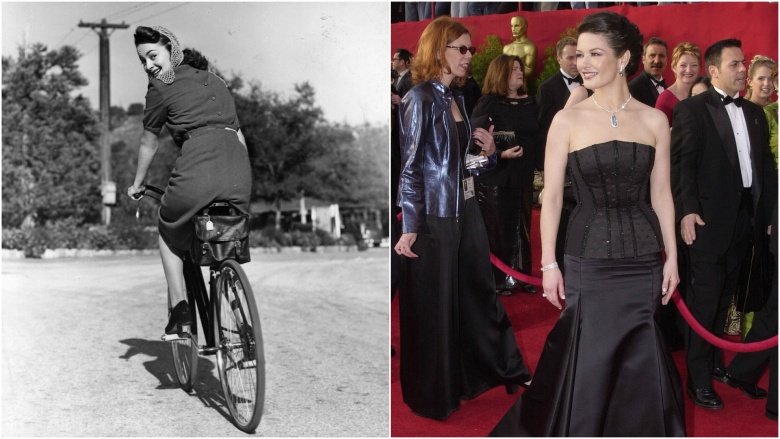 Getty Images
Zeta-Jones' comeback role of sorts was her turn as Oscar-winning actress Olivia de Havilland in Ryan Murphy's 2017 FX anthology series Feud. It was her highest-profile project since 2013's RED 2, and according to Vanity Fair, the part would offer "fabulous, scene-stealing supporting capacity" for Zeta-Jones, thus providing a glamorous reintroduction to her adoring fans.
Though Zeta-Jones earned praise for the part — The Hollywood Reporter said she "delivers glamor from another era" — there was one viewer who didn't exactly appreciate the performance: Olivia de Havilland. According to Indiewire, the legendary actress sued Murphy, claiming that "the depiction of her are 'pure fiction,' 'fake,' and 'patently false.'" The suit even names Zeta-Jones personally, stating, "All statements made by Zeta-Jones as Olivia de Havilland in this fake interview are completely false." Not good. Granted, Zeta-Jones didn't write the part, but it may not have been an ideal choice to be at the center of such a controversy just as she was getting back into the game.
She made a conscious shift in the projects she pursues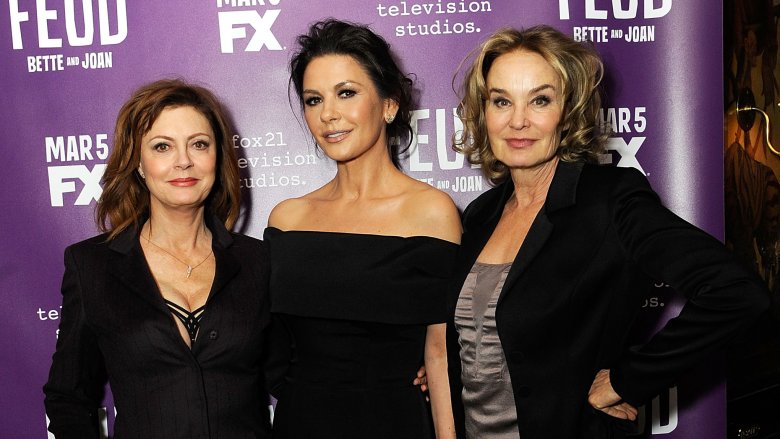 Getty Images
While it's clear that Zeta-Jones decided to press pause on Hollywood for a while, that certainly doesn't mean she intends to go away forever. In fact, her return to TV after decades of success on the big screen was a calculated move.
In an interview with Richard Lawson of Vanity Fair, Zeta-Jones admits that she sought out Murphy to join "his repertory company" on Feud after she felt "the ground shifting beneath her career" as she edges closer to age 50. "It's exactly what I wanted!" Zeta-Jones told Lawson of joining Murphy's "troupe," which includes veteran actresses like Jessica Lange, Kathy Bates, Susan Sarandon, and Angela Bassett. And it's not as though Hollywood isn't paying attention to what Murphy's been doing with his growing stable of veteran actors. At the time of this writing, he'd earned 20 Emmy nominations and 4 wins, and that doesn't even scratch the surface of the awards show recognition his casts and crew have also racked up over the years.
She's choosing risky roles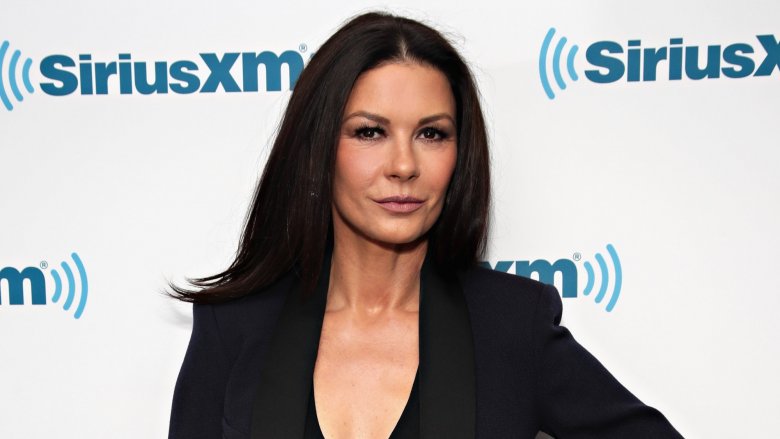 Getty Images
To further prove that Zeta-Jones has pivoted to a new career trajectory, look no further than her role in Cocaine Godmother, the Lifetime — Yes, that Lifetime — biopic about infamous Miami drug lord Griselda Blanco.
While this seems like a bold choice for Zeta-Jones, the part is already proving to be controversial, and not just because Blanco was a truly horrific human being who allegedly began committing murders when she was just 11-years-old. According to the Miami New Times, casting Zeta-Jones as Blanco is puzzling for two reasons. First, Zeta-Jones is Welsh, and as the Times points out, she doesn't have a great track record portraying Latina characters (e.g. her less-than-stellar accent in The Mask of Zorro.) Second, Blanco was not exactly known as a stunner in the looks department. Granted, the argument can be made that leading roles go to stars, and stars are disproportionately beautiful compared to the rest of society, but with the growing cry for diversity in such roles, Zeta-Jones has found herself in yet another inadvertent firestorm.
Regardless, as with anything she does, Zeta-Jones has drawn the attention of both the press and her fan base with this atypical return to the business. We can't wait to see where she goes from here!