How Many Times Has Cher Been Married?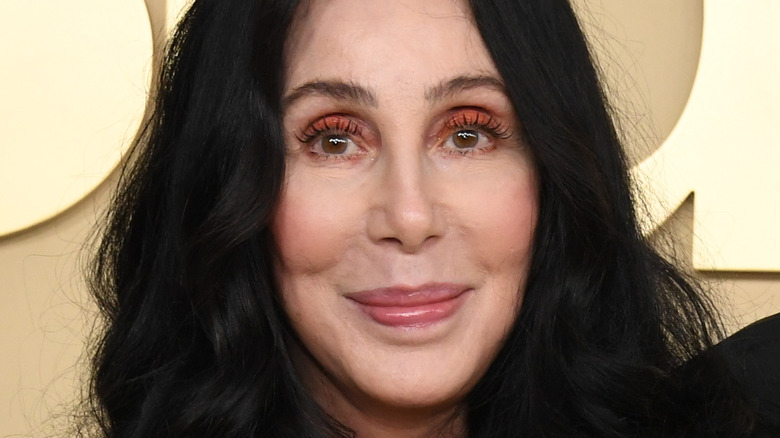 Jon Kopaloff/Getty Images
Cher has quite the interesting love story. When the legendary singer was only 16 years old, she became infatuated with a man by the name of Sonny Bono who was 11 years her senior. The two initially met at a Los Angeles restaurant, and from the very beginning Bono made it clear he just wanted to be friends. "Sonny told me, 'I don't find you very attractive,'" Cher revealed to Parade. However, Cher continued to fall for him. "I swear to God, the moment I saw Sonny, everyone else in the room disappeared," she told the outlet. "He was the coolest guy ever."
Shortly after, their friendship turned romantic and the former couple got married and had a baby in 1969. During that time, Cher and Bono's career also began to take off after they joined forces and started making music as a duo. Their single "I Got You Babe" topped the Billboard Hot 100 chart, and they had many other hit songs. But although the two were dominating the music scene, behind closed doors their relationship was taking a turn for the worse. According to Parade, Bono's continuous infidelity and controlling behavior was the result of their split. Despite putting on a happy face for the cameras, deep down everything was falling apart.
Cher filed for divorce in 1974 and although they went through a very nasty legal battle, everything was finalized in 1975. Once the paper cleared, the singer wasted no time bouncing back. 
Second time wasn't the charm for Cher
Michael Ochs Archives/Getty Images
Cher first met rock legend Gregg Allman in 1975 at a Los Angeles show and married him mere days after getting divorced from Sonny Bono. Allman fell for Cher the moment he laid on eyes on her, noting in his 2013 memoir "My Cross to Bear" (via Ultimate Classic Rock) that she "smelled like I would imagine a mermaid would smell ... I was so blinded by her." However, their romance was short-lived. Just nine days after they tied the knot, Cher filed for divorce — ending her second and final marriage.
The "Believe" singer eventually grew tired of dealing with Allman's heroin and alcohol addiction and decided to call it quits. "He was so high he didn't even understand me," she said (via EW). However, the two reconciled after Cher found out she was expecting and gave birth to her son Elijah Blue — her first with Allman — in 1976. Cher and Allman spent over two years in an on-again, off-again relationship and even made an attempt to release an album together. Unfortunately, "Two the Hard Way" turned out to be a major flop and had a negative effect on their careers. The pair officially got divorced in 1978 and never looked back. "Dead weight starts out as dead weight and ends up just the same," Cher stated (via Ultimate Classic Rock).
In addition to her love troubles, Cher also dealt with a lot of loss. 
Both of Cher's ex-husbands died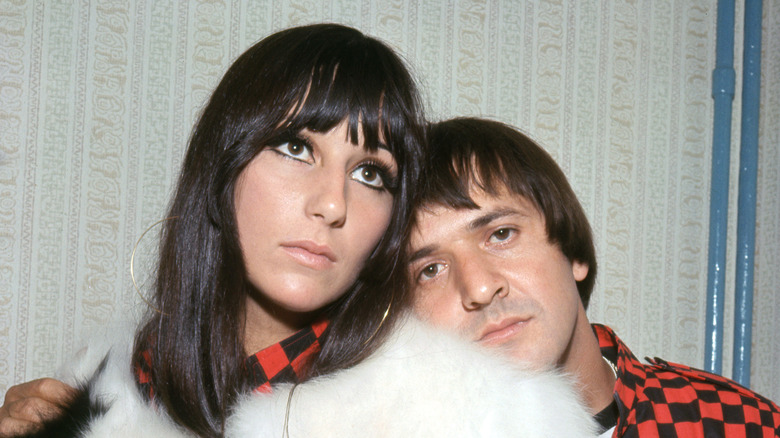 Icon And Image/Getty Images
Although she had moved on from her past, Cher was deeply saddened by the untimely death of her ex-husband Sonny Bono from a skiing accident in 1998, according to History. "No matter how long I live or who I meet in my life, that person will always be [Sonny] for me," Cher said with tears in her eyes at his funeral. The dynamic duo spent 13 years together as a couple.
If that wasn't hard enough, the singer also had to cope with the death of her second husband Gregg Allman in 2017. Billboard reported that the rock star died from an ongoing battle of liver cancer. "IVE TRIED...WORDS ARE IMPOSSIBLE GUI GUI FOREVER,CHOOCH," Cher wrote on Twitter in memory of Allman. 
Despite her troubled love life, Cher continued to casually date major Hollywood stars although she chose to never remarry. She has been linked to Gene Simmons, Tom Cruise, Val Kilmer, and Richie Sambora to name a few, per PopSugar. Cher has since been seen with producer Alexander "A.E." Edwards, Amber Rose's ex-boyfriend, per E! News. Before anyone could grasp what was going on, Cher confirmed their relationship on Twitter. "Anytime you make a Choice You Take a Chance. I've Always Taken Chances...It's WHO I Am," she wrote to a fan.