How A Dangerous On-Set Mishap Caused Days Of Our Lives' Drake Hogestyn To Miss Months In Salem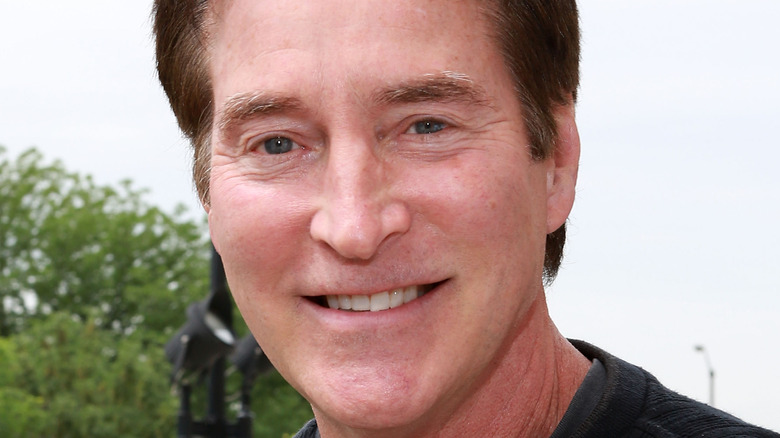 Robin Marchant/Getty Images
"Days of Our Lives" viewers have been watching big action in Salem for decades. The soap opera has delivered shocking plot twists and action-packed storylines through the years, and John Black (Drake Hogestyn) has been in the middle of plenty of drama. In fact, John's arrival in Salem was full of mystery as he came to town without any memories and his face bandaged due to injuries and plastic surgery, per Soap Central. He eventually believed himself to be the presumed dead Roman Brady and fell deeply in love with Roman's wife, Marlena Evans (Deidre Hall).
From that moment on, John has been a fan-favorite of "Days of Our Lives" fans, bringing suspense to all of his storylines. Sadly, the character has also had some terrifying moments, such as the time he was hit by a car and left to die, when Stefano DiMera brainwashed him, when he was paralyzed, and when Theresa Donovan hit him over the head with a fireplace poker (via Soaps).
That stunt gave actress Jen Lilley (ex-Theresa) a fright. "When I had to hit John over the head, I was terrified," she once said (via Yahoo). "It was a rubber fireplace poker, and there was a stunt double I had to hit. I had to full-on hit him on the head, and I felt the reverberation in my hand. It was scary." However, that isn't the only scary stunt that Drake Hogestyn's character has been involved in.
Drake Hogestyn suffered a head injury during a stunt gone wrong
Vivien Killilea/Getty Images
In 2016, Drake Hogestyn suffered a very scary injury while attempting to perform a stunt on "Days of Our Lives." The actor tried to bust through a prop door for an action-packed scene, but the door malfunctioned, and instead, Hogestyn ran head-first right into the door, which didn't budge. The actor suffered serious head injuries due to the stunt gone wrong, per Soaps. He was treated at the hospital following the accident and then released to recover at home. However, the injury kept John Black off the canvas in Salem for an extended period.
Following the accident, the actor and his family released a statement thanking fans for all their well wishes as the actor recuperated from his injuries (via Soap Opera Digest). "Drake, his wife Victoria, and the Hogestyn family appreciate the good wishes, prayers, and positive thoughts from so many loyal fans but ask that their privacy be respected at this time. Drake's goal is to get back to the show as soon as possible."
While Hogestyn has recovered from the mishap, his injury is responsible for creating his new signature look.
Drake Hogestyn decided to go gray while recovering from his injury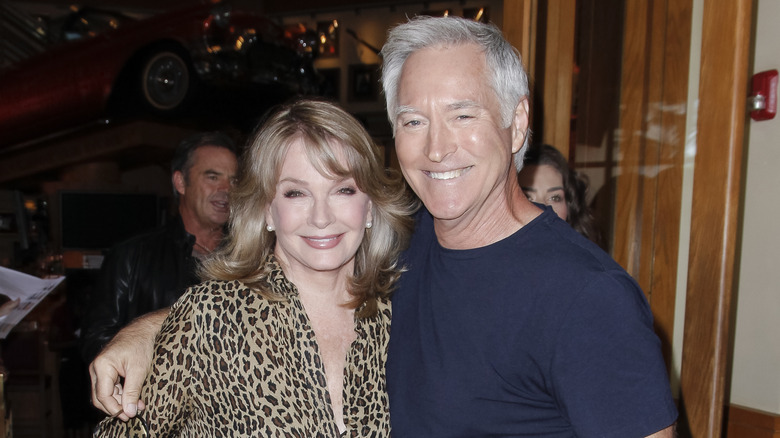 Tibrina Hobson/Getty Images
After Drake Hogestyn finally returned to "Days of Our Lives" following his scary on-set injury, fans noticed something very different about his character John Black. John came home to Salem without his trademark dark locks. Instead, he was rocking a completely gray head of hair. Later, when asked about making the change, Hogestyn admitted that he decided to allow his gray to come through while recovering from his injuries. "I've got some grown kids on the show. I think there should be a demarcation. In reality, I'm looking kind of down the line here at life's cycles. This last year has been a real eye-opener about how fragile life is and how life can go south in a hurry, so this is me, and I'm owning it," the actor told Soap Opera Digest.
Unfortunately, Hogestyn's injury wasn't the first on-set accident at "Days of Our Lives." In 2015, former set decorator Karla Bergstrom claimed that she suffered injuries when a 400-pound bar of stage lights fell on her as it was being lowered from the ceiling (via Yahoo). In 2017, Bergstrom filed a lawsuit against the soap opera's production, revealing that she suffered a "traumatic brain injury with continuing deficits" due to the accident.
Thankfully, Hogestyn recovered fully from his injury and was able to bring the iconic character of John Black back to Salem, where he belongs.