What We Know About Aurora Culpo's Split With Her Husband Mikey Bortone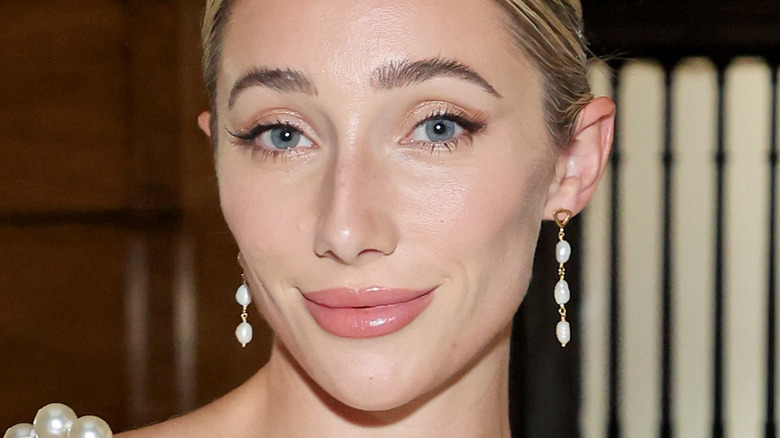 Cindy Ord/Getty Images
Before you think that the Kardashians have the market covered on sister-centric empires, think again. "The Culpo Sisters" premiered on TLC in November 2022, starring sisters Aurora, Olivia, and Sophia Culpo — and they've promised to take the reality world by storm. Per Today, the series tracks the trio as they grapple with love, heartbreak, and various career paths. "I think people will just get a warm hug out of watching us and our family," Aurora told "The Today Show," while Olivia added that she wants "everyone to feel like the fourth sister." Meanwhile, Sophia plugged the show's premiere in an Instagram post, where she told fans to "think of it as home videos ... just on a much fancier camera than what our dad used growing up."
Of the three siblings, Olivia is the most well-known as Miss Universe 2012, but "The Culpo Sisters" also turns the spotlight on model Sophia and newly single mom, Aurora. In 2021, Sophia made headlines thanks to her high-profile relationship with Jets wide receiver Braxton Berrios, per the New York Post — but it was Aurora who shocked fans with news of her divorce from "Survivor" star Mikey Bortone back in April 2022. The Blast reported that Aurora and Bortone were married for three years before the eldest Culpo sister cited "irreconcilable differences" for the split. Prior to the breakup, Aurora would often post loved-up pics with her then-husband to social media, so what went wrong between the pair?
Aurora Culpo gave Mikey Bortone a hall pass
Making good on the trailer's promise to deliver drama, "The Culpo Sisters" opened with the shock reveal that Mikey Bortone had been unfaithful to Aurora Culpo. This infidelity ultimately led to the couple's divorce. In the episode, Aurora detailed what happened, telling her sisters that an anonymous person had DM'ed her with news that Bortone had cheated (via E! News). When she confronted her husband, Bortone admitted to an affair, and to cheating on Aurora more than once.
However, things weren't as black and white as viewers might assume. That's because Aurora had given her husband a hall pass earlier in their relationship. "Because I was so confident that nothing could ever come between what we had ... he was allowed to have one a year, like hook up with a random person," Aurora said. While Olivia and Sophia Culpo were shocked, Aurora went on to say that things had since changed, and Bortone's hall pass days were over. "Now that I've experienced it, I don't like it and I said, 'Is that something that you are going to be OK with?' and [Bortone] said he was going to think about it and let me know. He's like, 'Well, you changed,'" Aurora added (via ET). "And I'm not happy that he's not changing."
Change can be a positive in many relationships, but as Aurora sought new growth, it put strain on her marriage.
Having children put more strain on Aurora Culpo's marriage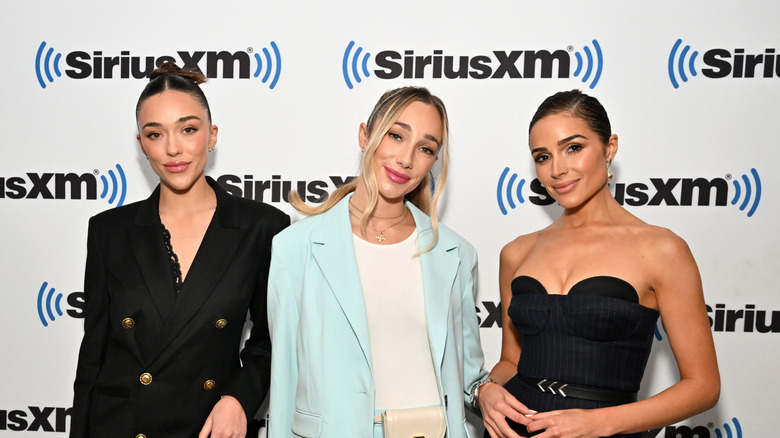 Slaven Vlasic/Getty Images
In conversation with her sisters, Aurora Culpo expressed how she'd hoped that having children would strengthen her relationship with husband Mikey Bortone, but this unfortunately wasn't the case. "Since life has changed and we have kids now, I guess I kinda thought that [Bortone] would change just in terms of like, wanting to be home more," she said (via ET). "But, you know, Mikey really didn't want to give up the freedoms that he's always had." The mother-of-two added that she and Bortone hadn't necessarily wanted to get married, but they'd felt pressured to do so by their families. Having children together muddied the waters even further.
By the time that filming kicked off for "The Culpo Sisters," Aurora's marriage wasn't in a good place. "There was a lot happening right when we started filming," she told E! News. "My relationship took a really sharp turn and all that was all documented on my end. It was hard, but that's what we signed up for. We committed to being vulnerable and sharing, so I did the best I could." It's a similar reality show format to "The Kardashians," which gives viewers a no-holds-barred look into the more painful aspects of the family's lives, including Tristan Thompson's many cheating scandals. However, while there's plenty of heartbreak documented in "The Culpo Sisters," there's plenty of joy on display between these tight-knit sisters, too.