Things You Don't Know About Mirai Nagasu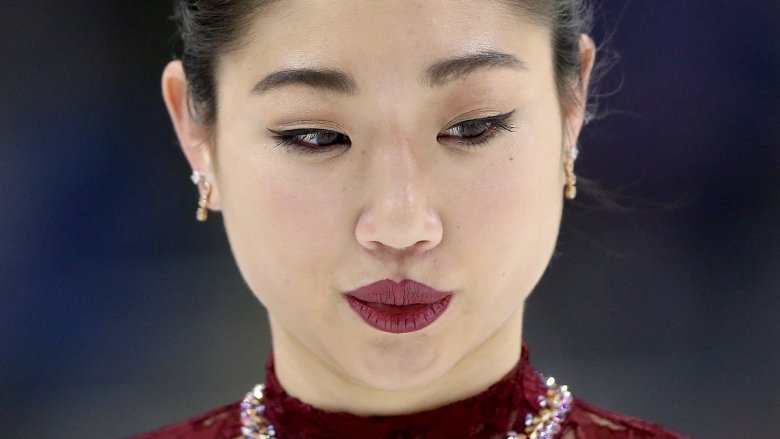 Getty Images
U.S. Olympic figure skater Mirai Nagasu made history twice at the 2018 Olympic Winter Games in Pyeongchang, South Korea. First, she became the only American woman to land a triple axel in Olympic competition — and one of only eight women who have ever done it in competition, period — a performance that helped the United States earn a bronze in the figure skating team event. Second, she's the only American woman to ever return to the Olympics after "missing an edition," according to Team USA. (Nagasu was on the team in 2010, but didn't make the cut in 2014 — more on that in a minute.)  But the best part about Nagasu's story? 
She's not done yet. As of this writing, she's still scheduled to compete in the individual skating events, where we're sure she'll once again dazzle judges and the international audience alike. While we wait to see what amazingness she has in store, let's take a look at some of the lesser-known and fascinating facts about America's figure skating sensation.
Blame it on the rain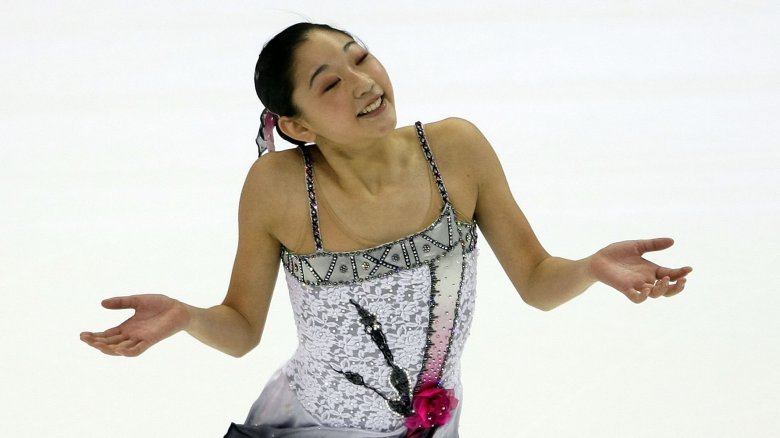 Getty Images
Speaking with NBC, Nagasu revealed that her lifelong obsession with figure skating started as a fluke. At just 5-years-old, her parents were already pushing her to pursue golf because they felt it offered "so many opportunities and great scholarships." But one day it rained, so instead of going to the golf course they went to an ice rink. That was it for Nagasu, who was hooked on skating.
But hang on, jilted LPGA diehards, because Nagasu didn't give up on swinging the links forever. In 2009, while speaking at the U.S. Olympic Committee's media summit (via the Los Angeles Times), Nagasu said that a round or two sounds good "when she needs 'an excuse to hit something' and relieve her stress." Maybe she'll never became "the next Tiger Woods" as she suspected her parents always dreamed for her, but something tells us they're pretty proud of what she's accomplished instead.
That triple axle didn't happen overnight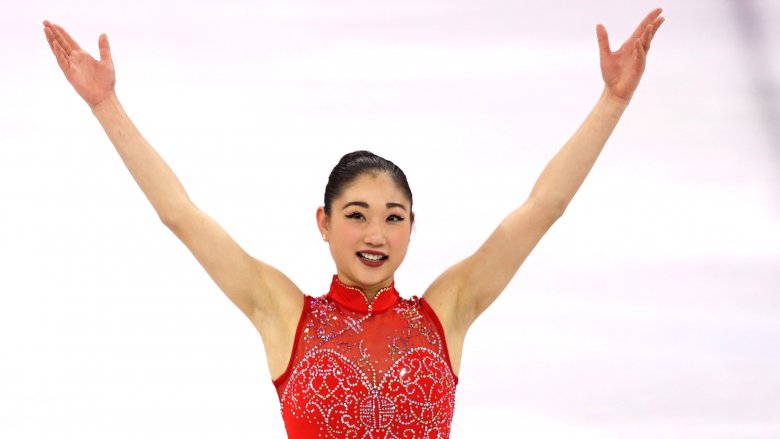 Getty Images
Just as Michael Jordan probably didn't dunk from the free throw line on his first try, Nagasu put in some serious work before performing a record-breaking maneuver in her sport. According to Team USA, Nagasu, who is 24-years-old at the time of this writing, has been practicing the triple axle for almost a decade because she's "always wanted to push the boundaries."
In fact, the jump, which she says she practices more than 10 times per day, is so familiar to her now that she didn't even react to sticking the landing for the first time in competition in September 2017. Fast-forward a few months to just shy of her selection for the U.S. Olympic Team in December 2017, and Nagasu was understandably ready to accept the accolades. 
"You should make a big deal out of it," she said, adding, "I'm really proud of that fact. I think it's something that I can really use to my advantage and I hope to be rewarded for it."
With a bronze medal already in the bag, we'd say she's only just starting to reap those rewards.
From Ice Girl to Olympic champ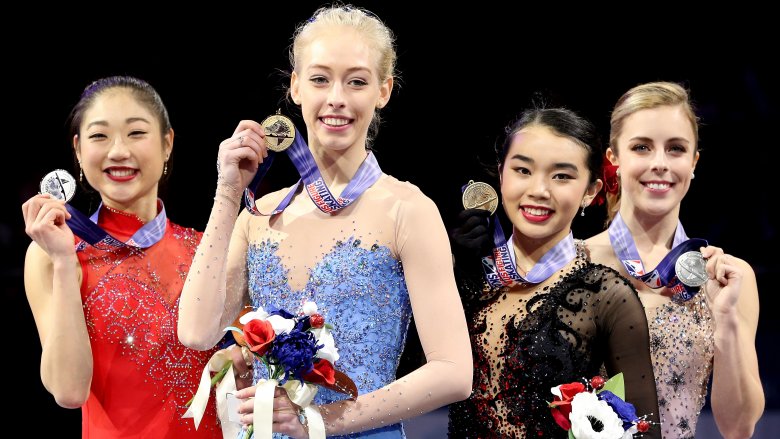 Getty Images
After Nagasu's record-breaking Olympic performance, the internet (present company included) was quick to kick over every rock they could find to uncover details about her life. One of those discoveries was her time working for the NHL's Colorado Avalanche as an "ice girl," which as far as we can tell, is basically like a boxing ring girl who does the work of a zamboni while dressed like a cheerleader.
That decidedly unglamorous description aside, Nagasu, a native Californian who got the job with the Colorado team after she moved to the Centennial State to train at the U.S. Olympic Committee Headquarters, didn't seem to mind the gig. In 2014, she tweeted a cheery group photo with the whole Avalanche ice girls crew. Then in 2018, she poked fun at what was essentially her Hooters-waitress-on-ice part-time job after a local news station highlighted it. 
"Gotta pay for skating somehow!" she tweeted, along with the tears from laughing emoji.
Missed it by thaaat much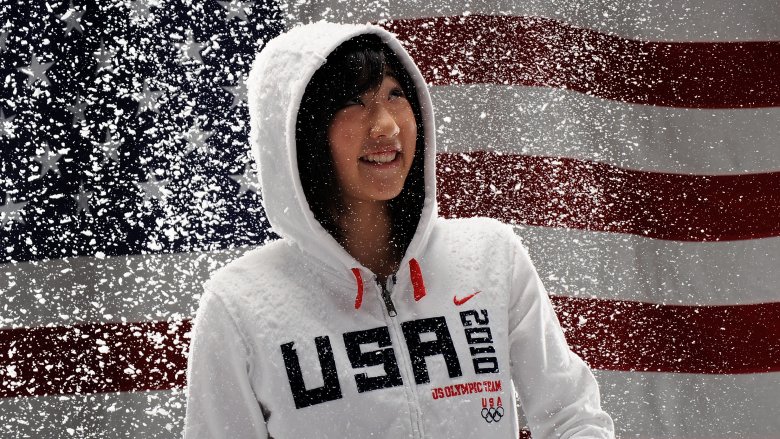 Getty Images
Nagasu's first Olympic experience wasn't nearly as triumphant as her 2018 experience. At just 16-years-old, Nagasu joined the U.S. Women's Figure Skating Team in 2010 for the games held in Vancouver. Though she failed to medal, Nagasu still delivered an impressive performance, according to NBC, who noted that she "earned a personal best score in the free skate" in spite of the fact that she'd never even "competed at Worlds on the senior level or won medals on the Grand Prix circuit" before that.  
Nagasu herself seemed to lose sight of the fact that she'd attained a personal achievement in spite of falling just short of a spot on the podium. In a separate NBC interview, she reflected on her Olympic debut. "I think eight years ago, I feel like I was too young to really enjoy every moment of it."
Heartbreak with a side of fries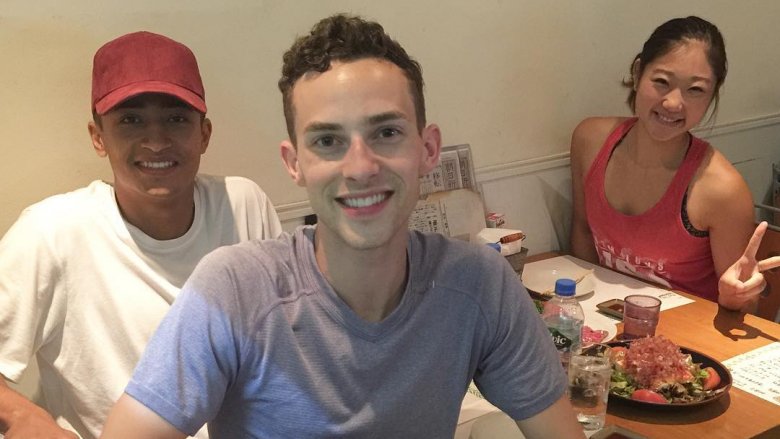 Instagram
After her first Olympic Games, Nagasu set her sights on Sochi in 2014, but according to Deadspin, she failed to "continue to improve" after Vancouver, even in spite of her third place win at the U.S. National Championships in 2014. This resulted in the controversial decision by Team USA to pass over Nagasu in favor of Ashley Wagner, who placed fourth in the U.S. National Championships, but who had more impressive overall career stats than Nagasu.
"Of course, it was heartbreaking," Nagasu told Team USA of the snub. "But that is just how life rolls. ... You might not always agree with the decisions you're thrown, but it's how you react to them and how you become stronger from them and how you learn as a person."
Her initial reaction was to commiserate with male figure skater and similar 2018 breakout star Adam Rippon, who also didn't make the cut for Sochi. Speaking with NBC, Rippon recalled how he and Nagasu decided to drown their sorrows together in burgers and fries. "We climbed up to the roof of her house and we were eating In-N-Out because we were so upset that we weren't at the Olympic Games," he said.
Clearly, both athletes rebounded in a big way (Rippon also snagged a bronze medal in Pyeongchang) but not before some serious soul-searching.
She almost hung up her skates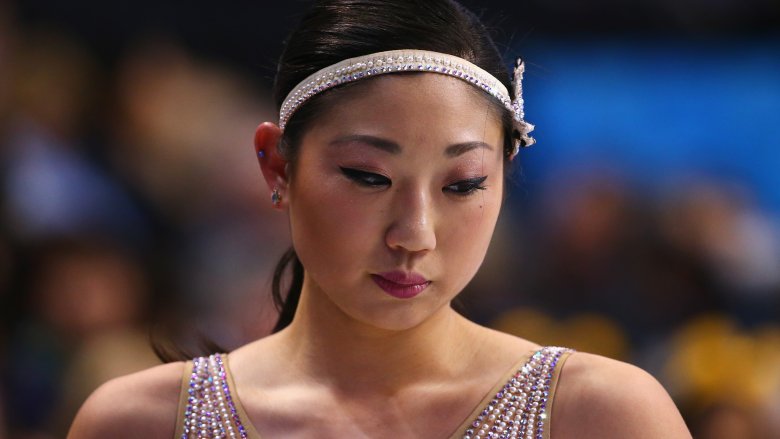 Getty Images
For an aspiring Olympian, not making the national team is a devastating blow. After all, it's generally the goal of a lifetime of training and preparation. Though she'd already made the team once, Nagasu took the 2014 rejection really hard. Speaking with Team USA, she said, "I kind of wanted to wash my hands of figure skating, but I also thought about how I would be quitting because of a decision that wasn't even in my hands. I did not like that it wasn't going to be 'I've done the best that I can and it's time to move on.'"  
Like the true champ she's turned out to be, Nagasu said that she chose to use her unhappiness and disappointment as motivation. She also took the Sochi snub in the most respectful way possible, saying that while she disagreed with the decision, she defers to U.S. Figure Skating's authority when it comes to choosing the athletes they feel are the right fit for an Olympic team. "And so I stand by my federation and I'm proud of to be a part of Team USA," she said. Talk about a winning mentality.
She has a tattoo — No, not that one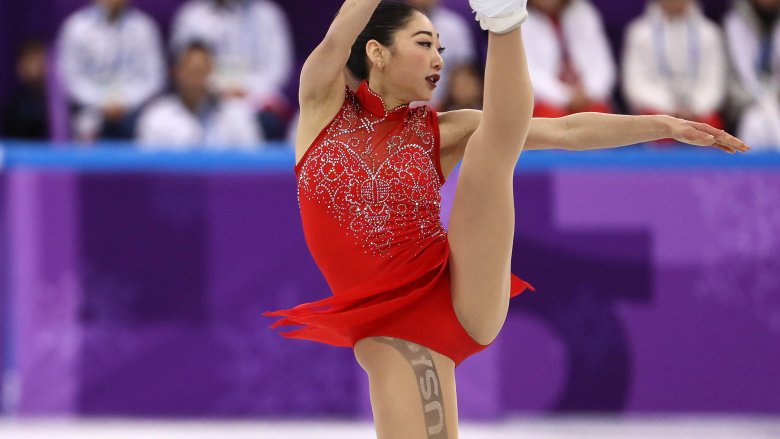 Getty Images
Before her name became synonymous with the triple axle, Nagasu became a viral sensation thanks to what appeared to be a giant USA tattoo on her upper right thigh. Twitter, of course, was immediately on the case, though the whole thing was quickly resolved by the makers of KT Tape, which is a kind of pain-relieving sports bandage.
Sensing a priceless marketing opportunity other brands would kill for, the official Twitter account of KT Tape shut the whole thing down with the impromptu commercial: "Everyone is wondering, but that's no tattoo on @mirai_nagasu's leg, that's #KTTape PRO USA tape! We're proud to provide pain relief and support to #TeamUSA."  
In an interesting twist to the mystery of the KT Tape tattoo that never was, Nagasu actually does have some ink: an almost invisible symbol on her wrist that matches one on — who else? — her BFF and fellow skater Rippon. He spilled the tea on their tats to Yahoo, saying they were his idea, but Nagasu picked them out. "It's a circle with two lines through it, and it's a glyph that means power," Rippon said, adding how it was done in white ink, so "you can hide them pretty well." 
There you go, internet conspiracy theorists, you were right. Nagasu does have a tattoo, just not the one for which you donned the tin foil hats.  
Think her Triple Axel is nice? Wait til you see her Paso Doble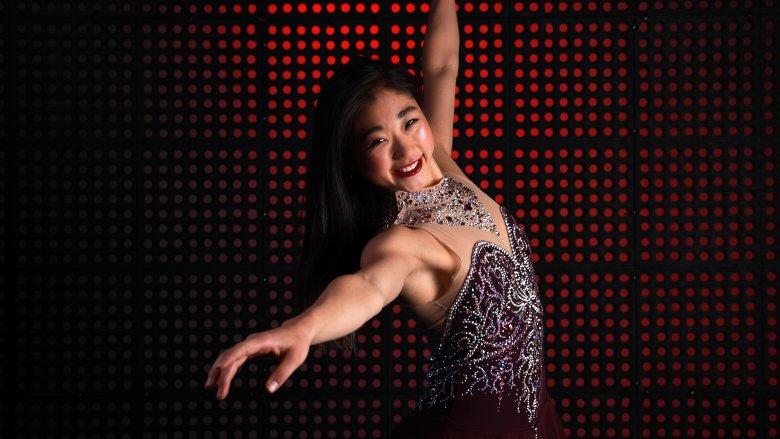 Getty Images
Season 6 of everyone's favorite dancing reality show saw former Olympic figure skater Kristi Yamaguchi take home the mirror ball trophy on Dancing with the Stars, but fellow Olympian Nancy Kerrigan didn't do so well during Season 24. Now, Nagasu is ready to tango in her predecessors' footsteps, and she's even got her pro partner already picked out: Mark Ballas. No surprise there, as Ballas helped Yamaguchi cha-cha her way to the championship. 
Nagasu thinks she got what it takes to transition from Olympic medalist to reality star, telling Yahoo, "I'm hoping my personality will win me a spot on [Dancing with the Stars]." She also tweeted, "I've never gotten a spray tan but I would go orange for @DancingABC." 
Seems like all the boxes are checked on our end.  
She loves RuPaul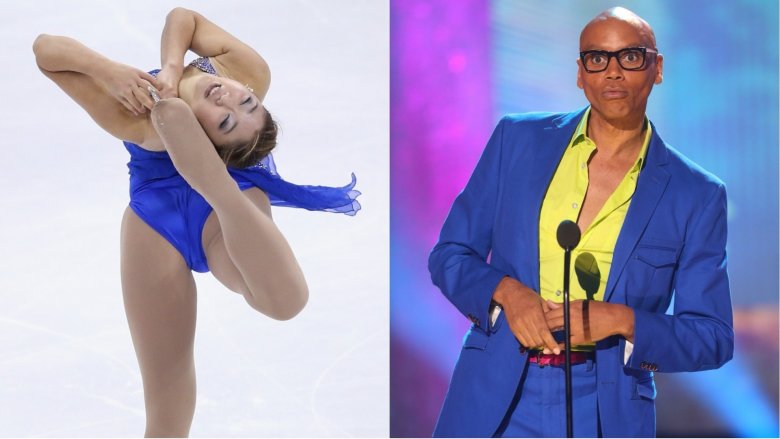 Getty Images
Nagasu has referred to herself as a warrior princess on multiple occasions, but sometimes she decides she needs to up her royalty a notch to queen status. Cue RuPaul, whom Nagasu apparently loves so much she decided to name drop in interviews, also on multiple occasions.
First, she made it a point to shout-out Season 5 – Episode 1 of RuPaul's Drag Race, which she said she watched to "channel my inner queen," during her post-skate remarks at the U.S. Figure Skating Championships in September 2017. Then, just ahead of her trip to Pyeongchang, she told Yahoo, "All-Stars Season 3 just came out, so it's perfect timing. I'll be figuring out a way to stream it in South Korea." 
Speaking with Cosmopolitan in January 2018, Nagasu expanded on what draws her to drag queens by saying that she identifies with their message of "be who you want to be, and to be yourself." She added, "I feel like I'm actually an introverted person and that I have become an extrovert, so I think watching them has been really inspirational to me." 
If we're being perfectly honest here, couldn't we all stand to be a bit more like RuPaul?
Her boyfriend is kind of famous, too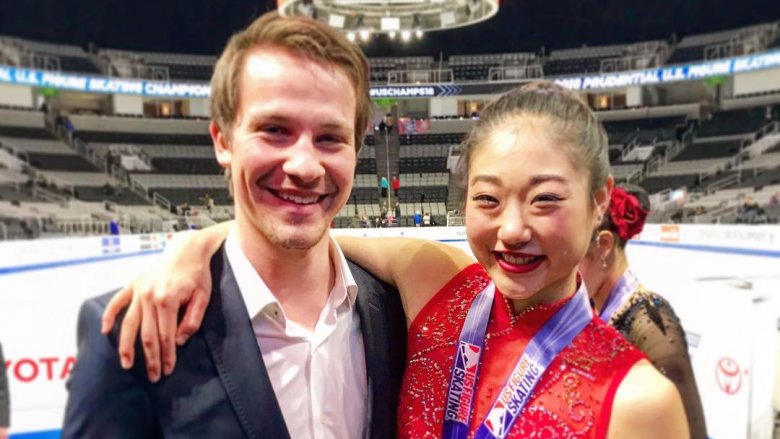 Instagram
Anyone who's taken a glance at Nagasu's Instagram page can tell pretty quickly that she's taken, but Us Magazine asked her about it anyway, so she revealed some of the deets about her relationship with Darian Weiss. 
"I am very happily occupied in a relationship. ... [We've been together for] three and a half years," she told the tab, also casually adding that he's an actor who had a small role on Mad Men. NBD, right?
Weiss, who also skates competitively, has a decent acting resume with at least a couple dozen credits to his name. According to his Facebook page, he attends the University of Colorado at Colorado Springs, where Nagasu is also enrolled, and according to his Instagram page, he's a charmer for sure. Just ahead of Nagasu's historic second Olympic showing, he posted the above photo with a sweet caption calling her "my queen," and saying, "It truly has been an honor and a privilege to be by her side through this journey and I'm really excited for what is to come." 
Everybody, all together now: Awww!
Her parents supported her dreams in a big way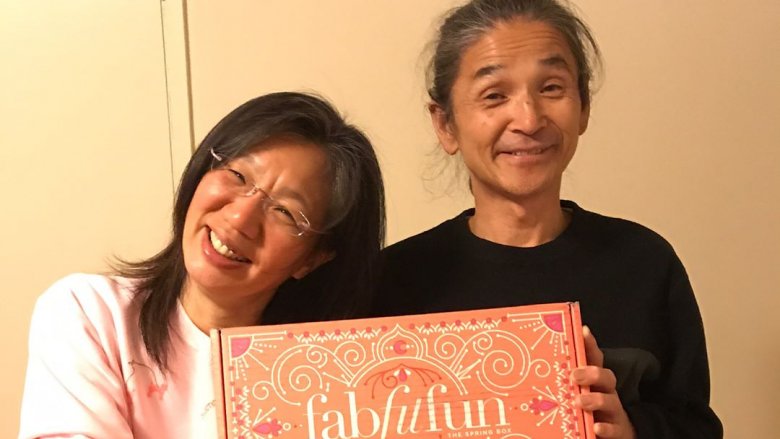 Instagram
A 2008 LA Times profile revealed not only Nagasu's intense training schedule, but also the serious commitment her parents made to set her up for success. 
At just 14-years-old, Nagasu had to be carted around by her mom to training sessions six days a week with six different coaches. "My mom is really dedicated to me," Nagasu said, "She drives me to school and skating, wakes up for me, and I'm just really appreciative."
On top of that, Kiyoto and Ikuko Nagasu, who are both Japanese immigrants who run a sushi restaurant called Kiyosuzu, pushed their finances to the limit for their daughter's expensive hobby, pitching in all they could while helping her secure scholarships to pay for lessons, ice time, skates, and clothing for competitions. One of the oft-repeated stories of Kiyoto and Ikuko's financial sacrifice is that in order to avoid after school childcare that they would have needed while they both worked in the restaurant, they had Mirai sleep on a cot in the back room until closing time.
Kiyoto and Ikuko are so dedicated to both the restaurant and Mirai that they faced a tough decision in 2018 when it came time to travel to Pyeongchang. According to USA Today, they chose to wait until Mirai competes in the individual program to close the restaurant for a full week, which is something that hasn't happened in years. It also means they missed her historic triple axle, which Mirai actually pulled off while her parents were in the middle of a busy dinner rush.  
Though we're sure they're already beyond proud, here's hoping Mirai gives her parents the thrill of a lifetime by bringing home another medal right before their eyes.