The Tragic Death Of Former NFL Player Adrian Dingle
Adrian Dingle, best known for the five seasons he spent with the San Diego Chargers in the early 2000s, has died. The 45-year-old's alma mater, Clemson University, confirmed the news, sharing that the defensive tackle had died on November 8. No cause of death was made public, per the Daily Mail, but his former Los Angeles Chargers teammate Tyree Washington seemingly alluded to mental health. Taking to Instagram to remember Dingle, Washington wrote, "Your smile was infectious and your drive to be the best at your craft was amazing!" He then told his followers to "never assume someone is alright because of their success, looks, material possessions etc." and encouraged them to "check up on your peeps."
Other tributes to Dingle soon poured in, as family and friends remembered his warm spirit while also sharing their surprise at the news. Former teammate Marcellus Wiley tweeted, "We were just hanging, laughing, swapping war stories, and talking family." Meanwhile, the NFL pro's cousin, China Harris, posted on Facebook, "I Am Lost For Words Right Now." She added, "He Was A Loving Sweet Person Inside And Out." The Daily Mail also found an Instagram post made by Dingle's fiancee, Amy Bell, with whom he had two kids, Adrian and Ava. In the post, Bell wrote that she was heartbroken over the loss of "my dude." 
A look back at Adrian Dingle's football career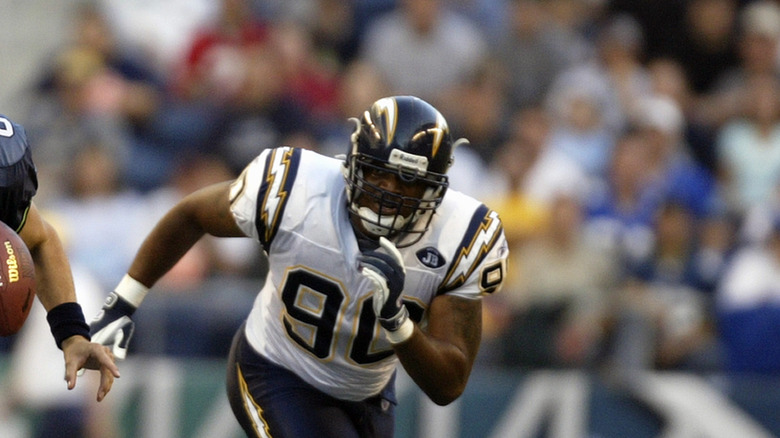 Otto Greule Jr/Getty Images
He may not have been one of the highest paid players in the NFL, but Adrian Dingle's sports career was an impressive one. In 1995, he enrolled in Clemson University where he spent four years as a defensive end for the Clemson Tigers. He played a total of 46 games and, as the school remembered, "he helped the Tigers to three bowl games" while setting impressive stats along the way. Those included 10.5 sacks in 1998 — a Clemson record for a single season. Upon graduation in 1998, Dingle had 180 tackles, 45 tackles for loss, and 23 sacks.
Dingle finally made it into the major league in 2000, playing 70 games with the Chargers through 2004. His best season was in 2003, per the New York Post, as he started in all 16 games and walked away with a total of 37 tackles and six sacks. That was the year Coach Marty Schottenheimer promoted Dingle, telling the San Diego Union-Tribune, "We're going to use Adrian more. He has been designated as the starter." Up until then, the outlet noted he was "one of the most reserved players on the team." As for Dingle, he showed off his humble spirit, telling the mag, "I'm going to go out there and do the same thing I've been doing: try to play the best I can to help the team win."