Inside Dierks Bentley's Close Friendship With Luke Bryan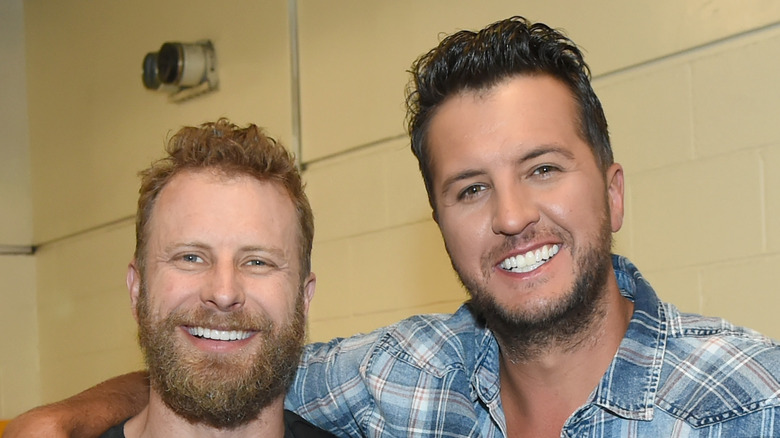 Rick Diamond/Getty Images
Country music besties. We can't get enough of them. Though we may hear more about rivalries in other music genres, country music seems to be the one where most stars have one another's backs, constantly heaping praise on their cohorts with sweet sentiments. Case and point? Luke Bryan and Dierks Bentley. Joining the ranks of the likes of Carrie Underwood and Miranda Lambert when it comes to throwing their support behind one another (Lambert has been very vocal in her desire for her "Somethin' Bad" duet partner to win the coveted Entertainer of the Year award at the CMA Awards), Bryan and Bentley seem to have to have one of the closest bonds in country music.
But what is their friendship really like? And are they as close friends as they made it appear on stage while formerly co-hosting the ACM Awards together in 2016 and 2017? Well, we're taking a deep dive into this bromance for the ages to see just how close the two really are.
Dierks Bentley's kids call Luke Bryan uncle
One of the best ways to find out how close two people really are? Finding out what their kids call them. And, in this case, it turns out Dierks Bentley's young 'uns have a sweet name for the "Crash My Party" hitmaker — uncle! Bentley took to Instagram in April to reveal his children, Evie, Jordan, and Knox, are all big fans of their dad's fellow country star and like to head out on the water with him. "Good day of fishing with uncle Luke," he captioned the upload, sharing several snaps of the gang on a lake. Speaking to Entertainment Tonight, Bentley admitted he wanted his kids to learn the skills from Bryan, who's pretty good at getting something substantial on his hook. "I'm a pretty good fisherman, but [Bryan] like, he is Mr. Fisherman. So, for him to take my kids out there [fishing] and kind of show 'em," he said, joking his kids love Bryan's Georgia accent.
But it turns out fishing isn't the only thing Bryan is great at in his buddy's eyes. Bentley told "After Midnight" in June 2021 that Bryan is also talented on a bike. "We did a 100-mile ride together on the Natchez. Luke Bryan is a really good cyclist!" he admitted. It seemed to us though that Bentley bests Bryan on the bike though, as he seemed a little ahead of his pal in video he shared to Instagram Stories (via Whiskey Riff).
Luke Bryan is Dierks Bentley's favorite drinking buddy
When asked on "After Midnight" who his favorite person in country music to have a beer was, there was a pretty clear choice for Dierks Bentley. Luke Bryan, duh! "I laugh every time I say Luke's name. He is the funniest person in country music... America needs more Luke Bryan in their life," Bentley gushed, revealing he thinks the "American Idol" judge tells the funniest stories and grabs the attention of everyone in the room. "He is the most fun person I have ever met in my life to have a beer with," Bentley added.
And it seems like these two have probably had a few beers together over the course of their friendship, because it seems like they go way back. Back in 2015, Bentley revealed on Facebook that he was spending his birthday with his buddy as he shared a birthday selfie with the "Country Girl (Shake It For Me)" hitmaker while out on a hunting adventure. "Thanks y'all for bday wishes. been hanging with Luke Bryan and some friends out in the woods. been a good day," he captioned the upload.
Ahh, how we do love a good country music friendship!