Jeff Bezos Gives Dolly Parton A Staggering Amount Of Money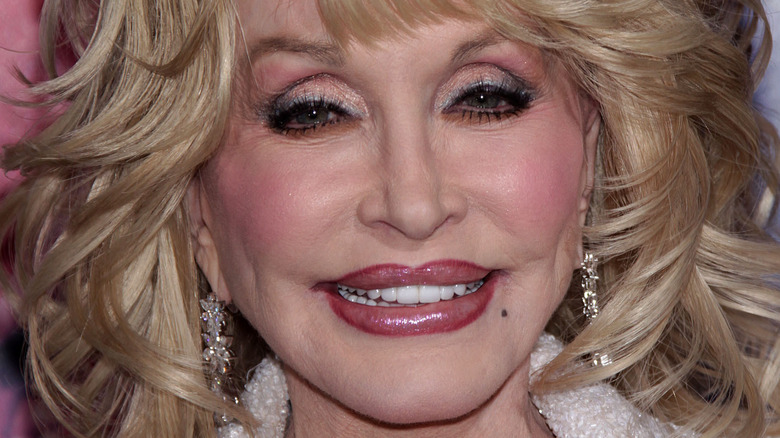 DFree/Shutterstock
Dolly Parton may not be the first person you think of when it comes to someone who needs a financial handout from one of the world's richest people. But it was the country singer who benefited from a huge pay-out from none other than Jeff Bezos – and for good reason.
Of course, the "Here You Come Again" singer has plenty of her own cash, with Celebrity Net Worth reporting she has a whopping net worth of $650 million after earning plenty of green from her singing and songwriting career, as well as cashing in on touring deals, acting roles, and so much more over the course of her lengthy career. But while that's far more cash than most of the world could ever even dream of amassing, that doesn't even come close to how much money Bezos has in the bank. The Amazon businessman eclipses Parton's masses, as Bezos' sky-high net worth is thought to be a stagger $127 billion, according to Celebrity Net Worth. Yes, you read that right. Billion.
So why then was Parton on the receiving end of a ginormous lump sum from Bezos? Well, the reason why will warm your heart.
Why did Jeff Bezos give Dolly Parton $100 million?
Jeff Bezos' partner, Lauren Sanchez, announced via Instagram on November 12 that they would be giving Dolly Parton a massive $100 million as the winner of their Bezos Courage and Civility Award. Sanchez posted a clip (which Bezos shared on his own social media pages) that showed Parton receiving the cash during an award ceremony. Standing beside Sanchez, Bezos stated in the video, "The woman you're about to meet embodies these ideals so thoroughly," before Parton made her way to the stage. He continued before the country star was given the life changing amount of money, "What she's done for kids, for illiteracy and so many other things, is just incredible." Of course, Parton doesn't plan on keeping the prize herself, as she told the billionaire, "I'm going to try to do my best to do good things with this money."
Of course, Parton has done a lot of good over her career and has become almost as famous for her philanthropy as her music. To name just a few of her charitable efforts, the star set up the Dollywood Foundation in 1986, which includes her Imagination Library that gifts books to children (in 2018, the charity celebrated donating its 100 millionth book), as well as providing much needed scholarships to high school students. Then, in 2020, Parton also hit the headlines when she donated $1 million to the Vanderbilt University Medical Center, helping to develop the Moderna COVID-19 vaccine, per Forbes.