All Eyes Are On Justin Jefferson After Vikings Win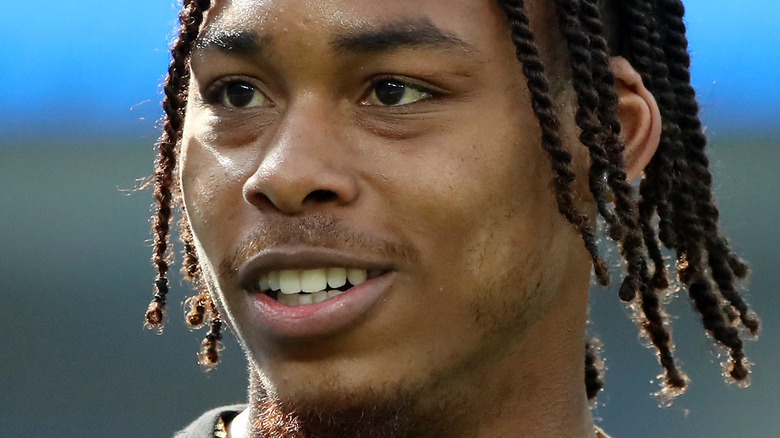 Katelyn Mulcahy/Getty Images
Just when you think you've seen it all in football, something happens that leaves the world in disbelief — and that's exactly what happened to Minnesota Vikings star Justin Jefferson when the team took on the Buffalo Bills on November 13.
In case you're not familiar, the NFL wide receiver was drafted back in 2020 as the 22nd overall pick — and he made a whole lot of bank in doing so. KPRC2 Houston's Aaron Wilson confirmed the news on Twitter, revealing that Jefferson had signed a whopping $13.12 million four-year contract, which included a massive $7.1 million signing bonus. Not bad, not bad at all! There was much speculation though that Jefferson would be heading to the Philadelphia Eagles, with the athlete himself admitting he was pretty surprised by the apparent snub. "Every mock draft had me going to Philly, so when Philly was on the board, getting the phone call, and it being Minnesota, it was definitely a shock," he told NBC Sports. "But I'm definitely happy — way happier — to be here than there."
Well, it seems like the Eagles may well be kicking themselves now, as Jefferson pulled off a seriously impressive move that has everybody talking.
Justin Jefferson insane 193 yard catch had everyone talking
If you ever need someone to catch something from 193 yards away, it looks like Justin Jefferson is your man. The Minnesota Vikings player pulled off a stunning catch to prevent an interception during the Buffalo Bills game, catching a pass on 4th and 18 from Kirk Cousins. The incredible moment saw him snatch the ball from Buffalo Bills cornerback Cam Lewis as they both fell to the ground, in a moment that left football fans stunned.
Twitter was flooded with praise for the player, with ESPN's Field Yates sharing a video of the moment on the social media site while writing in all caps, "JUSTIN JEFFERSON CATCH OF THE CENTURY." Dov Kleiman was equally impressed, writing, "Justin Jefferson did what?? the greatest catch in NFL history!!! Game on the line, 4th and 18, wow!" Even the NFL's official Twitter account was full of praise for the wide receiver, also sharing a clip from the game and writing, "Justin Jefferson is amazing, isn't he?" He sure is!
Speaking after the game, Jefferson seemed equally enthralled by what went down on the field. "It felt like it was unreal. It felt like it was a movie," he said, per The Athletic, while his NFL teammate, Minnesota Vikings offensive tackle Brian O'Neill, admitted, "[That was] probably the craziest football game I've been a part of, to be honest."