Inside Russell Crowe And Nicole Kidman's Close Friendship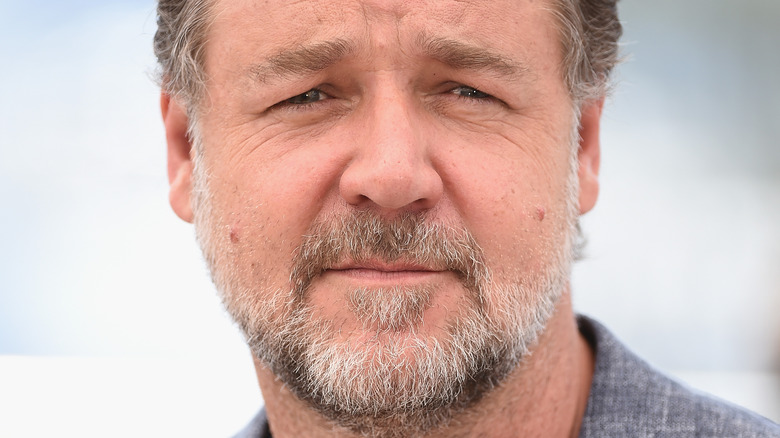 Ian Gavan/Getty Images
Australia has produced an impressive roster of Hollywood stars, including Oscar winners Cate Blanchett, Russell Crowe, and Nicole Kidman, per MTV. Both Crowe and Kidman began their acting careers in their home country and quickly earned recognition for their phenomenal acting skills. Kidman won an award from the Australian Academy of Cinema and Television Arts (AACTA) in 1987, and Crowe was honored by AACTA four years later. Coming full circle, the two were announced as president and vice president of the AACTA in 2020. Kidman and Crowe once starred together in the 2018 drama "Boy Erased." These two Aussies often seemed to be intertwined in Hollywood and in fact, their friendship started very early in their careers.
While rumors surfaced of Crowe and Kidman having a secret romance, there appears to only be an adorable friendship between the two Aussies. Even fate continued to bring these two friends together. During the holiday season of 2019, Crowe posted a selfie on Twitter with Kidman where both actors had huge smiles on their faces. He thanked the Australian airline Qantas "for getting me home in time for Christmas out of the craziness that is LAX, and thanks for the pure gift of sitting me next to one of my favourite people in the universe," Crowe captioned. Here's everything you need to know about these celebrity buddies.
Inside Russell Crowe and Nicole Kidman's early days together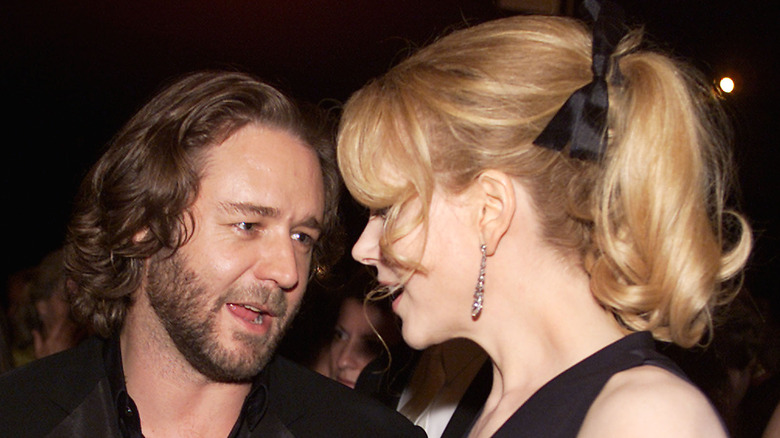 Kevin Winter/Getty Images
Nicole Kidman and Russell Crowe met as teenagers. One of Kidman's earliest memories of their friendship goes back to youthful antics in the town of Darlinghurst, near Sydney. While it was a memorable experience, their night together didn't go as planned. "Russell came to a party where we invited I think 500 people. And I attempted to cook paella. And I didn't cook the rice, so it was crunchy. Not good. Throw it out, bring out the beer," she recalled to Vanity Fair.
Even once Crowe and Kidman began growing in popularity, they continued to see each other at parties. For example, Crowe recalled first meeting Tom Cruise in 1992 when the two guys and Kidman were at a barbecue hosted by Naomi Watts. Though Crowe was first star-struck, he was surprised to learn that Cruise was a fan of his, thanks to his old friend Kidman. "He had been introduced to my films by his wife, so he was asking me questions, not the other way around. It was a pretty amazing experience and we have been friends ever since," Crowe told Fairfax Media, via Hello Magazine. This put Crowe in an awkward position following the 2001 divorce between Kidman and Cruise. It appeared Crowe stayed close to Kidman as he later wished her success later during "Oprah's Oscar Special" segment saying, "I just want to see you walk around barefoot and pregnant."
The professional relationship between Russell Crowe and Nicole Kidman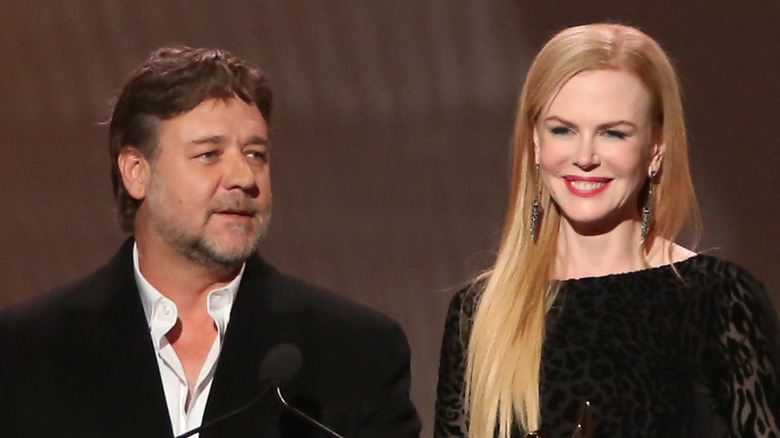 Jonathan Leibson/Getty Images
In the early aughts, Nicole Kidman and Russell Crowe were set to star together in the film "Eucalyptus" before the project ran into major production issues. From director Jocelyn Moorhouse, the film aimed to revitalize the Australian film industry. Reportedly, Crowe wasn't pleased with the project and Kidman's agent revealed filming turned into "a very volatile situation," via The New York Times. Over a decade later, the two Australian actors finally met up on screen in "Boy Erased," playing a married couple in the film. "I waited a long time to be married to Nicole," Crowe told Marie Claire about the role. 
Even though the two actors shared a deep history, Crowe was still astounded by her in-person skill. "Nicole's acting is too seamless to describe these days," he explained. According to Crowe, his friend "is brave on behalf of the truth, and that clarity is what makes her so compelling." Kidman also said it was a pleasure to work with Crowe as her husband. She said their character's marriage could "exist with no rehearsal, no time, no effort because we know each other so well."
The Australians shared a similar exchange in 2020 during an episode of "Variety Studios: Actors on Actors." While the two quarantined during the COVID-19 pandemic, the actors asked each other questions about their personal lives and careers. Even from the start of the interview, Crowe and Kidman shared a rapport that only long-time friends have.