The Reason Michelle Rodriguez Spent Time In Jail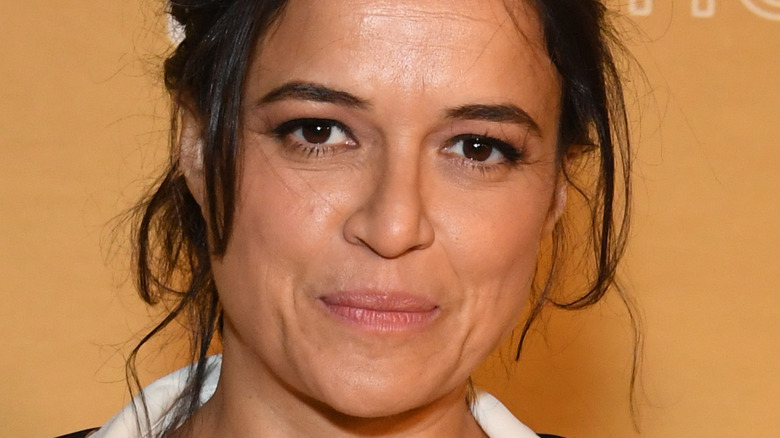 Jon Kopaloff/Getty Images
Michelle Rodriguez has a rep for being the tough chick in town. The actor always crops up in movies flexing her muscles and kicking some serious butt. It hasn't always been like that, though. "The way I survived growing up in Jersey City was by being funny. It wasn't by being tough," she told Interview magazine. "Nobody thought of me as a tough kid except for the kids I beat up." Hopefully, Rodriguez drew on her comedic skills rather than her punching prowess after she landed in jail — three times.
From growing up a Jehovah's Witness to becoming a Hollywood heavyweight, to donning an orange jumpsuit, the transformation of Rodriquez from childhood has been quite a rollercoaster. "I was a Jehovah's Witness from the age of 7, and my family was very strict," she told the Daily Mail. "I went to church every day, and I'd go knocking on people's doors with my grandma, trying to save their souls."
The jury's still out on the soul-saving, but Rodriguez is just as tenacious and fearless as she was back in her Bible-bashing days. She's big on owning her mistakes and isn't afraid to tell it like it is. "Stop complaining. This is my message to young girls who were like me: 'It's all your fault, so confess, straighten up, own it, and follow your joy,'" Rodriguez shared.
So, does she talk the talk, or does she also walk the (perp) walk? Guess that was answered after Rodriguez spent time in jail.
Alcohol led to Michelle Rodriguez's time in jail
Michelle Rodriguez's jailbird life began when she was filming "Lost" in Hawaii. The Smoking Gun reports that following a heavy night out in December 2005, Rodriguez and her co-star, Cynthia Watros, were busted for drunk driving as they attempted to navigate the notoriously twisty Honolulu highway. The actors were charged with DUI, posed for bleary-eyed and completely wasted mug shots, and splashed out $500 for bail.
Watros escaped incarceration, but Rodriguez did not pass "Go." She headed straight to jail, serving five days of hard time. However, the real punishment was still to come. Rodriguez and Watros' party-hearty 'tudes resulted in the actors being written off the show. According to TV Guide, after ending up on the wrong side of the law, both of Rodriguez and Watros' "Lost" characters were bumped off — in the same episode no less.
Rodriguez had yet to learn her lesson, though. Her legal woes continued in 2006 after being busted for violating parole. Per TMZ, she was sentenced to 60 days but served four hours due to overcrowding. Rodriguez was back a year later for violating the terms of her parole again. Reuters reported that she spent the holidays in Lindsay Lohan and Paris Hilton's cooler of choice, the Century Regional Detention Facility in Lynwood, California. But, unlike LiLo and Hilty, Rodriguez wasn't freed in the blink of an eyelash extension. This time around, she was banged up for a full six months.
If you or anyone you know needs help with addiction issues, help is available. Visit the Substance Abuse and Mental Health Services Administration website or contact SAMHSA's National Helpline at 1-800-662-HELP (4357).
Michelle Rodriguez is now free from booze and jail
Fred Duval/Shutterstock
These days, Michelle Rodriguez prefers the sober life, but that doesn't stop her fight for the right to party. TMZ reports she still loves to get her club on but does it substance-free these days. After Perez Hilton published an unsubstantiated story about Rodriguez letting loose in a Hollywood club and sneaking off for frequent bathroom breaks to help add some pep to her step, she hit back hard.
Rodriguez visited her doctor and requested her blood to be checked for traces of "meth, cocaine, marijuana, opiates, alcohol, and other things." The results came back clean as a whistle. However, the star admitted to hitting the bottle hard after her "The Fast and the Furious" co-star Paul Walker tragically died at the peak of his fame.
Rodriguez said she went "pretty crazy" after Walker, who she called "the deepest guy I know," perished in 2013. "I felt like nothing I could do could make me feel alive, so I just kept pushing myself harder and harder," she told Entertainment Weekly. "I was traveling, and I was having sex. And I was just trying to ignore everything that I was feeling." Meanwhile, Rodriguez says she'd pick music over booze any day. "If there's anything that can give me the same high that I get off liquor, it's music," she told The Australian (via Just Jared). "If you gave me a choice to pick between alcohol and music, I would pick music in a heartbeat."
If you or anyone you know needs help with addiction issues, help is available. Visit the Substance Abuse and Mental Health Services Administration website or contact SAMHSA's National Helpline at 1-800-662-HELP (4357).