Michelle Obama Cracks Jokes About Sasha And Malia's New Living Situation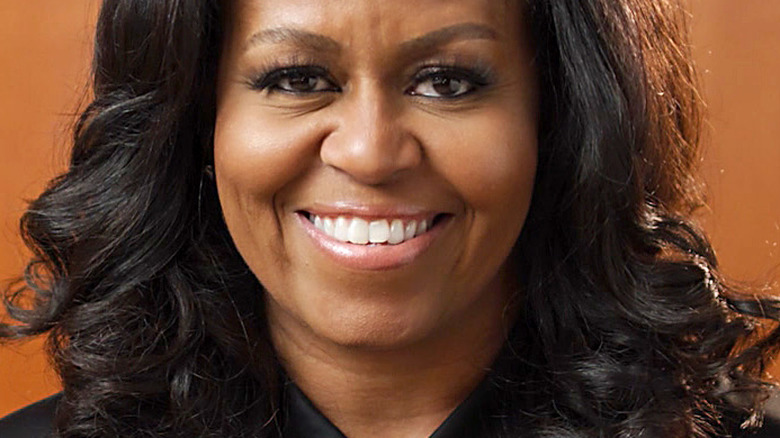 Billboard Music Awards 2021/Getty Images
Michelle Obama won the hearts of many as FLOTUS during her husband Barack Obama's two terms in office, but at home, she's still just a regular mom who likes to go shopping at Target and hit the beach with her boo. She's always done her best in making sure that her family stays healthy and happy and that they are getting all of the nutrients they need — as any mother would — per Hello! magazine. 
At the same time, Michelle admits that parenting is no walk in the park. Michelle shares two daughters with her husband: Sasha and Malia and admits that she sometimes experiences that all too familiar feeling of both guilt and anxiety that most moms feel. In an extract from her new book, "The Light We Carry," Michelle admitted that she was often worried that living in the White House would have had a detrimental effect on her then-teenaged kids. She wrote (via The Guardian): "An episode of even mild disobedience or misbehavior from our adolescent daughters would set off a ripple of unsettling worry in me. One tiny thing would go wrong, and my mother-guilt would kick in. I'd start second-guessing every choice Barack and I had ever made."
But Michelle has always kept her sense of humor when it comes to parenting. She recently cracked some jokes about Sasha and Malia's new living situation in Los Angeles.
Michelle Obama couldn't help but raise an eyebrow at her daughters' house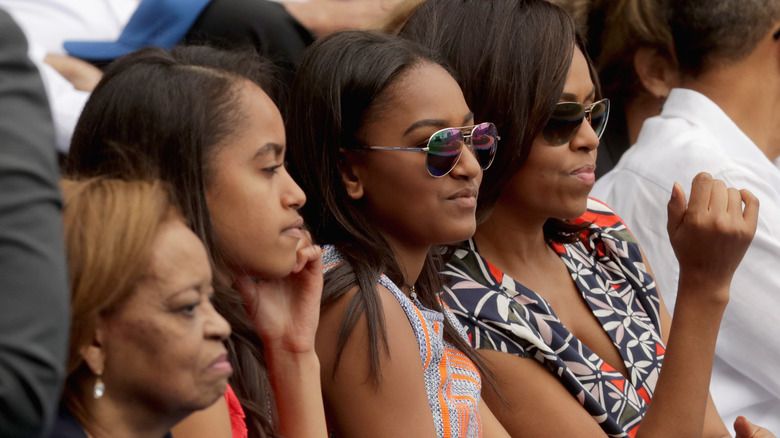 Chip Somodevilla/Getty Images
Michelle Obama might have been worried about Malia Obama and Sasha Obama growing up in the White House, but nothing prepared her for how life would look like for her daughters now. While on the "Today" show with Hoda Kotb and Jenna Bush, Michelle revealed that her girls are sharing a home together in Los Angeles. The former First Lady recalled one time when her daughters invited their parents for a drink at their place. Unfortunately, their martini-making skills didn't meet their mother's standards. Michelle told Hoda and Jenna (via Page Six): "We were like, 'OK let's see what this is going to be like'. The martinis were a little weak. I don't think they really knew what it was."
If that weren't enough, Michelle said that her daughters had also asked her and Barack Obama to use coasters for their drinks. She said, "I'm like, 'You never used a coaster in my house.' So now when it's your stuff, you want to take care of it?" But this isn't the first time that Michelle has cracked a joke at the expense of her family. In 2020, she admitted on "Late Night With Conan O'Brien" that being in quarantine with her daughters might have gotten on her last nerve. She said (via the Standard), "At first our kids got a little sick of us, which was fine 'cause we were pretty much sick of them."