Who Is Love & Hip Hop: Miami Star Trick Daddy's Wife, Joy Young?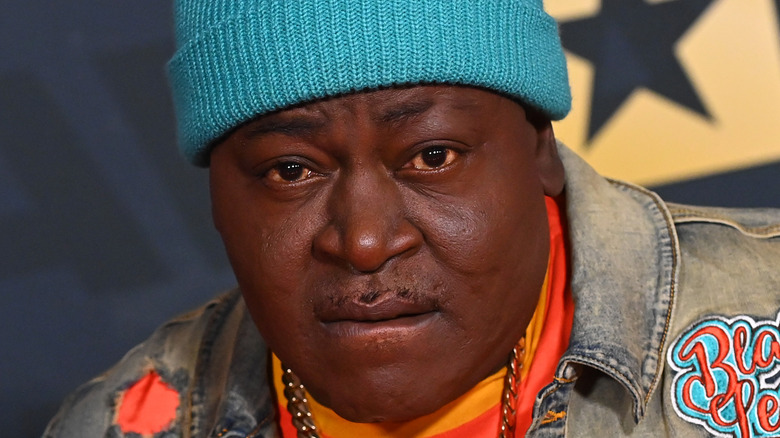 Paras Griffin/Getty Images
Trick Daddy, whose real name is Maurice Young, is a true Miami legend. The rapper started making music in the late '90s and as he began to gain some traction in the industry, he encouraged his friend Trina to get into music as well. "I never really thought of doing music like that; I just did it for fun," she said during an interview with Broward-Palm Beach New Times. "I was studying to get my real estate license," she added. "I wasn't interested in doing music — I just wanted to make real money." Together they released the 1998 hit "Nann" and the rest is history.
Trick Daddy already had a strong Southern fanbase, but he started to go mainstream in 2001 after the release of his record "I'm a Thug," and from that moment on he's been unstoppable. The "Still Ballin'" artist continued to drop heat throughout his career and is also known for hit songs like "Let's Go," "Sugar (Gimme Some)," and "I'm So Hood" to name a few, per Billboard. As Trick Daddy was quickly rising to the top, he fell in love and in 2003 got married to a woman named Joy Young, according to The Jasmine Brand. While it's not clear exactly when they started dating, it's pretty obvious how the two met. Trina and Young happen to be cousins, so it's likely she was the matchmaker.
Although Trick Daddy and his estranged wife have a very unusual relationship, here's what we know about her.
Joy Young is a successful business owner
Joy Young is not in the music industry and has managed to live a very private life steering clear from the spotlight. But, just because she not heavily reported in the blogs, doesn't mean she's not making moves. According to Young's Instagram, she is the founder of New Roots Extensions and through her company she provides her clients with custom wigs and top quality hair extensions. She also has her own natural skin care line, New Roots Organics Skin Care, which launched in March 2021. 
Young may have been under the radar for a long time, but she's since created a name for herself by joining the Season 1 cast of "Love & Hip Hop: Miami" in 2018. The entrepreneur was introduced as Trick Daddy's wife and her storyline focused primarily on her split with the rapper. Young, who starred alongside her cousin Trina on the show, explained that she's been trying to get a divorce for some time now but her husband continues to put a stop to it. "I don't know if it's something that he just does not want to do," she said on an episode of "Love & Hip Hop: Miami." 
Based on the pair's timeline, Trick Daddy and Young have reportedly been separated for more than five years now. Although it's been a process to get the "In da Wind" rapper to sign the papers, he confessed he'll go through with the divorce under one condition. 
Trick Daddy and Joy Young have a complicated relationship
During an interview on The Breakfast Club, Trick Daddy revealed that his current girlfriend is the only one who could change his mind about formally getting a divorce. "The only way I'd get divorced is if my girl want me to marry her," he told the hosts. "In my mind right now, I'm like a dual point guard. One and done." The Miami artist addressed the complexity of his relationship with Joy Young and claims he "allows her to date." 
"I need to start evaluating these dudes who [she] mess with 'cause these are my boyfriends and husbands-in-law — and we need to get along," he said on the morning show. "[And they] need to take care of my wife. They need to do what they need to do," he added. Trick Daddy also noted that if his wife was serious about getting a divorce, then she should drop his last name and not go by Young anymore. "She going around messing with all these dudes trying to find me," the rapper confessed. "I'm right here. They'll never be me." 
During a Season 1 episode of "Love & Hip Hop: Miami," Young expressed to her husband that the reason she walked away from their marriage was because she didn't feel loved. "I felt like I was not living, I was unhappy." Hopefully, the rapper's girlfriend wants to tie the knot, because it doesn't sound like he's divorcing Young soon.