Why Candace Cameron Bure Is Ruining Fuller House
Nostalgia aside, Netflix's Fuller House is getting a bad rep for a number of reasons. In particular, fans aren't too found of star Candace Cameron Bure, whose major role in season 1 has played an even bigger part in tainting the legacy of the show's predecessor, Full House. Let's ignore Uncle Jesse's immortal good looks and explore why Candace Cameron Bure is ruining Fuller House.
D.J. dominates the show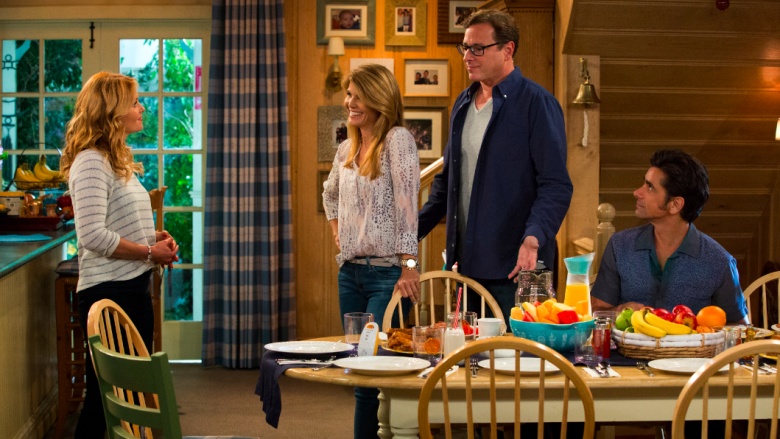 One of the most alarming parts about watching Fuller House was finding out that the show would revolve less around the Tanner family and more around D.J. Tanner, now a recently widowed mother of three young boys. Adding some new elements to this highly anticipated reboot was inevitable; if people wanted a remake of Full House, they could just go watch it in syndication. By structuring the show around D.J.'s new life, Fuller House ultimately lost some of the key elements that made the original series so successful.
Making D.J. the protagonist has relegated beloved franchise characters like Danny Tanner (Bob Saget), Jesse Katsopolis (John Stamos) and Joey Gladstone (Dave Coulier) to smaller roles than before. On top of that, D.J. saddles the show with one improbable scenario after the next, beginning when Stephanie (Jodie Sweetin) and Kimmy Gibbler (Andrea Barber) put their lives on hold to help D.J. raise her kids. The combined effect makes the show feel less like Fuller House and more like Moderately Full House But Only When It's Convenient to the Storyline.
She makes the show sadder than it should be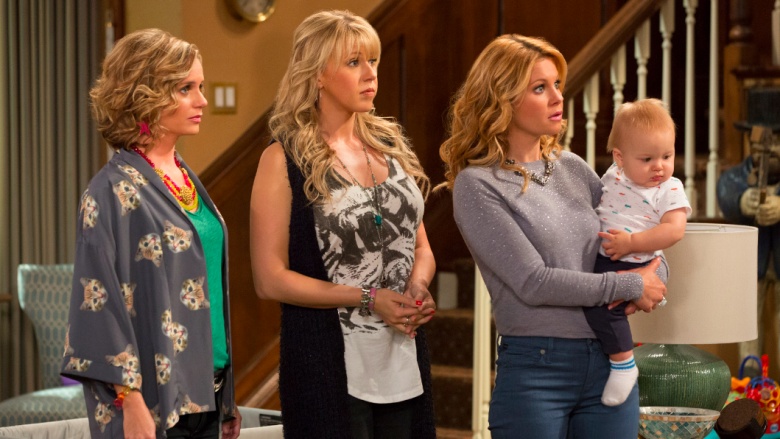 As most fans will know, making D.J. a widow is a nod to the original series, which revolved around D.J.'s widowed father, Danny, raising three little girls. Inevitably, Full House had to deal with grief. But even in its saddest moments, the show never actually felt 100 percent real; death and grief were really just catalysts for moral lessons about the importance of family values.
This time around, D.J.'s grief is alarmingly raw, intense and, in the case of the first episode, downright sad. Oftentimes, she's seen struggling to handle a basic task. D.J.'s sad state of affairs ultimately casts a dark shadow on the show, at times making it too uncomfortable to watch. We respect Fuller House for "going there," so to speak. Sadly, it's just a little too real for fans of the original beloved sitcom.
D.J.'s storylines are really outdated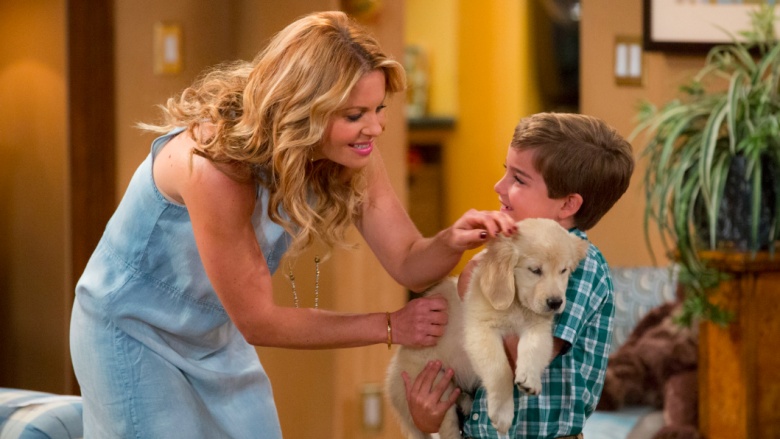 Throughout season 1's 13 episodes, D.J. goes from one cliche and outdated storyline to the next. It's bad enough we have to see her glam up to go to what Fuller House thinks is a modern day club, which looks like a leftover set piece from Sabrina the Teenage Witch. It's even worse to see her get involved in a love triangle with her high school boyfriend, Steve (Scott Weinger), and her hunky new coworker (John Brotherton), that lasts over several episodes. The writers admittedly tried to throw a last-minute, Carrie Bradshaw-esque curveball by having D.J. choose herself instead of one of the guys. Even Grey's Anatomy stopped doing that stuff years ago.
Her kids aren't that interesting, either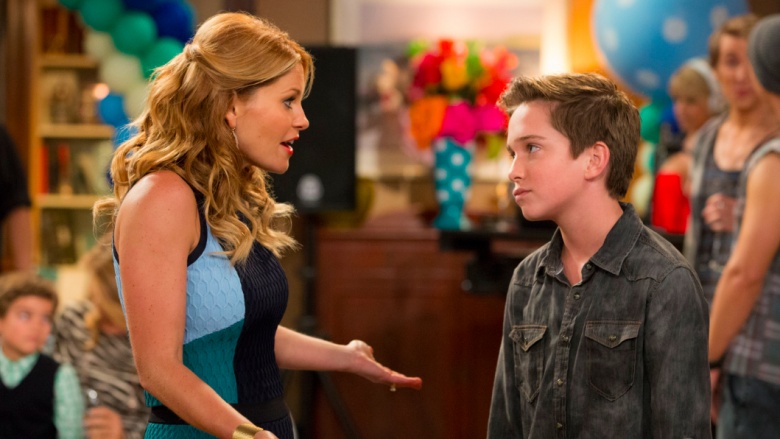 One of the things that made Full House so enjoyable to watch was that Danny's three daughters—played by Bure, Sweetin, and Mary-Kate and Ashley Olsen, respectively—were all undeniably adorable. Whether they were simply great child actors or the casting department got lucky (or both) D.J., Stephanie, and Michelle were equal parts cute, relatable, and believable. Even if the Tanners existed in a world that danced above a safety net, American families could see themselves and their kids in these characters.
Sadly, the same can't be said of the youngsters in Fuller House. While the Tanner girls were charming, the Fuller boys—at least the ones who are old enough to act, anyway—are burdened by all the negative elements of the Millennial generation. They're hyperactive; they're robotic; and, much as we hate to say it, they're just not that interesting. So they're mad they have to live with Kimmy Gibbler's daughter. Who cares? That plotline didn't even make sense. Full House was lucky with its casting. Fuller House? Not so much.
Bure's controversies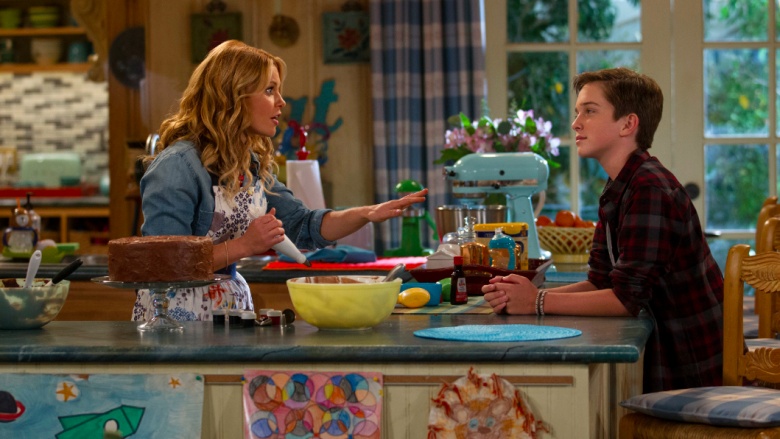 Sometime after Full House went off the air, Bure grew up to become a super-conservative and controversial celebrity. While that may serve her well on a show like The View, on which she currently co-hosts, her opinions have inevitably gotten her into a heap of trouble in the media. Some of the comments she's made about gay marriage and a woman's role in marriage led to some pretty nasty headlines. As a result, it's become hard to see Bure on screen as anything but that person.
Everything comes to an awkward head in the show's first episode, during which D.J.'s second-youngest son declares he already knows all the bad words he's not supposed to say: darn, booger, and Donald Trump. The joke is meant to make the audience laugh. Instead, we immediately picture steam coming out of Bure's ears.
The reviews say it all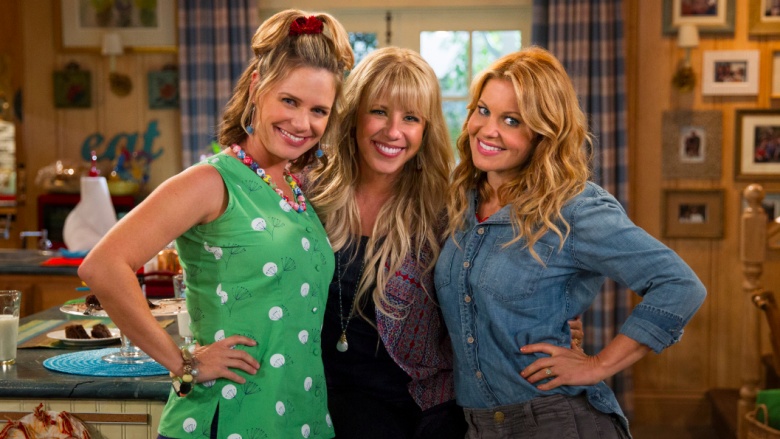 Even Fuller House fans cannot deny the show received a negative reception. Vox called the show "an inescapable nightmare"; Slate called it "dopey." Even the kinder reviews didn't think it was anything to write home about. Sure, in a lot of ways, Fuller House is impervious to bad reviews. After all, Netflix recently renewed it for a second season, much to the surprise of, you know, everyone.
D.J. might have been interesting every now and again in Full House, but she was always part of the Tanner sisters package. We just hope the other sisters and the rest of the cast get more of the spotlight next season.