Steve Burns Gets Honest About His Struggles Behind The Scenes Of Blue's Clues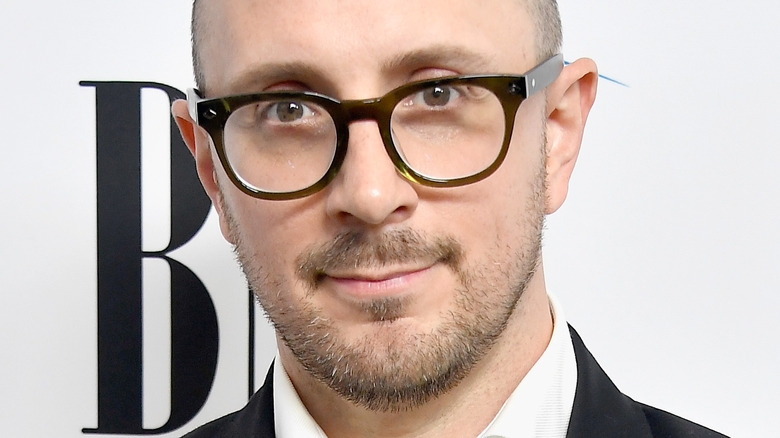 Frazer Harrison/Getty Images
Steve Burns was responsible for bringing many kids so much laughter and joy during our childhood. According to USA Today, the iconic host joined "Blue's Clues" in 1996, and for more than five years, Burns became a core part of some of our fondest television memories as kids. However, in 2002, viewers experienced their first heartbreak when Burns announced his abrupt departure from the legendary Nickelodeon program. At the time, his character, Steve, gave an emotional farewell and explained that he was leaving to go to college. 
While many questioned the reason behind Burns' exit, Nick Jr. provided  insight in 2021 while celebrating the 25th anniversary of "Blue's Clues." "I just kinda got up and went to college," Burns said in the now-viral Twitter clip. "That was really challenging by the way, but great because I got to use my mind and take a step at a time and now I literally am doing many of the things that I wanted to do." The video garnered over 40 million views and thousands of fans (who are now adults) showed their appreciation for the unexpected update and expressed how much they enjoyed seeing their beloved Steve back on their screens. 
While that nostalgic moment was very much needed, Burns is finally opening up about what really transpired behind the scenes. 
Steve Burns was battling depression during Blue's Clues
During a candid interview with Variety, Steve Burns shed light on some of the reasons for his untimely departure from "Blue's Clues." The television host was 22 when the show aired and nearly 30 when he left the franchise. Therefore, it was inevitable that his exit would be coming soon. Burns explained that, being a grown man, he had begun losing his hair and, in order to play the part, he needed to wear a wig — which is something he didn't really want to do. "I wasn't going to be boyish anymore," he told the outlet. 
In addition to becoming a man, Burns was dealing with depression and found it difficult to perform while struggling with his mental health. "I was the happiest depressed person in North America," he said. "I was struggling with severe clinical depression the whole time I was on that show. It was my job to be utterly and completely full of joy and wonder at all times, and that became impossible," he continued. Although Burns mustered up the energy to push through every episode, at one point, it became too much for him to handle. "Years and years of going to the well without replenishing it, there was a cost."
According to Today, Burns is returning to the big screen and will star as his character Steve in "Blue's Big City Adventure," the franchise's first live-action movie. The film is slated to release November 18 on Paramount+. 
If you or someone you know needs help with mental health, please contact the Crisis Text Line by texting HOME to 741741, call the National Alliance on Mental Illness helpline at 1-800-950-NAMI (6264), or visit the National Institute of Mental Health website.