Why Ina Garten Decided Not To Have Any Children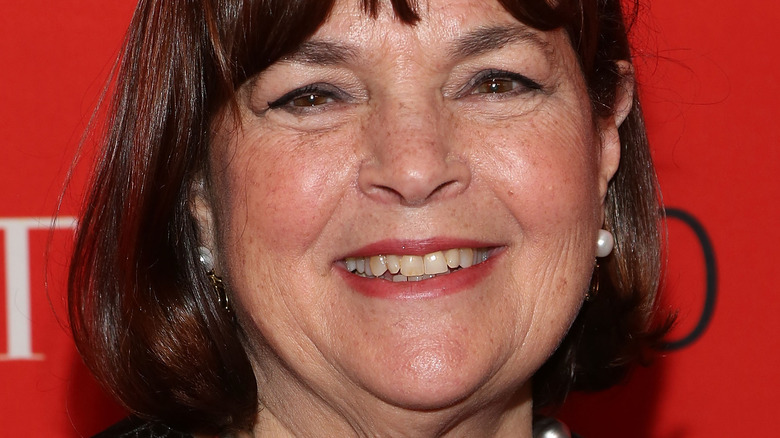 Taylor Hill/Getty Images
Ina Garten left college to marry Jeffrey Garten — a common enough practice back in 1968, author Sherri Liberman noted in "American Food by the Decades." But when Ina dropped out of Syracuse University, where she was studying economics, she wasn't giving up on her education or career aspirations. Ina simply knew she had met her lifelong companion, a military man who'd been deployed to Fort Bragg, North Carolina, so she decided to tie the knot and pack her bags. But, just a few years later, Ina not only completed her bachelor's degree at Syracuse, but she also went on to earn an MBA at George Washington University.
Both Ina and Jeffrey applied their mental prowess as employees of the federal government — she, as a nuclear energy budget analyst at the White House, according to CBS News, and he, at the State Department, The New York Times noted. But Ina wanted more out of life than an impressive résumé. "My job in Washington was intellectually exciting and stimulating but it wasn't me at all," she told The New York Times in 1981. So she left her government job in 1978 to run the "Barefoot Contessa," a specialty food store in Westhampton Beach, New York.
The grocery store gave Ina an opportunity to delve into her other passion — food. Four decades and 12 cookbooks later, Ina has written her name among America's greatest food authors and celebrity chefs. Ina's life has offered her plenty of professional opportunities, which stem from a personal decision she made early on.
Ina Garten chose to focus on her career
Despite having been married for more than five decades, Ina and Jeffrey Garten never had any children. That was a conscious choice Ina made while still in her youth, a move rather bold for the time, The New York Times noted. Ina knew how she wanted to fill her days, and having little ones running around wouldn't have made it possible. "I really felt, I feel, that I would have never been able to have the life I've had," she said on the "Next Question with Katie Couric" podcast in 2017. "It's a choice, and that was the choice I made."
But that doesn't mean Ina dislikes children. "I really appreciate that other people do and we will always have friends that have children that we are close to," she explained. This might come as a surprise to some, given that many of Ina's recipes are geared toward family meals. But being childless doesn't mean she opted to have no family. For her and Jeffrey, a two-person household is as much a family home as any other arrangement involving more members.
When Ina released her 2016 book, "Cooking for Jeffrey," the author was met with criticism from many who believed its focus veered from the image of the strong, independent woman she promotes, Vanity Fair pointed out. But when Ina cooks for her husband, she is making a family meal. "I'm her family," Jeffrey told Johns Hopkins Magazine in 2016.
Ina Garten's husband always supported her decision
Ina and Jeffrey Garten have always been on the same page regarding their family goals. Jeffrey may not have been the one who decided children were off the table, but he respected his wife's choice. In fact, Jeffrey was never afraid to prioritize Ina's career aspirations. "When I told him I wanted to move to New York and open a food store, he said, 'Let's move to New York!'" Ina told People in 2018.
Jeffrey's support of his wife's dreams was nearly as groundbreaking as her choice to remain childless, a fact of which Ina's well aware. "That he would not object to moving to a different state for my career was so unusual, particularly 40 years ago," she said. All these years later, Ina and Jeffrey continue to work as a team. And the more time they spend together, the more they want to be together. "No matter where he is, I always know that there's nothing more important than me in his life," she told People in 2016. "We give each other enormous freedom to do what we want to do, but we're still the anchor."
While many couples crave some time apart, Jeffrey feels the opposite. "If I could be with her seven days a week, 24 hours a day, that would be my ideal," he told People. When that's not possible, Jeffrey resorts to technology. "When we're not together, I'll send her five or six texts per day."